Originally published in Bob Cut magazine on April 30, 2021: https://bobcutmag.com/2021/04/30/30-top-10-newcomer-and-og-restaurants-from-april.
My dining column in Bob Cut magazine — print and online (column details and philosophy here; last month's column here) — covers standout newcomers and longtimers worth supporting.
I'm covering outdoor and indoor dining, takeout and delivery restaurants, all of which I've vetted, visited or ordered from. Here are this month's 10 standouts:
NEWCOMERS
Ernest, Mission
Ernest's lofty, two-tiered space and the outdoor patio has been transformed to cool whites and soft blue tiles made by neighboring Heath Ceramics, the backdrop for food from chef/owner Brandon Rice (with sous chef Tyler Franson), just open in March. As Rich Table's chef de cuisine for roughly five years, I already knew the food would be good. But ordering the $95 tasting menu (generous, with plenty of leftovers) allowed a tour of most of the menu.
I felt about Ernest the way I did about Rich Table (and State Bird Provisions) upon first visits reviewing them as the SF Bay Guardian restaurant critic: these were slated to become modern SF classics, with all the necessities for a Michelin star (etc.) in play — like thoughtful, tight service to a strong, interesting wine list. Ernest hints at this caliber immediately. Dish highlights abound, whether DIY handroll beef tartare or pork mushroom dumplings with a fried "skirt" and Sichuan-esque sauce. Instead of the more common udon noodles, a sea urchin "carbonara" dotted with Olivier's Bacon is over lo mein noodles, while a "sleeper hit" veggie dish is roasted cabbage beautifully browned in butter, lively in an anchovy-heavy Sicilian XO sauce. Try desserts like a pineapple upside-down cake shave ice blissfully doused in rum or spot-on cocktails like a makrut lime-infused gin and cachaça fizz with sour cream, egg white, soda. // 1890 Bryant Street, Suite 100; www.ernestsf.com
Red Window, North Beach
Dining on either parklet side of Red Window's prime corner at Columbus and Stockton, the North Beach newcomer opened late March 2021 serving Spanish pinxtos, tapas, sherry, vermouth, and low-proof cocktails. From Adam Rosenblum (chef/owner of Causwells) and Elmer Mejicanos (bar manager of Tony's Pizza Napoletana), pinxtos (bites) and bar cart cocktails prepared tableside already feel like a party. I always appreciate a classic Gilda mini-skewer, here with artichokes, goat cheese and salmon roe, but it's bacalao (salt cod) croquetas and morcilla de burgos (blood sausage crostini) that most impressed among the pinxtos. Gambas (shrimp) are appropriately garlic-heavy and Basque cheesecake as fluffy and blessedly not-too-sweet as it should be. A brothy rice spin on paella, laden with squid, shrimp, peas, and chorizo sausage, is the most comforting large dish.
A sleeper hit is cauliflower bocadillo (Spanish-style sandwich), simple perfection of red peppers, cauliflower, tomato and aioli on toasted bread. No surprise, Mejicanos' cocktails — grouped in highballs, sours, spritzes, tiki, sangria and bar cart — are a key draw, with subtly savory cocktails like Spanish Girl (Alvear Fino Sherry, oloroso sherry, Lo-Fi Amaro, carrot, lemon, maple, fennel) and fizzy delights like Just for Fun (manzanilla sherry, madeira, PX sherry, spiced apple, lemon, cream, egg white, seltzer water). // 500 Columbus Avenue, www.theredwindow.com
Ham & Cheese Deli, Inner Richmond
Open this March on a quiet corner of the Inner Richmond, Ham & Cheese is a humble little cafe exuding a warm welcome from longtime industry vet Grant Schley and his family. Alongside pastries from Firebrand and Sightglass Coffee, Schley's sandwiches are the real draw to the humble, cozy shop, although beware: only two egg breakfast sandwiches are available until lunchtime, alongside house empanadas (standout: the jerk spiced chicken empanada) and avocado toast. From hoagie to banh mi-influenced sandwiches, three is also a vegetarian grilled cheese variation, Praise Cheezus, decadently layered with broccolini, fontina, white cheddar, gruyere, provolone and ricotta cheeses. // 5501 California Street, www.hamandcheesesf.com
Santeria, Castro
Opened late January 2021 the former Finn Town space, Santeria's festive sidewalk seating, lined with greenery and colorful tables, is a no-brainer Castro stop for margaritas and tacos. But there are other highlights on the food and cocktail menus from consultant Samantha Kharma and bar manager Briana Santiago. Unexpected dishes like salbutes (common in Belize and Mexico's Yucatan), Michoacán carnitas or salmon chamuscado in tamarind glaze co-exist alongside flautas and chilaquiles. At brunch, breakfast tacos on red tortillas with scrambled eggs and refried beans are even better with chorizo. Cocktails are well balanced and vibrant. Example: La Botánica, combining St. George Terroir gin, mezcal, Ancho Verde, cucumber, basil, Chareau aloe liqueur and lime. // 2251 Market Street, https://santeria-sf.com
Kitchen Woori, Western Addition
Hitting Lower Fillmore in February 2021, Kitchen Woori is a humble new Korean eatery, ideal takeout and delivery option, with grab-and-go only, 10am-3pm daily. They went above and beyond adding an extra side dish to my first order, a generous sign of welcome. Their gimbap gratifies — the maki-style, Korean version of onigiri, musubi, sushi rolls — my favorite being their triangle-shaped tuna gimbap. Spicy pork and beef bulgogi come as bowls laden with rice and seasonal vegetables or as lunch platters. Another standout is their delicate japchae (cellophane noodles), available as a japchaebap entree tossed with vegetables and partnered with rice. // 1545 Fillmore Street, www.kitchenwoori.com
North Block, Yountville (Napa Valley)
Let's be honest, North Block hotel in ever-charming Yountville housed a good pizza restaurant before, but not something to go out of one's way for. I expected similar from their brand new restaurant, opened this spring by Chef Nick Tamburo (formerly of Momofuku) and redesigned by local Erin Martin. Focused around a Japanese grill and naturally-leavened pizzas, the menu reads somewhat typical and straightforward. But when you dig in, two absolutely fabulous dishes make it clear Tamburo is not messing around.
Ubiquitous though wood-fired pizzas may be, you've not had one like his sourdough flatbread laden with spring onions, chive oil, and the great Fiscalini aged cheddar from Modesto. Whether fresh out of the oven or as leftovers, it was divine, rich with a breezy hit of spring. Ditto the wood-roasted half chicken stuffed with matsuri rice, served with a killer flatbread, yogurt, and house hot sauce. Where chicken is often a throwaway, this is gourmet and memorable. The only OK dish was an excessive big eye tuna crudo with fish so cold the flavor was numbed. However, cured Mt. Lassen trout "crudo" in almond milk, bay leaf oil and trout roe was lovely. Cocktails are nuanced and delicate (try WMF: Suntory Toki Japanese Whisky, Heirloom pineapple amaro, mango cordial, yuzu) and the wine list, while not as wide-ranging by the glass, is a solid mix of local and global. // 6757 Washington Street, Yountville; www.northblockyountville.com/dining

LONGTIMERS & NEIGHBORHOOD FAVORITES
Gozu, SoMa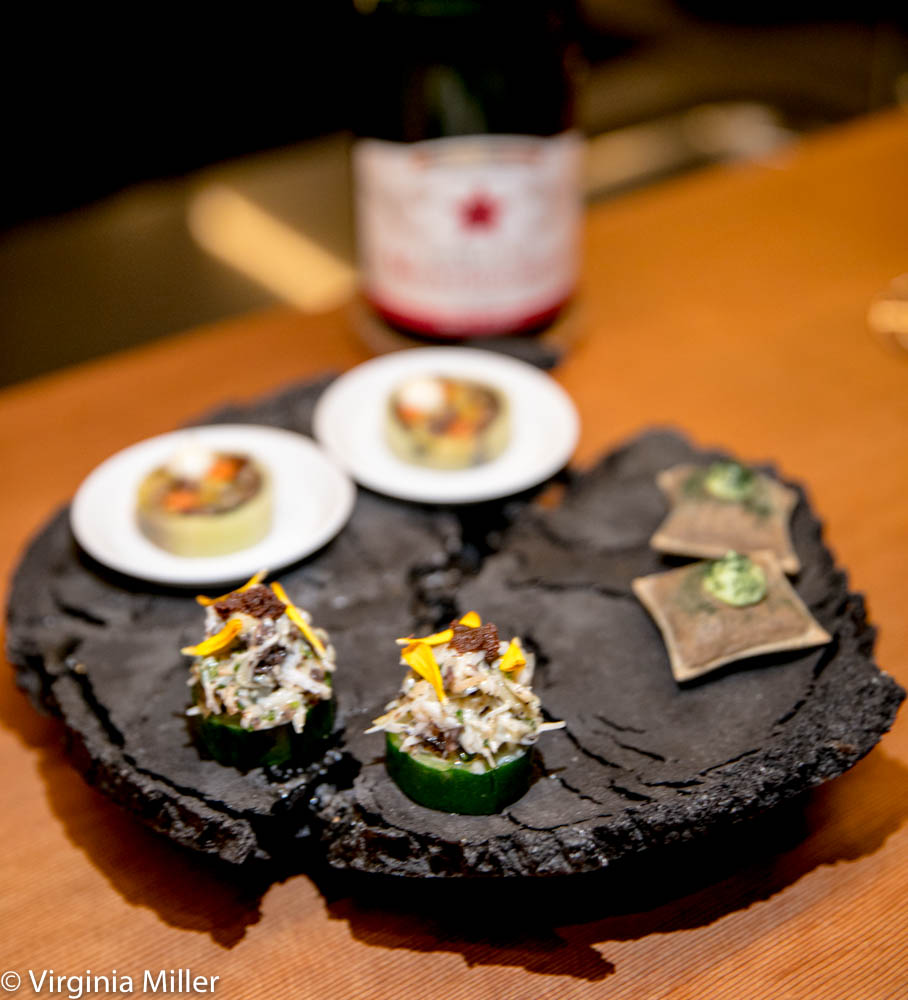 "Back and better than ever" is one serious cliche, yet in Gozu's case, it's true. We loved their GOZU-Chan highball garden and robataya pandemic pivot, and now that chef-and-owner Marc Zimmerman and co-founder Ben Jorgensen are back with intimate, lofty indoor dining, they make full use of their hospital-grade UV irradiation (UV Guardian) system to keep the air continuously cleaned for their grill-side seating and whiskey lounge. They also brought on sommelier Jordan Abraham (formerly of Atelier Crenn, Mourad and Cotogna/Quince) whose wine and sake pairings sing with the food. Zimmerman's dishes are more honed and exciting than ever. For example, chawanmushi with rare Suppon softshell turtle from Japan, an amuse bouche of daikon wagyu shank maki roll, or silken tofu luxuriantly sitting in buckwheat foam, wasabi oil, and wagyu garam, topped with Beluga caviar. Finish with pastry chef Ethel Koh's joys like house matcha "kit kats" or pickled and candied pistachio and rhubarb over dehydrated and pickled frozen yogurt. // 201 Spear Street, www.gozusf.com
Udupi Palace, Mission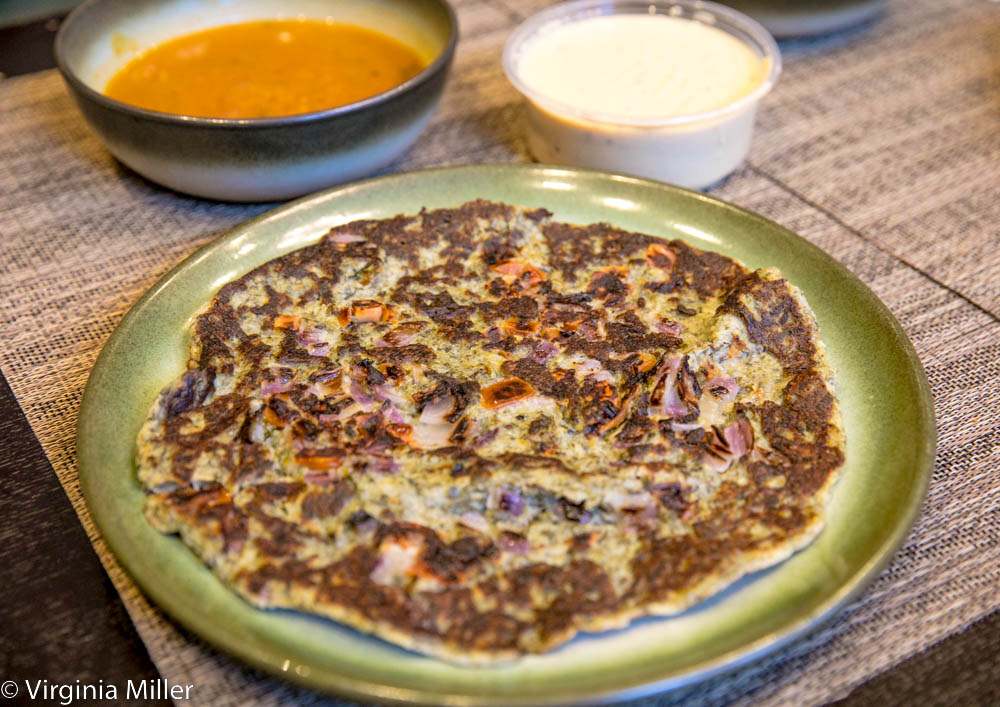 Mission District longtimer Udupi Palace (and the original Berkeley locale) has been a lowkey favorite for South Indian food since 2008, serving the likes of dosas, idlis, vadas, curries and uthappam. Not to mention doing it deliciously, generously, and affordably. They've always been vegetarian and you won't even miss the meat, dishes are so filling and soulful. The dosas are on point, paper-thin yet appropriately stuffed in the middle. But my favorites are uttapam/uthappam savory "pancakes" (like the spinach, onion, tomato version), exuding tangy warmth from a batter of urad dal (a relation to the mung bean) and rice. While they forgot all but the coconut chutney in my recent order (their uttapams are supposed to come with coconut, tomato and ginger chutneys), their fluffy coconut chutney still satisfied. // 1007 Valencia Street, https://udupipalacesanfranciscoca.com
Cherry Blossom Bakery, Inner Richmond
In a city silly with Chinese bakeries (plus Chinese eateries, dim sum houses, boba shops, groceries, etc.), it's easy to miss one of hundreds of little hole-in-the-wall shops. I had missed Cherry Blossom Bakery and glad I sought it out, though it has been open since 2008 on Clement at 10th Avenue. Popular for its Hong Kong-style egg custard tarts (蛋撻), which, lets face it, are done beautifully in dozens of spots in SF, they also are popular for their pineapple buns, moon cakes and durian cake. Digging deeper, I loved their black sesame buns and ham and cheese buns, layered with what tasted and looked like Kraft singles, It was "guilty pleasure" comforting, specially packed in that sweet Hawaiian-style roll — a big hit with my niece and nephews, so ideal for kids (and big kids). // 844 Clement Street, https://cherryblossombakerysanfrancisco.mybistro.online
Moo Bong Ri, Oakland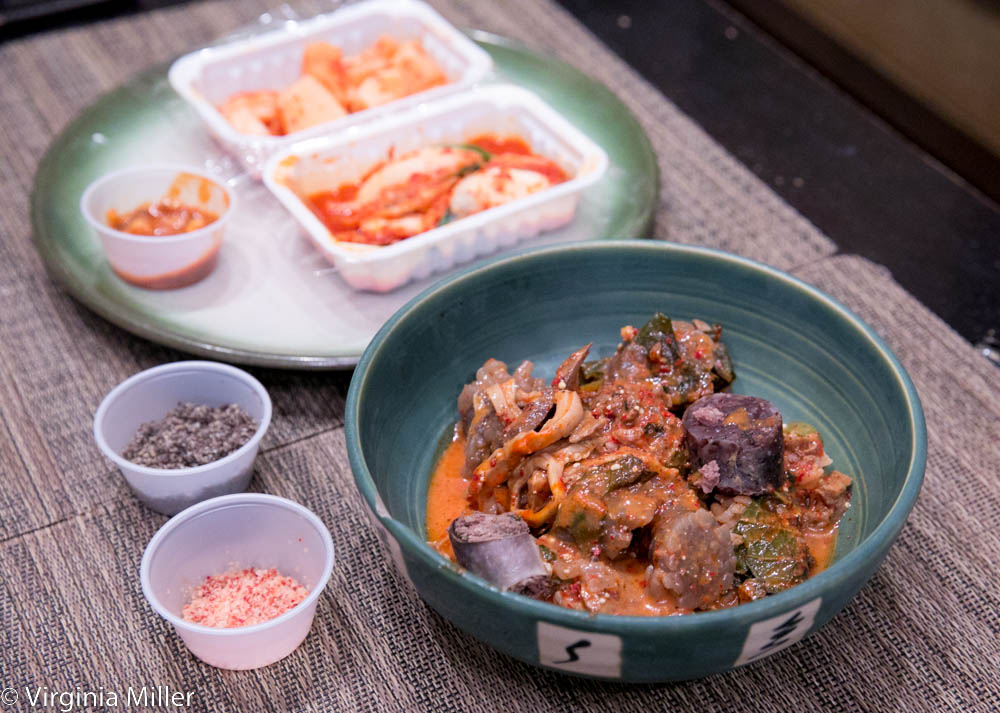 Recommended by chef Robin Song of The Vault Garden, Moo Bong Ri is real deal Korean like I grew up on both in LA and Queens, NYC. Though you can get the likes of Korean fried chicken and cold or spicy acorn noodles here, this is the place to dig deep, whether from a range of stews and soups to grilled intestines or "casserole" of meats, bean sprouts, vegetables and rice cakes.
A standout — available in soups, stews and as platters — are sundae, traditional Korean blood sausages, especially chal sundae (glass noodle sausage). Tender, sticky and fluffy, these recall the sundae I've had over the years at Korean fine dining restaurants and family homes. The chal with its cellophane noodles adds chewy comfort to the sausage, ideally accented with doenjang (fermented soybean paste/sauce) and gochujang (red chili paste/sauce). // 4390 Telegraph Avenue, Suite K, Oakland; https://moobongri.menu11.com
BONUS LOCAL FOOD & DRINK RECOMMENDS
—Sans Wine Co.: Sans Wine Co. is just the kind of wine company changing the canned wine game and a local gem worth supporting. Founders Jake Stover (farmer whose company specializes in "beyond organic" wine growing) and certified sommelier Gina Schober started Sans in 2015. They source premium grapes from organic and environmentally conscience vineyards from Mendocino to Lake County (where Gina's grandfather grew grapes for 30 years). Some cans are expensive but you're not only getting quality natural wines, but the likes of Napa Cabernet in a can, a reasonable way to try such wines without splurging on a bottle (Note: their bottled natural Carignan is a favorite). Other standouts include their Napa Riesling, Lake County Sauvignon Blanc, Rosé and Carbonic Carignan.

—Omni Bev: San Jose is the city with the biggest Vietnamese population in the U.S., so it's no surprise that authentic Vietnamaese food and companies abound there. Founded by Tammy Huynh, Omni Bev is an exciting addition to the region and beyond for "real deal" Vietnamese coffee with modern, stylish packaging. They sell Vietnam-roasted coffee beans, brewing tools and RTD (ready-to-drink bottles) cold brew and coffee, including a sleek black stainless steel phin coffee set to brew proper Vietnamese coffee in a cup (their $65 set provides all that's needed, including the beans).