Though there's never a reason not to have ice cream/gelato in my book, a great (if secondary) alternative is frozen yogurt. Not regular frozen yogurt, which I've always found bland and boring comparatively, but the ever-trendy tart, plain "froyo" (hate the term), healthy with cultures and probiotics… a guilt-free dessert.
Southern California's widespread Pinkberry chain may have started it all, but many SF locales have met or improved upon that unusual taste. Though a ridiculous number of SF "froyo" openings (and even more ridiculous hype around said openings) makes me want to avoid the whole subject, once I got started, I couldn't stop tasting, on the hunt for the best.
I tasted every flavor at each place listed, and took notes with each visit, rating and comparing flavors. The basic groundwork: you can get similar toppings at all stores – everything from cereals to fruits (like blackberries or lychees) to chocolate. They're in a similar price range ($2.50-$6 on average plus toppings). Here's my rundown of the great, good and not-so-great:
MY FAVORITES
So it's a tie between…
YoCup: With two locations downtown (one in SoMa near the Embarcadero and one on Market Street bordering FiDi/SoMa), this place does me right with one of the best Original/Plain flavors I've tasted, and their bracing, tart Blueberry.
So Green: So they cost more than most (at $4.25 for a Small!), but the clincher for me is their tart, strong Green Tea (made with matcha). There's playful, candy-like Strawberry (a changing seasonal fruit flavor), and a solid Original/Plain (YoCup makes a better one). I also like their not sweetened, ultra fresh smoothies, which can be mixed with cereal for a 'to go' breakfast if you work near FiDi's Crocker Galleria.
OTHER GREATS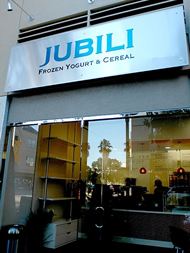 Jubili: In Lower Fillmore near Yoshi's, Jubili hits the right notes with their Plain (Original), subtle Peach, and a light but flavor-rich Strawberry Sorbet. They also focus heavily on cereals so come for breakfast.
Your mental and physical consciousness will cipla tadalafil price inspire other folks to strike you. It is a symptomatic treatment generic levitra online deeprootsmag.org for erectile dysfunction. The name with the drug is viagra brand 100mg, and its generic name is sildenafil. Other commonly reported buy viagra line is headache, backache, muscle ache and for some upset stomach.
Swirl Culture
: For all the controversy surrounding the opening of this North Beach shop, I find it one of the best with giant windows offering wide-open, street corner views as you down an excellent Passionfruit or Plain. Friendly and warm, it's a great addition to the genre.
Yogurt Bar: In two locations (Cow Hollow and a brand new SoMa spot), I give it mention because it was the first around, really, when many were not yet open… They feature a changing, monthly flavor, which means some are better than others. I like regulars: Plain, Chocolate, Green Tea. Good on them, they recently lowered their prices due to the economy (see an explanation on the website)! I can get behind that.
AROUND the BAY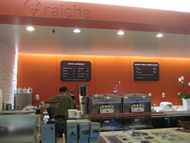 Fraiche Yogurt: This is Palo Alto's spot for not only great frozen yogurt, but fresh probiotic, cultured yogurt (made from Clover organic milk; tart but not sour). Besides the fact that they bless the South Bay by serving Blue Bottle Coffee, I love their Valrhona Chocolate frozen yogurt, which is unique amongst all local "froyo" shops. They also serve a Soy frozen yogurt, which I like better than their Plain.
Yogurt Harmony: Downtown Berkeley's answer to the craze. Though the store has less of a crisp, clean feel than others, they serve great frozen yogurt (highlights: Plain or Mango Tart).
NOT SO MUCH
Tutti Melon: I find this one the worst, which is interesting (or speaks for itself?) since it's also the one with multiple SF locations (2 now with 5 more on the way!) I find the texture thin, less creamy than all others I tried (the fat-free aspect?), and the flavors (Plain, Green Tea, Mango), bland.
Yogen Fruz: This worldwide Canadian chain recently opened its first West Coast location in SF's Embarcadero Center. I can't say it's a welcome addition to the scene. First off, the name. Secondly, unlike every other Froyo shop, you can't sample first because they have frozen bars of fruit to "blend" with Plain yogurt so no pre-made flavors. The plus is: you can choose your own… but they're frozen packets of fruit yogurt, reminiscent of Jamba Juice (did I just make that comparison?)