WHISKIES OF THE WORLD – MARCH 27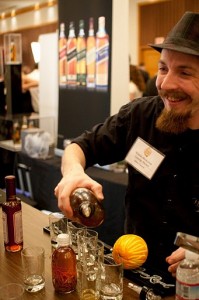 • Whiskies of the World (aka WoW)- Smaller in scope and selection than Whiskyfest, I expected a little more focus and ease at this event in the Hotel Nikko. It ended up being obnoxiously over-crowded, with only slightly more breathing room during the VIP hour.
Bagpipes from Bushmills Pipe & Drum Band were a nice touch – they came through every hour or so. But the body-to-body mayhem was less appealing. Maybe a bigger venue next time? There were similar greats in the whisk(e)y world here as at classier Whiskyfest, but not necessarily with their greater-aged spirits. There was a nice focus on small batch distillers, like Edradour, who weren't at the last Whiskyfest. For your money, I'd still recommend Whiskyfest, but I'm glad I was able to attend WoW.
The most fascinating hour came with the Craft Panel Discussion at 9pm, a prime board led by Ralph Erenzo of Hudson Valley, NY's, Tuthilltown Spirits, Scott Bush of Templeton Rye in Western Iowa, Brian Ellison of Death's Door outside of Madison, WI, and the one-and-only Fritz Maytag of our own Anchor Steam. Each shared the history of their companies, formed from the ground up – true American-ingenuity stories. It was especially inspiring hearing from Mr. Maytag, with his delightfully crusty sense of humor. He's really a grandfather of the new wave of craft distilling in the US, leading the way in beer in the '70's, then spirits a good 20 years ago, long before craft distilling techniques became a highly-valued commodity again.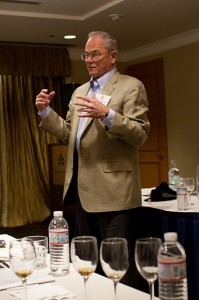 In a side by side tasting from these masters, Tuthilltown's whiskey is a spicy rye with a sticky, musky smell and notes of vanilla, mustard and honey. Templeton's 2006 whiskey is influenced by Bush's great grandfather, a Templeton distiller during Prohibition. It's a strong, brown sugar-tinged rye at 95% rye/5% barley grains (non-craft ryes are usually around 51% rye, which is not as complicated to produce). Death's Door white whiskey is about the best example of this young, robust spirit experiencing a resurgence. Made from malted barley and organic red winter wheat, it's double distilled, aged for less than 72 hours (to secure the whiskey moniker) and is clean, smooth, grainy, sweet, strong. Anchor Steam's Old Potrero 18th Century-style whiskey is a favorite stocked in my home for some time. Fiery on the nose, it is grassy, complex and singeing on the palate.
As far as tasting in the main ballroom, many of the greats were there, like Glenmorangie, but here are a few tastes that were new or noteworthy to me this time around:
•Dalmore – I was able to try more scotches in the Dalmore line, from a new 18 year expression (spice, coffee, chocolate notes) to a Gran Reserva (aged from 10-15 years) with dried fruit, chocolate and citrus accents. King Alexander III stood out with layers of sherry, citrus and vanilla… an expertly blended mix of different aged malts.
• Prichards – Rum from… Tennessee? You did hear right, and it's a good time. But my kicks were had with their Double-Barrel Bourbon. This is a medium-bodied, smooth Tennessee whiskey and I imagine it makes a pretty fine Manhattan.

• Corsair – I like Corsair's (a small Kentucky craft distiller) whiskeys, but was more interested in their Pumpkin Spice Moonshine, a white whiskey with the spirit of a pumpkin ale, and their intriguing RED Absinthe: floral fennel notes with a pinkish hue from hibiscus.
• Dry Fly – Dry Fly Single Malt Whiskey is from a fairly new (2007) distillery in Spokane, WA, also making gin and vodka. It is a 100% wheat whiskey, spicy for merely 80 proof, but smooth, with sweet peach notes. The wheat aspect comes through almost like cinnamon toast.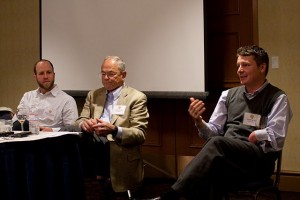 • Bruichladdich Organic – Available for tasting during the VIP hour only, it was a pleasure to sip what they're labeling as "the world's first organic Islay" scotch, a 2003 vintage, creamy but hot, with hints of currant and flowers.
• Tomintoul 31 Years Reserve – Another VIP hour tasting, their line is a delight, while the 31 year is a slightly sweet, smooth scotch.
NON-WHISKEY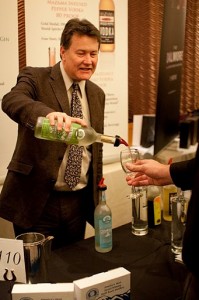 •  Bend Distillery – I've been itching to tell you about Bend Distillery, pleased to see them at WoW. Though they make award-winning vodka and gin in Bend, OR, they also have two special brands I can't get enough of: Cofia is a lush blend of roasted hazelnuts and fresh-brewed coffee in vodka. It's not sweet but aromatic and dark.

The other stand-out is Mazama-infused Pepper Vodka. Trust me and try and get your hands on this one.  Named after a volcano that erupted to become Crater Lake, it is blend of six different sweet and hot peppers. Heat is abundant and its redolent of fresh pepper skins. It's smashing on its own, even though recommended in cocktails or for cooking.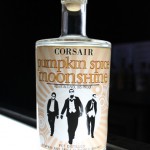 • Germain-Robin – These brandies are gorgeous and a Northern California (Ukiah) treasure. Trying the line was a pleasure, from cigar-friendly Old Havana to their elegant grappas. Take note of the lush Craft-Method Brandy XO.
• St. George Spirits – My beloved St. George (which is also Hangar One) lines my home bar with their incomparable Absinthe and Agua Azul Reposado. I always enjoy trying anything they make and a seasonal Spiced Pear Vodka is clean but laden with creamy clove.
*More on my non-whiskey picks from WoW in SF Bay Guardian article.