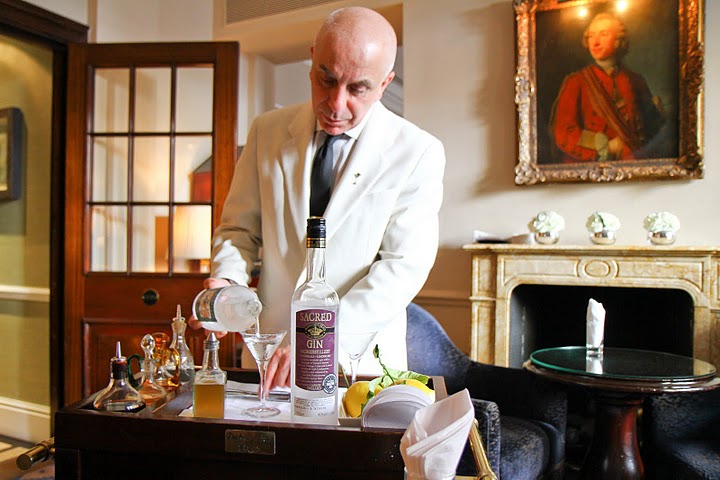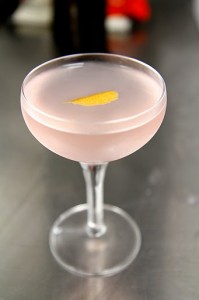 Twenty-five bars across multiple areas, from Notting Hill to Hoxton… I did some serious exploring of London's famed cocktail scene, from cutting-edge experimentation to divey comfort, legendary classics to just-opened destinations. I sipped with cocktail luminaries like Nick Strangeway over dinner at Hix, and imbibed incognito. As I dig into the scene in any city I travel, here's my take-aways from London.
1. Incredible experimentation and creativity – It's true: there's some cutting edge stuff going on in London Town. 69 Colebrooke Row is known as a standard of experimentation thanks to drink pioneer Tony Conigliaro. Visiting their test lab, Drink Factory ("a collective of like minded bartenders and artists"), is a revelation. Here they explore numerous flavors via a collection of expensive lab equipment from sous vide to centrifuge. This is far beyond infusions.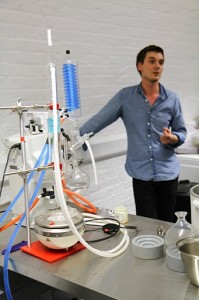 When you taste a Rhubarb Gimlet, you get the pure tart of fresh rhubarb stalks, its essence extracted from a centrifuge. This gimlet was among the best cocktails of my visit to London. Simple yet complex, it vibrantly showcased rhubarb and Beefeater gin with a twist of grapefruit.
Bartender Marcis Dzedelanis walked us through the lab equipment, making a dirty martini with olives in the centrifuge – a briney, smooth imbibement. I put drops of their aromatic tinctures on my wrists, releasing intense aromas. Conigliaro's team works as perfumer, scientist and alchemist combined (even if they seemed a bit serious and subdued).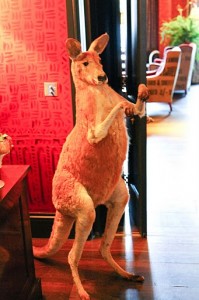 The Drink Factory/Colebrooke crew recently took on the fabulous, new Zetter Townhouse bar (the top hotel of my trip). They've created a cocktail menu (£8.50 each) of understated yet intricate sips like a Nettle Gimlet with Beefeater gin and house nettle cordial, or a musky Master at Arms with Myers rum, port evaporation and homemade grenadine.
I like the funky Flintlock: Beefeater gin, gunpowder tea tincture, sugar, Fernet Branca, dandelion and burdock bitters. Zetter's British drawing room, whimsically peppered with taxidermy (a full-sized kangaroo!), gramophone, mismatched furniture, plus a stately yet quirky basement gaming room, is among London's best spots (old or new) to linger over drinks (reserve a table ahead during prime times as it remains packed at nights – it is open all day).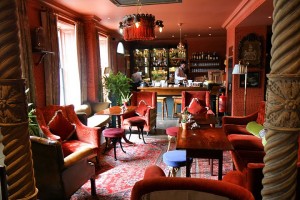 My other real stand-out bar was spanking new (only 4 weeks old at the time I visited): Worship Street Whistling Shop. Difford's CLASS magazine just posted an article this week on wood in barrel-aging cocktails, mainly talking with one of Whistling Shop's owners, Tristan Stephenson. I chatted with bar manager Ryan Chetiyawardana, who some may know from his Bramble Bar days in Edinburgh and a stint at 69 Colebrooke Row.
First off, the atmosphere enchants. Candlelight glows warm against dark woods and a classic organ, with more than a hint of Victorian-era influences in the basement bar. There's a Prohibition-era nod to bathtub gin in a small room with antique bathtub, and, yes, plenty of gin, including some real rarities. There's also a tiny, glass-walled 'lab' where Chetiyawardana showed us their Rotovap (for distilling at low temperatures). Here they create bitters, tonics, and special ingredients like "Walnut Ketchup" (nothing like ketchup but rather port wine, green walnut, chocolate, saffron and spice – used in a lovely Punch & Judy cocktail (£9.50) with Ron Zacapa 23 rum and crisp, clean malic acid).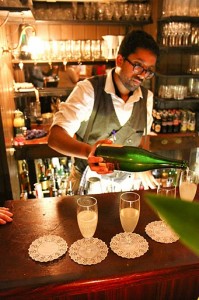 Wonders are many here, from a 'simple' House Gin Fizz (£8.50) utilizing vanilla salt, orange bitters, extra virgin olive oil, and soda, to a conversation-starter, The (Substitute) Bosom Caresser (£9), layered with baby formula milk (you heard right), Hennessy Fine de Cognac, dry Madeira, house grenadine, salt and pepper bitters. A pricey Champagne Gin Fizz (£80 for a 75cl bottle) takes No. 3 gin, lemon, sugar, fermenting the ingredients with yeast via méthode champenoise, a classic process of secondary fermentation in the bottle usually reserved for high-quality sparkling wines. The fizz is an elegant, integrated beauty.
Some of Whistling Shop's most profound joys come from a row of mini-casks behind the bar where a range of spirits sit infusing with an intriguing mix of ingredients. Though the barrel-aged cocktail craze has swept the world at this point, I tasted a range here I've yet to see at any one bar.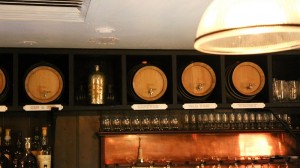 Gin & Pep (£9) salutes the Victorian era with gin and vintage Crème de Menthe in new oak. WS2 'Whisky' (£30) ages Balvenie with beech, maple and peat syrup in new oak. I found the WS2 'Genever' (£10) one of the most captivating: Tanqueray gin, Caol Ila Scotch, green malt, spices, aged in sherry oak.
Wherever you turn at this bar, you'll find the unusual… most of it balanced and delicious, while the staff and vibe are comfortable, classy. Just the kind of place I'd love to have in my own city.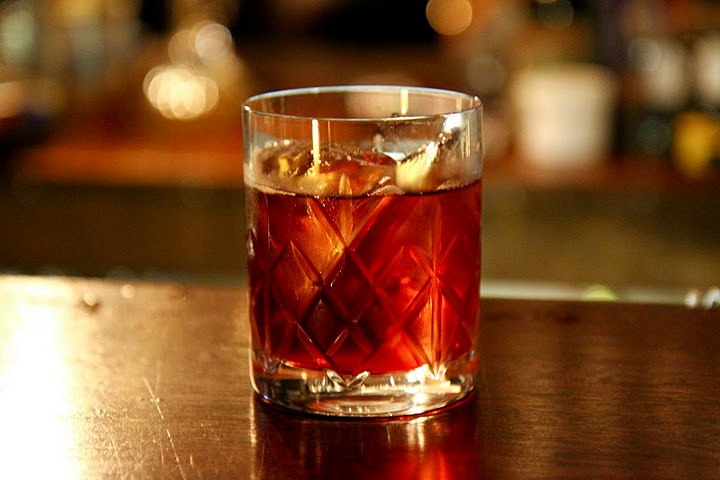 2. Well-made classics (with a twist) – You'll hear more from me on the juicy steaks at Hawksmoor (two locations). But for now, let's talk cocktails. This is Nick Strangeway territory, where friendly bartenders continue his tradition of well-crafted drinks.
I was delighted to order from a menu with line-up of juleps, cobblers, punches, et. al. My St. Regis Mint Julep (£7.50) took a long time to be made (nearly 15 minutes), but was worth it. In this 1930's New Orleans recipe, rye whiskey and Cuban rum form the base, while homemade grenadine rounds it out. It comes (blessedly) in a traditional julep cup (though non-traditionally caked in thick ice), with vivid garnishes of berries and mints, tasting like a proper Southern julep. Compared to other smoke-infused cocktails, I would have liked to taste more tobacco in their Tobacco Old Fashioned (£8), but with rye and house tobacco bitters, it was still a beautifully-executed Old Fashioned.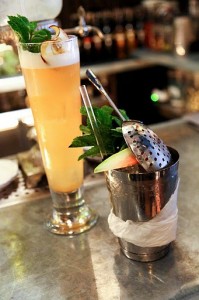 Montgomery Place is retro meets modern: mellow, classy, where we made friends with fellow bar patrons (even Stanley Tucci sat by us – adore him since Big Night directing days). This is a place I'd return to for environment alone. I can't say drinks overly impressed, though presentation is top-notch with dramatic garnishes. I stuck to house cocktails rather than ordering classics I can get anywhere at home (and make myself). The menu is extensive so there are surely pleasures inherent, although sipping a couple from the Acqua Vitae (whiskey) section of the menu produced drinks either too sweet or underwhelming. Bar Manager Ales Olasz' passion is absinthe, so absinthe paraphernalia and fountain line the bar. He emphatically recommended C. F. Berger Verte Suisse 1898, and it took me a minute to realize that's Ted Breaux' higher-end absinthe, which I enjoy but have had a few times – would rather have gone with something harder to locate in the States.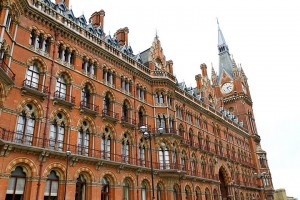 3. And then… not so much – It's incredible how many acclaimed London menus are still littered with flavored vodkas and fruity, chi-chi (or just plain played-out) drinks. I witnessed entire groups of friends each with a mojito in hand in bars that carried extensive, fascinating menus. Eager and expectant to have my mind blown by London's drink scene, I hate to say there were more disappointments than I anticipated. Of course experiences can be outstanding, but one has to be more choosy than just going to the most lauded cocktail havens.
If you are nearby, peek inside the brand new Booking Office in the other-worldly St. Pancras hotel. After years of restoration, this Victorian Gothic masterpiece (a film site for "Harry Potter" movies) just re-opened while I was in London, reflecting its full glory in massive arches and cavernous ceilings. Drinks were solid, particularly a Pimm's No. 1 Cup and a punch-of-the-day, Billy Dawson's Punch (Jamaican rum, demerara sugar, lemon, VSOP Cognac, Batavia Arrack, porter), served out of copper bowls, while Charles Dickens Punch was pleasing but sweet. The short menu given in the bar seemed generally basic (download the full menu here), particularly from expert consultants Nick Strangeway and Henry Besant. The letdown was that vibe, clientele and bartender knowledge (or lack thereof) felt strictly tourist hotel bar, though service aims to please.
1930's tunes and the classy, basement vibe of Nightjar work in the scheme of speakeasy-themed bars. But clientele appeared to be not a day over 18, making the place feel like "kindergarten just let out", as The Renaissance Man said. Flamboyantly garnished but crappy-tasting drinks make it a place to avoid rather than go to. Despite a beautiful menu, "signature" cocktails tasted of juice (Pedro Pamaro) or smoky tea (Name of the Samurai) but not at all of alcohol. The only "win" was a surprisingly good canape platter. For a mere £6, one can get 6 tasty, generously-sized canapes until 2 or 3am. This is significant when you realize how impossible it is to get even a bite to eat in London's hippest neighborhoods after 11pm (just try!)
Islington's Wax Jambu attempts to elevate fruity cocktails. Their bartenders are delightful, garnishing creations with fresh fruit, herbs and a wink. But the inventive sound of cocktails like Junglist Julep (£8) didn't taste as good as they looked. A bartender described it as savory with Bitter Truth's fabulous celery bitters but instead it was soapy/floral due to a heavy hand with house rose syrup in Four Roses bourbon, plus flavorless mango.
Shoreditch's brand new Ninety Eight Bar & Lounge is a chic surprise down a curvy, wrought-iron staircase. White walls and furniture, animal prints, quirky touches like lamps made with balloons, Louis XIV French design… it's high-end eclecticism. The idiosyncratic space is a pleasure to linger in, as oddly inventive as its owner, who chatted awhile with us over cocktails. Upstairs there's a mixology classroom with individual, well-equipped bar stations for teaching cocktail craft. I'm not sure who's teaching (seems it's mostly being rented out by corporations for staff functions), but it's an impressive set-up.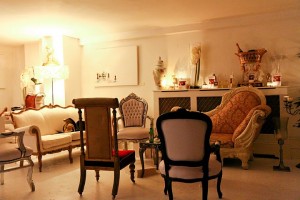 The downside? The drinks. Sweetness plays a heavy hand in drinks like Apricot Jam Comfort (what's with all the SoCo I saw flowing in London?), utilizing apricot-infused SoCo with apple juice and apricot jam. Tasting the infusion on its own, yields sugary excess. Off in the Clouds is a memorable presentation of fluffy white, cotton candy 'clouds' with sky-blue, gin & lavender-infused vodka poured over. I'm not sure how why you wouldn't use gin vs. vodka in the first place but I couldn't taste lavender, only sugar.
Baked Bean Delight (Karlsson's vodka infused with black peppercorn, baked beans and egg white) intrigued but came off sludgy, though they are using one of the best vodka brands out there. Surprisingly, Labito worked best – a lavender mojito with rum, blueberries and mint – was refreshing and well-balanced. I tasted a number of their infusions: some creative, some typical, many needing more time (or having had too much in the case of apricot SoCo). I like the staff and unique vibe of Ninety Eight and trust that drinks could be improved upon?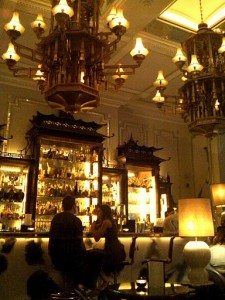 4. Pomp sometimes outweighs taste – Expectations were high for my visit to the lauded Artesian at the Langham. The gorgeous, airy room is illuminated with Asian-meets-French decor, romantic and intimate. An extensive menu hosts a brilliant flavor-profile map to help choose a cocktail to suit your mood. All seemed to confirm how special this place was.
I was prepared for pricey £16 cocktails (roughly $25), but wasn't prepared for the menu to read better than it tasted. The stand-out was Cask Mai Tai (£15), a cask-aged Mai Tai, deeply spiced and fall-like with tart lime and fresh mint.
However, Silk Route (£15), an intriguing milk punch of Batavia Arrack, Pimento Dram and Elements 8 Platinum Rum, was bland with a funky aftertaste. I wished for its sun-dried roasted coconut and lime to come through. A pipette of bitters to squeeze into the drink was a nice touch, adding some dimension to what tasted mostly of milk.
Alexino (£15), inspired by a classic Alexander, sounded luscious: Ron Zacapa 23 Rum shaken with whipping cream, red bean paste and aromatic spices. It could have been the perfect dessert, but I tasted little red bean or spice, while the bean paste sat sludge-like at the bottom of the glass. Granted, red bean is not an easy ingredient to mix in a drink, but at roughly $25 a cocktail, each should be exemplary.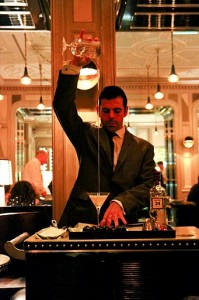 At stunning hotels, I was served by star bartenders. At the Connaught, it was Agostino Perrone, who I watched win Tales of the Cocktail's International Bartender of the Year last year. He's suave and professional with an eye for presentation. I was rather shocked, however, after tasting 10 different cocktails, each dazzling with elaborate garnishes in varying glasses, to find that only two of the ten actually worked for me. One was too sour, another, too sweet, one actually tasted like Fun Dip. An off night?
Even the theatrics of his famous martini cart, a visual treat prepared tableside, didn't quite deliver in taste. Perrone adds one of his house bitters to gin and dry vermouth – in our case, it was cardamom, a flavor I adore but one that didn't necessarily enhance the martini (I'd rather return to Duke's – see point # 7 – for a classic martini). That being said, the Connaught is still an elegant, refined respite for drink, romance and conversation.
5. Spirit of fun… a saving grace from annoying members-only bars – Despite my heightened anticipation for the C.S. Lewis-meets-Lewis Carroll vibe and fine drinks I'd heard about at Hoxton's Calooh Callay, it disappointed for two reasons: velvet-rope crowds and its back room policy.
I understand reservations for "secret" bars, having done that for years in SF and NY. I prefer quiet spots to enjoy with friends, loathing clamoring "scenes" and reservation-only bars often make this possible. But memberships are another thing. I noticed widespread members-only bars and restaurants in London. Memberships are often very expensive just for the right to make a reservation in a space. Through Calooh Callay's wardrobe door (a la Narnia), sat a half empty room. When we couldn't stand the body-to-body screeching of the main bar, we wandered to this blessedly mellow space. They didn't bother to explain the room was members-only, only that they they were "booked up". It's frustrating as a spirits/cocktail aficionado to find exclusivity hits against the people who would value a place most. I guess it was better the room sat half empty in order to maintain its exclusivity?
Though we left that obnoxious setting as fast we could, the saving grace was the bartenders' gaiety. Young guys slinging bottles and shakers through the air were clearly having a good time, despite a mobbed room. They answered my questions with good cheer, engaging me with jokes. Best of all, drinks didn't come with extensive garnishes and excess show as I'd grown accustomed to elsewhere around the city. They were all balanced… and delicious. Playful drinks on a comic book menu heightened the fun. Beetroot gets proper treatment in Beets Me (£9) with a touch of passionfruit, Beefeater 24 gin, Aperol and lemon. Slightly bitter, earthy and sweet, it was perfectly harmonious. The Helm (£9.50) did Scotch right serving Glenmorangie Original with lemon, orange, orange bitters and red currant jelly. Turbulent Truce (£9) had fun with Pisco Aba, maraschino liqueur, lemon, tarragon sugar. Batavia Arrack adds complex notes, while egg white keeps it light.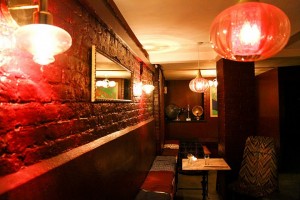 A welcome watering hole is months-old Happiness Forgets, a chic dive, if there ever was one. Owner Alastair Burgess has lined up rotating, star bartenders serving classics and straightforward cocktails. Burgess is having a good time with his little Hoxton respite – a place for conversation in dim, basement setting, at a welcome £7 per cocktail. Sipping a Mexican Sunset (tequila, Campari, lemon, agave, bitters), I appreciated the menu's promise of "Mixed Drinks and Mischief". Happiness Forgets doesn't take itself too seriously… all while serving fine drinks.
Notting Hill's Trailer Happiness is maximized "American" kitsch. It's an oddly delightful amalgam of topless Hawaiian hula statue at the entrance, underground 1970's den replete with shag carpeting, wood-paneled walls, and Tiki/Caribbean cocktails. The menu has Tiki, rum, classics, and house classics sections, slumming it with the likes of SoCo in drinks such as Bueller made with Woodford Reserve, Southern Comfort, Grand Marnier, lemon and peach puree. Better yet, prices hover in the £7 range.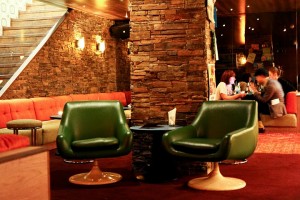 On the same Notting Hill block as Trailer Happiness is another quintessential hangout with good tunes. Portobello Star is small, intimate, full, yet not obnoxious. Everyone has a seat and though bartenders are slow to get drinks out, no one bugs you to keep ordering. Sit in conversation as long as you like. It's mellow, with the warm glow of a cozy, neighborhood bar. Pina Coladas and Strawberry Daiquiris sit alongside a Whiskey Smash or Bramble (in the £7-8 range), all well-made, the menu offering a little history behind each cocktail.
Another joy of a bar is the closet-sized Casita in Shoreditch. With the coolest, laid-back bartenders making playful sips with names like Rhubarb & Custard, it's a fun spot with Mexican luchador spirit (and masks). They also make the best sangrita, a green twist on the traditional, spicy with jalapenos, tart with lime, luscious.
6. Cocktails are way over-priced – As with everything in London, cocktails will cost you. Expect to pay £12-18 for most cocktails in hotels and £8-14 at bars. In US dollars, this is roughly $19-28 (!) or $12-22. Often cocktails are not superior to what one can find in great cocktail cities elsewhere, in fact, many cost that much made with brands like Jim Beam or the aforementioned SoCo.
7. Sometimes classic is best – It was a thrill to visit the dazzling Savoy, legendary for celebrities who frequented the bar (like Sinatra, Chaplin, Noel Coward, Judy Garland).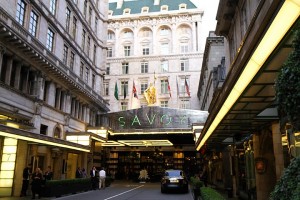 Among cocktail lovers, it's known as a key place cocktails (an American invention) were popularized in Europe, thanks to Harry Craddock, a US citizen who fled to London during Prohibition, publishing the Savoy Cocktail Book, a must-have in any serious cocktailian's library. Called the American Bar, it definitely feels a bit touristy with schmaltzy vocalist (I'd love some instrumental tunes from that stately grand piano at the center of the bar). White-jacketed bartenders maintain the retro vibe though over-sized, average cocktails don't as much.
The Hanky Panky was created here by Ada Coleman – the ultimate Fernet Branca cocktail. I sampled an amped-up version here made with all kinds of spirits, including Fernet, that should not have worked together, but did. The recent and extensive revamp of the Savoy has restored it to full glory, and a mini-museum in the bar showcases its vibrant history. Cocktail enthusiasts should visit once in their lives.
I've saved one of the best for last: Duke's bar. This elegant, small hotel (where I stayed first on my trip) is a temple to the martini, though they also house the new PJ Lounge for champagne, plus a cognac and cigar garden. I can see why the bar was frequented by James Bond author Ian Fleming and other martini lovers over the years: I cannot recall a more perfect martini I've had anywhere. Head barman Alessandro Palazzi is among the most delightful, consummate bartenders I've had the pleasure to be served by. As he wheels out a trolley laden with olives, lemons, ice and gorgeous barware, he impressed immediately with his gin knowledge.
Asking where we were from, he immediately launched into his love of San Francisco gins, 209 and Junipero, saying he's long been extolling the glories of Junipero. He knew distillers Arne and Fritz, and is well-versed and intimately acquainted with the best gins the world over. A world class bartender.
I asked for London's Sipsmith gin in my martini. Alessandro proceeded to bring out another locally-produced, small distiller, Sacred, so we could compare side-by-side. He mixes his martinis to icy perfection, gin's bite tempered with the refreshing cool of dry vermouth and a hint of lemon. This tiny, quiet haven remains among my favorite memories of London. Three cheers for Alessandro!