Carlos Camarena, master distiller of El Tesoro tequila (along with Charbay, Tapatio, Ocho, Excellia and more) is a powerhouse. Not only does he mastermind an insane number of tequilas, but he is passionate about traditional, small production, hands-on methods, pure ingredients, no shortcuts… yet he never sounds like a PR pitch. His sincerity authenticates his words: "In every bottle you will taste a little piece of us… of our heart."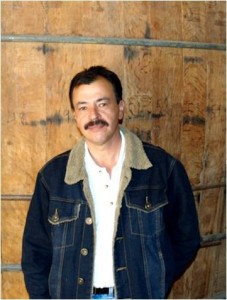 He talks of being a third generation distiller officially (5th generation unofficially: "My ancestors, how do you say… made moonshine?") El Tesoro is produced at La Altena Distillery in Jalisco, Mexico, which was rebuilt in 1937 by Carlos' grandfather, Don Felipe, after the original was destroyed in the Mexican Revolution.
Sipping the El Tesoro line, you do taste the history, and, yes, the heart. Carlos shares of his family's emphasis on quality, not quantity, as their business (and life) philosophy. He half jokes, "If you like our tequila, keep it quiet… we're happy to sell another bottle or two, but we don't want to grow too big and lose the quality."
A couple unusual El Tesoro factors: unlike any other tequila, it is bottled at proof, and in the case of the unaged platinum tequila, is bottled within 24 hours of distillation so as not lose any of the purest agave flavors.
Platinum (blanco) – clear, smooth, clean, it is sweet with a hint of banana and smoke, white pepper, herbs, vanilla.

Reposado – honey and dried fruit hit the nose, while the taste offers smooth, peppery slate tempered by a hint of oak sweetness.
Anjeo – aged 2-3 years in oak barrels, as is key to anjeos, oak aging thankfully does not mask agave flavor; though there's lots of vanilla cream in this, the smoothest and sweetest of the three standard tequilas, there's still a hint of pepper and plenty of agave; as is typical for me, I prefer the platinum and reposado though this is an elegant anejo.
Paradiso – though these days we see a lot of tequila aging experimentation, Carlos was the first to age in cognac barrels a good 20 years ago; Paradiso is aged up to 5 years in French oak barrels and is my sipping tequila choice: subtle spice and dark chocolate co-mingle with an almost mezcal mineral quality; earthy, lush, yet light.
As I spent hours at an intimate lunch with Carlos at Slanted Door, their bar staff made four cocktails showcasing El Tesoro, including the ever-delightful Carter Beats the Devil (reposado, lime, mezcal, agave, chili – an original recipe from Flora restaurant in Oakland), and a light Los Tres Aztecas that went down all too smoothly with blanco, falernum, absinthe and coconut water.