My brother and sister-in-law recently moved to Denver which means I'll be there more often. I hadn't been back in 5 years and was pleasantly surprised at how the dining scene has unfolded compared to my last trip. I have a long list of recommends and suspect you, too, might find Denver an unexpectedly solid food town.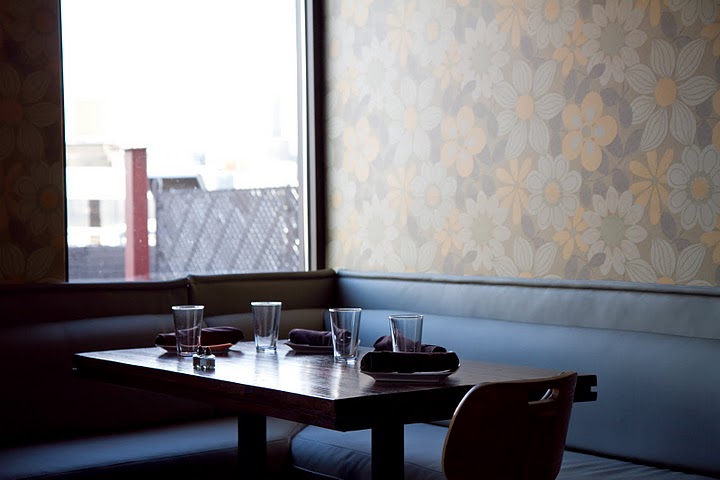 Denver Food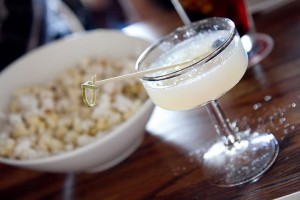 LINGER, Denver, CO
Probably my top overall restaurant in Denver is Linger from chef/owner Justin Cucci. It wins on many fronts: an eclectic, Asian-influenced menu grouped by continent, with nothing over $15 (except a lovely cheese platter). They focus on mostly organically sourced food from many local farmers and producers, using rice bran oil for frying. Then there's the space. In a multi-floored former mortuary, one could get the creeps, but everything has been completely redone with recycled materials. It's a stunningly hip, playful space with front row views of downtown.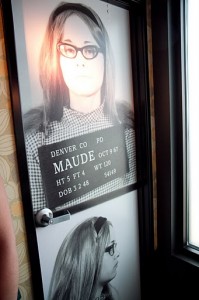 Industrial and modern, it's warmed by a funhouse of touches like pool table balls filling the floor next to a ramp, 1970's smoking ads from India, and 1960's-era mug shots covering bathroom doors. A dramatic staircase leads to an upstairs bar with that same city view. The space is festive, full of life, ideal for groups (though make reservations), particularly to share plates.
Dishes are prepared with finesse though approachable. Cocktails I tasted were made with quality ingredients though required more balance. I appreciated that they didn't make them too sweet, though their Corpse Reviver # 2.5 went the other extreme with far too sour citrus.
Here are a few dish highlights by menu grouping: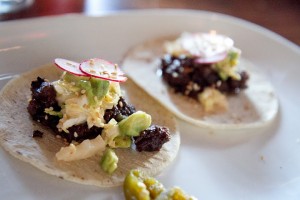 ASIA – Korean BBQ pork on a Chinese spring onion pancake with poached egg and kimchi (everyone at the table was crazy about this one)
– A bright Pad Thai ($9) with farm egg, pickled veggies
– Cold Peanut Noodles ($7) using Kombu noodles, miso-pickled cucumbers, cilantro, radish, Fresno chilies, peanuts
– Vietnamese "Goi Bo" ($12): wok-seared wagyu skirt steak, pickled daikon, carrots, crispy shallots, peanuts, bean sprout, shrimp chips
AMERICAS – Biker Jim Dog ($9), Denver's great local sausage, is topped with Boylan's Cola-braised onions, layered with warm, oozing cream cheese, and a side of addictive sweet potato waffle fries with chipotle ketchup
SOUTH ASIA – Bhel Puri ($7) puffed rice, crunchy lentil noodles, chickpeas, red onion, cashews, tomatoes, cilantro, melon raita, tamarind-date chutney
– Masala Dosa ($9): rice & lentil crepe filled with masala potatoes, peas, black mustard seeds, dipped in tamarind-date chutney and coconut chutney
AFRICA & MIDDLE EAST – Chicken B'stilla ($12), my favorite Moroccan dish of a phyllo pastry filled with shredded chicken, almonds, apricots, golden raisins, Saigon cinnamon, harissa and a side of preserved lemon yogurt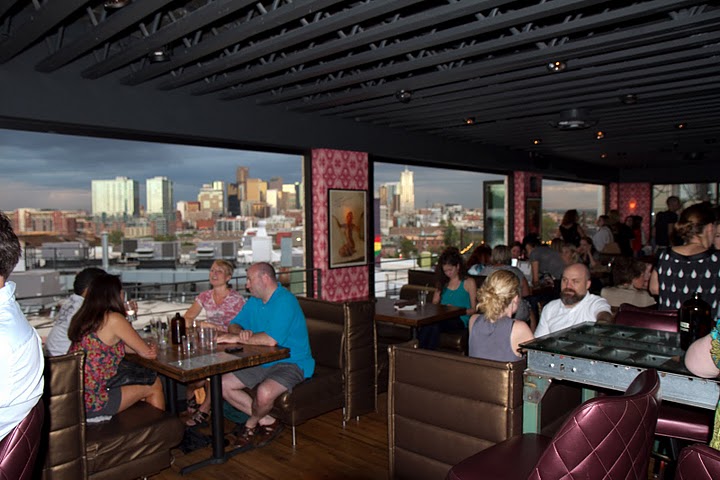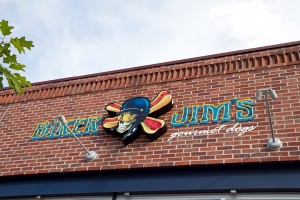 BIKER JIM'S, Denver, CO
Chicago has Hot Doug's and Denver has Biker Jim's. All the Anthony Bourdain and press raves are rather warranted, I must say. Sports and beer overtake the casual space (newly opened – Jim's used to be merely a food cart – those are still in operation), but sausages rule.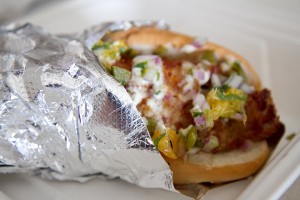 While not everyone is as amazing as the last, they are all so plump, juicy, and loaded with flavor… choose reindeer, rattlesnake, boar, elk, pheasant, etc… then a topping like "The International", an irresistible mix of wasabi aioli, caramelized apples and shaved Irish cheddar. This is some seriously good eatin'.
Yes, these hefty sausages will rest heavy on your stomach (both in feeling and weight gain). I had to re-heat half a dog for later… I just couldn't finish it. But even reheated, Biker Jim's is one of Denver's greatest treats.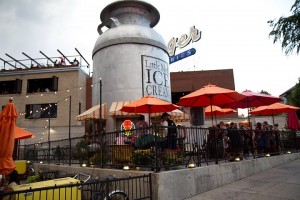 LITTLE MAN ICE CREAM, Denver, CO
After a meal at Linger, don't miss Little Man Ice Cream, a milk cream tower just outside the huge Linger space, with light-strewn courtyard, live music, lines down the sidewalk… a local's favorite for homemade ice cream. Some flavors work better than others, but each are rich, evoking childhood with unfussy, homegrown heart. When it comes to flavors, I have two words for you: Salted Oreo. Oh, man.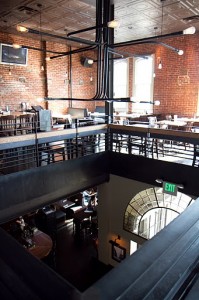 EUCLID HALL, Denver, CO
Another striking space, Euclid Hall's 1883 building downtown was once used for everything from Women's Relief Corps to flea market, its pressed tin ceilings and dramatic two story, atrium-style bar/restaurant an inviting place to linger over hearty, gourmet pub fare.
Yes, we've seen many an upscale gastropub, but thus far there's not much else like this in Denver and it helps that it's all done with exceptional quality.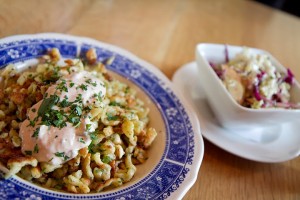 The beer selection is strong, with many Colorado beers on draft, Belgians and beyond.
Sean Kenyon created the cocktail menu which is an equally solid way to go. El Diablo ($8) refreshes with Pubelo Vieja tequila, Leopold's blackberry liqueur, Regatta ginger beer and lime. Go classically boozy with a Smoking Frenchman ($11): Germain-Robin Craft Method Brandy, Domaine de Canton ginger liqueur, Talkisker Scotch and bitters.
There are many dishes ideal for soaking up craft beers. I'm delighted to see poutine on the menu, roasted duck poutine ($12) with ducky gravy, black pepper and Wisconsin cheddar curds being hearty, gut-filling food. A brat burger ($9.50) on a bretzel (aka pretzel) bun oozes with pickled cabbage, house 10,000 Island dressing and Jarlsberg cheese.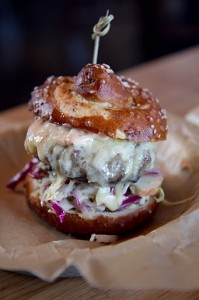 Chicken & Waffles ($12.50) are, similar to many in the Bay Area, a fresh interpretation of the classic dish using organic Petaluma chicken alongside sourdough waffles with pure maple syrup and salty walnuts. E-dog ($5) is exactly as they describe it on the menu: "all turkey kick-ass corn dog".
A melting griddled camembert & peach preserve sandwich ($14.50) with a tasty Waldorf salad was unexpectedly my top dish. I'd crave it on a rainy day, while the salad gives crunchy green apple tart to go with the gooey, sweet sandwich. Sides ($3.50 each) of caraway spätzle and apple cabbage caraway slaw are both above-average interpretations. Finish with funnel cake fried bananas ($4) in peanut butter caramel, evoking the spirit of bananas foster.
CHOLON, Denver, CO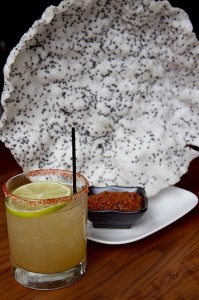 Cholon, a downtown Asian fusion restaurant, is a business lunch spot during the week and sleek, bamboo-lined Asian space for nighttime dining. This place particularly impressed with clean, focused tastes and preparation.
It all went down well with their Full Moon Margarita ($11) using Republic Plato organic tequila, Sombra mezcal, with tamarind chili salt rim. Smoky, tart, hot yet refreshing.
I could keep popping cheesesteak wontons ($9), with quality beef and raclette fondue standing in for cheesesteak Cheez Whiz. I particularly loved lemongrass beet salad ($8): multi-colored beets are savory with blue cheese, sweet with candied walnuts, the lemongrass adding a tart kick.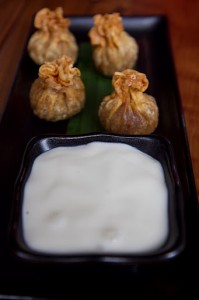 Chili crab rolls ($12) are another crowd-pleaser, fresh spring roll style in rice paper wraps stuffed with crabmeat and charred corn salad with Sriracha mayo to dip.
Lunch entrees fell short of appetizers. An Asian lobster shrimp roll ($19) plays like a New England-style lobster roll tossed in mayo alongside avocado and lettuce. All in all it works, but as a pricey sandwich, it's missing a flavor punch, as fresh and well-executed as it is.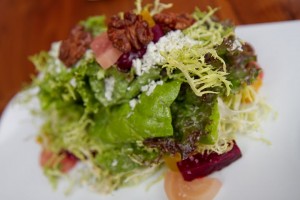 Veggie fried rice ($10) was disappointingly bland, falling short of most hole-in-the-wall Thai versions of pineapple fried rice. There were only a couple pieces of pineapple in the whole bowl and other items from nuts to scallion were equally minimal. Only a smattering of poached egg adds some flavor.
Overall, I'd return to Cholon, which has been voted one of the year's best new restaurant in Denver by Denver's 5280 Magazine (so was Euclid Hall, above), due to its attention to detail and fresh focus.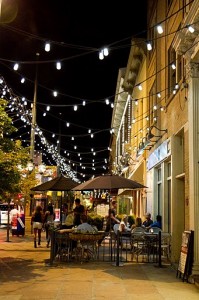 TAG, Denver, CO
Under Larimer Square's ceiling of white lights lining the street, I sit in Tag's small, outdoor patio. They offer a range of sake, beer and spirits, with solid, though not exceptional, cocktails ($9-11): Smoke on the Water is simple but refreshing with watermelon, Bulleit bourbon, lemon, agave; Blushing Geisha is Tyku soju, sparkling sake, lavender syrup, pineapple.
Tag chef/owner Troy Guard wins points for being willing to play, whether it all works or not. Flash-seared hiramasa ($14) is a sashimi-style platter bright with yuzu, jalapeno, white soy, tatsoi (spinach mustard green) and myoga ginger. The clincher is pop rocks dotting the dish. Admittedly, it's not the best candy taste with fresh fish, but the textural pop is as fun as one expects (I've seen a handful of chefs in the past decade use this on occasion to perk up a dish). Australian kangaroo ($14) is meaty but not gamey, contrasted with watermelon, Sriracha, lime, and soft goat cheese.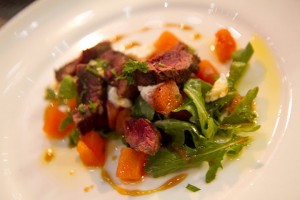 Interestingly enough, Kobe beef sliders ($13) topped with gorgonzola aioli and shallot confit was the best dish, as tired and overdone as sliders are. Overall, it seemed to have the most harmony, particularly with duck fat fries, which aren't unusual either, but dusted with a bit of sugar and spice here, are savory, sweet, and utterly satisfying. Caramelized butterfish ($13) was as lovely as it ever is, particularly with lump crab, apple, English peas, and hon shimeji (East Asian mushrooms).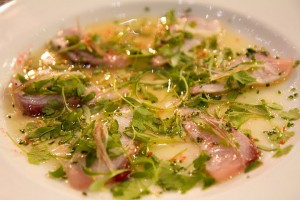 Buratta cheese salad ($8) was sad with a mere couple tiny drops of buratta, and spare few cherry tomatoes and marcona almonds over greens. I usually can't resist ordering buratta salad (as the ultimate form of mozzarella) at home… but I've never seen less than huge dollops of buratta. I could barely find it here.
Chef Guard makes his own ice cream flavors – some more exciting in theory than actuality. I headed straight for the most unusual: uni and salted caramel lobster ice creams ($4 per scoop). I figured they'd both be amazing together but the uni was far too salty (and I love savory desserts). Still, kudos for the concept. I'd like to see those perfected: creamy, rich and appropriately salty.
WEDNESDAY'S PIE, Denver, CO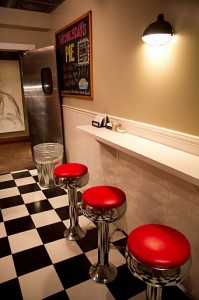 After dinner at Tag, or anywhere else in Larimer Square, for that matter, a real treat is Wednesday's Pie, the "front" for Green Russell, a faux speakeasy culinary bar (below).
Thankfully, the shop is open all day, too, so you can pick up a pie or a slice as you wish ($20 pie, $5 slice). These are all-American pies with childhood favorite fillings.
Though I've had more buttery, flaky crusts elsewhere, the fillings are superb. An uber-tart cherry pie evoked summer and was my favorite. A creamy oreo and a warm apple caramel pie were happy taste experiences both. They also do chocolate peanut butter pie and vary flavors seasonally.
Denver Drink
GREEN RUSSELL, Denver, CO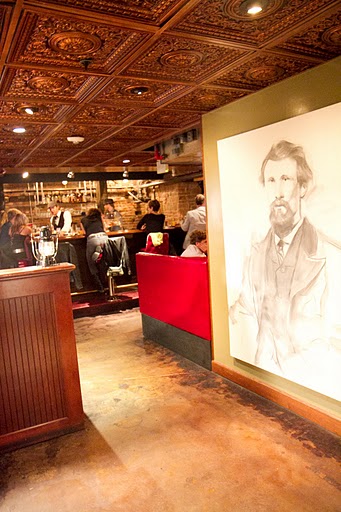 It's a speakeasy with a sign… so not really secretive in the faux speakeasy way that eventually became the rage in NYC and SF over the past decade plus. But head downstairs off Larimer Square, through darling Wednesday's Pie shop (see above) decked out in 1950's black and white tile with red stools, on through to a subterranean den of romance: Green Russell.
Described as a "chef-driven cocktail joint", it is culinary cocktails like I'm used to at home. The long space snakes around a wonderfully huge bar that is runs the length of the entire space. Lined with retro red chair stools, there is no shortage of spots to sit at the bar and take in the team of friendly bartenders who clearly love what they're doing. Behind the bar is a glass-walled greenhouse of sorts, growing a range of herbs used in their drinks.
A small food menu offers some funky, gourmet bites (like BBQ rabbit on toast). The drink menu reflects a handful of house cocktails and thought-out spirits list, though much of the fun here is chatting with your bartender about what they might make you based on your mood and preferences.
On menu, It's Japanese ($12) followed a whiskey citrus trail with a twist. Suntory 12 year bring the Japanese piece, using Leopold's American Orange liqueur, lemon, yuzu, and a house ginger balsamic honey. Served tall and on the rocks, it's refreshing as it is boozy.
The highlight was a Bitter Mai Tai, a delightful recipe in the July/August issue of Imbibe magazine which I've been making at home on more than one occasion. Here, however, after expressing being in the mood for either a bitter (like Campari) or mezcal, willing to go either direction, my sweet bartender did both. Mezcal, Campari, orgeat (almond syrup), and orange bitters. Served over crushed ice in an icy metal cocktail shaker (sans lid), it's garnished with mint, refreshing, smoky, creamy, bitter on the finish, awakening all the taste buds.
Green Russell marries romance and craft cocktails, making it a destination place to linger over conversation with good friends.
COLT & GRAY, Denver, CO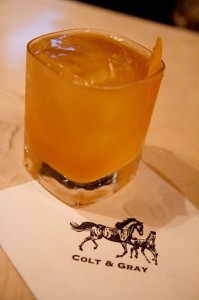 Next time I must dine at Colt & Gray (the type of offal, meat and fowl menu long common in big cities but ever a joy when done well). It was clear to me from the moment I sat down at the bar of this newer downtown restaurant that felt like I hadn't left SF.
Five years ago there was nothing like this in Denver, but here I could walk in and find spirituous cocktails, both classic and new, good American whiskies, and a range of local spirits… not to mention classic films playing on a flat screen over the understated bar.
Most importantly, head barman Kevin Burke ended up being my bartender and his knowledge and skill for what he doing is, again, what I've long been used to at home, the kind of care that showed me what drink could be when I first converted. With plain old great service, he made me an off-menu rye cocktail with house tinctures and homemade orgeat… I was hooked.
Boulder
THE MED (aka Mediterranean Restaurant), Boulder, CO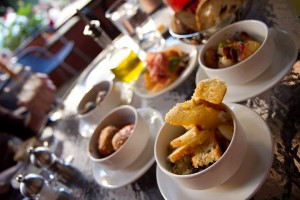 I may not have loved entrees or Neapolitan pizza at The Med, a favorite hangout in Boulder, but all was solid. What really works is their outdoor patio courtyard with wall fountain, reminiscent of many restaurants I've dined at in Mexico. Happy hour tapas run 3-6:30pm every day, are merely $2-4 each, and are quite good, particularly with a tall glass of their passion fruit-laden sangria ($4). I recommend bacon-wrapped dates with garlic sauce ($3.50); ajo ($2.75), a roasted garlic bulb with balsamic jam and blue cheese; gambas ($4.25), Gulf shrimp in lime sherry vinaigrette; and tender albondiags ($3), pork meatballs in a sweet tomato sauce.
THE CUP, Boulder, CO
Strong, bracing, bold, The Cup makes a fine cappuccino that with micro-foam that goes down like silk.
Roasting their own beans and sourcing them from all over the world, the student vibe of the comfortable space does not signify typical college hangout coffee shop quality. This is the right stuff and the best coffee I had in Boulder.
Louisville
Louisville is a charming, tiny town a short drive from Denver, walkable and slow-paced. For next time, Lucky Pie intrigues with beers and pizza using locally grown-flour, and Cactus Wheel has a 60+ tequila selection, was playing 1970's country music as I walked up, and sports a big patio out front (Mexican food there, however, looks like an uninformed white person's idea of what Mexican food is).
SWEET COW, Street, Louisville, CO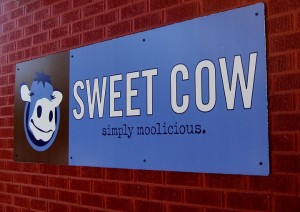 Ice cream at Sweet Cow, a blue and white local shop with vintage lawn chairs out front and little cows for the kids to play with. Though it looks sugary and some flavors are, there are little dozens of flavors. Just start reading the long list of flavors on the back fridges. I enjoyed their ice cream sandwiches with crusty cookies evoking childhood,
PAUL'S COFFEE & TEA, Louisville, CO
Another coffee standout on my trip was Paul's Coffee and Tea. At the Louisville Farmer's Market on Saturday morning, it was the highlight of the market, sourced globally through a California contact and roasted locally.