Top Tastes is not a list of all-time favorites, rather the best tastes of the last two weeks (since my last newsletter), often from new openings.
Bar Agricole Matures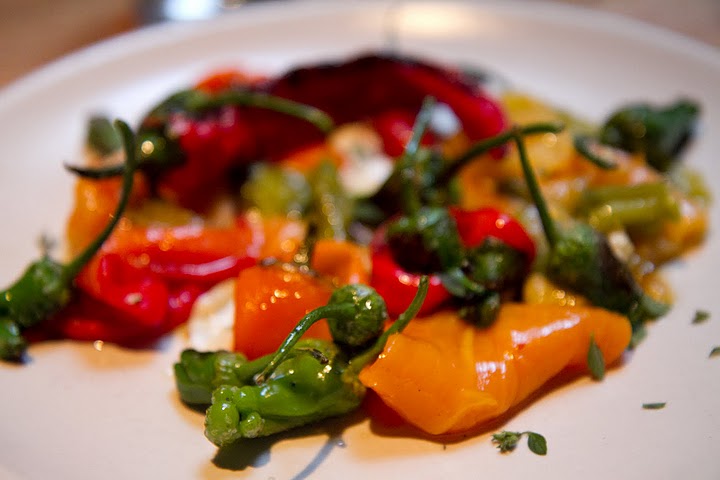 Bar Agricole, SoMa (355 11th Street between Folsom and Harrison, 415-355-9400)
Bar Agricole has won numerous awards for its unique, forward-thinking design, and a long list of accolades for food and cocktails (often with a rhum agriocle and classic cocktail focus). I went more often in early days last Summer when it first opened, but have been twice again recently, convinced that Bar Agricole has matured and found its stride (not to mention their herb garden is one of the best outdoor dining spots in the city). Cocktails are clean and elegant and chef Brandon Jew's food is better than ever. Both recent meals included dishes ranging from quite good to outstanding… here are just a few: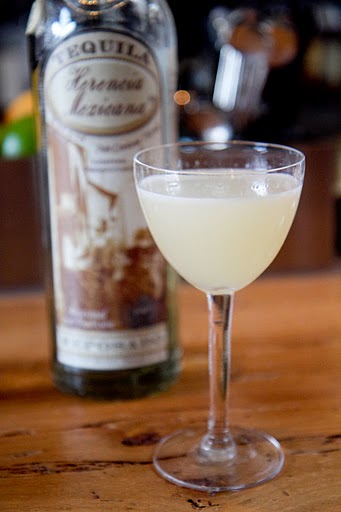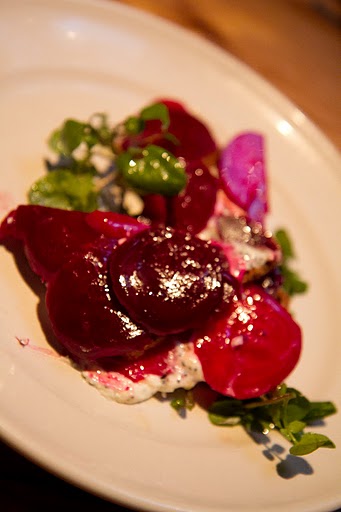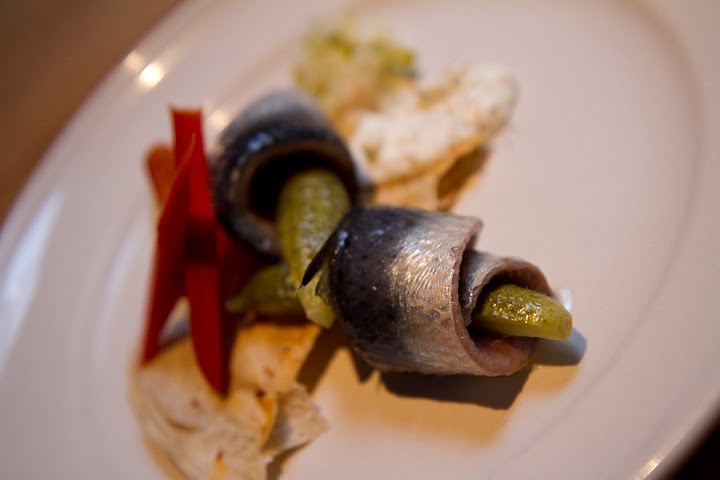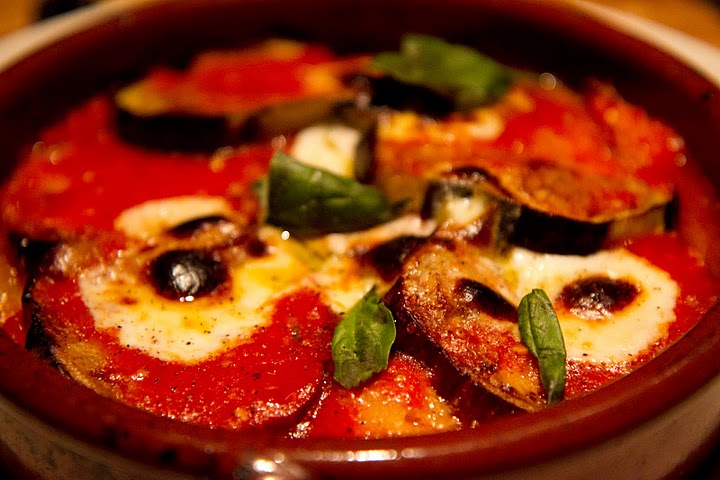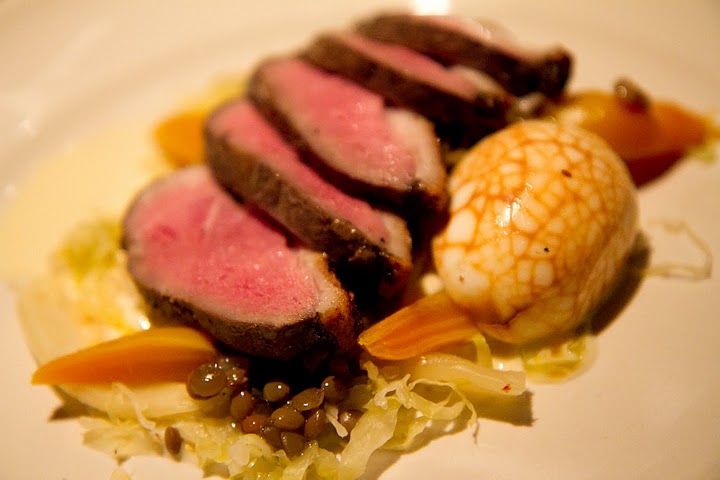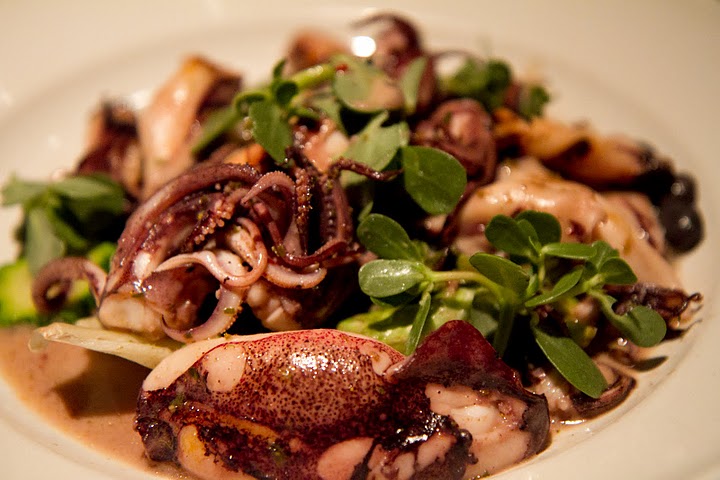 I've tasted over 14 cocktails (all $10) here recently and here were some stand-outs, each clean and classic:
– Sleepyhead (brandy, ginger, mint, lime, sparkling wine)
– Tequila Fix (lime, pineapple gum, hellfire bitters)
– Bellamy Scotch Sour (whisky, lemon, orange, honey, egg white)
– Brown Derby (bourbon, grapefruit, lemon, honey, bitters)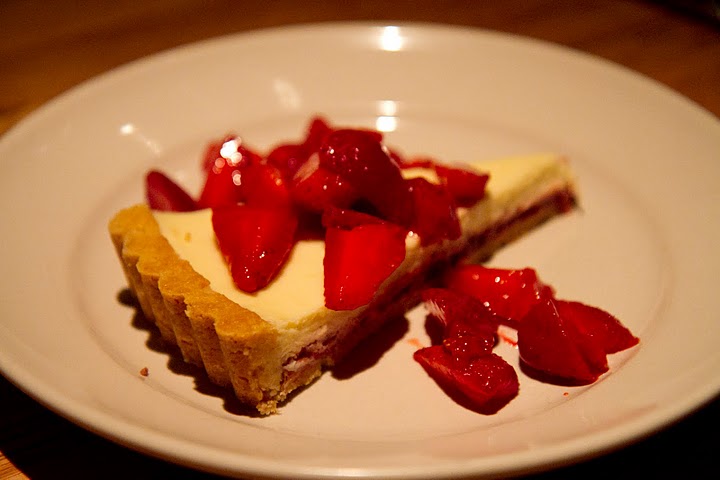 Gourmet Tavern Fare Downtown
Jasper's Corner Tap and Kitchen, Downtown/Union Square (401 Taylor Street at O'Farrell, 415-775-7979)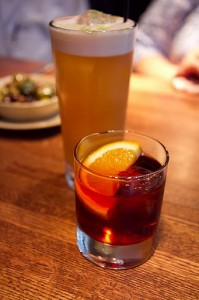 Recently I've shared numerous cocktail favorites and small bites picks at the new Jasper's, a welcome all-day dining option downtown near Union Square with superb cocktails from Kevin Diedrich and team. I've tried just about every cocktail on the menu, also recommending the beer and wine selection, offering a comprehensive selection on tap in both categories.
Padron peppers ($5), sausage bites ($5), or a house pretzel ($4/$8) dipped in smoked gouda/cheddar fondue, are all good starters. But don't discount the salads as a shared starter or an entree. They are satisfying and made with a gourmet touch. An heirloom tomato salad ($13) with buffalo mozzarella, arugula, includes the welcome touch of preserved lemon. Equally fun is the chop-chop salad ($12) laced with seasonal veggies, minced egg, sunflower seeds in a mustard dressing. A fried avocado wedge seals the deal.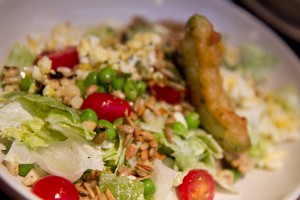 The Ballpark ($13) is executive chef Adam Carpenter's juicy, house-made sausage wedged in a bun with spicy, horseradish-heavy mustard, brussels sprout sauerkraut on top, and a tiny side of blue cheese coleslaw. Though I prefer the sausage (and other gourmet burgers around town), one can still have a good time with the J Burger ($15). A side frites accompanies griddled wagyu beef, English blue cheese, bacon onion marmalade, and frisee on a baguette bun.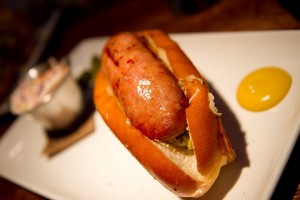 Shepherd's Pie ($16) remains true to the traditional but with minced lamb, crusted over with mashed potatoes and aged white cheddar. Oddly enough, my favorite plate may be the simplest: grilled cheese ($7) with tomato and onion relish on whole wheat sourdough. Half the sandwich sits atop the other like a mini-tower. Roasted garlic, frisee, and herbs (add avocado $2, pork belly $4) send the sandwich over the top.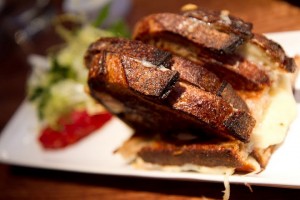 Dessert is a highlight, too. Cinnamon pretzel doughnut and a shot of Maker's Mark and espresso with cream ($8) is a little too filling after burgers and Shepherd's Pie, but sharing it is worth it. Though the doughnut is made from house pretzel dough, it is still somehow light and soft. The bourbon, espresso and cream is affogato-style in a shot glass, ideal to finish off a meal.
But ultimate kudos go to two house ice creams: fresh mint and Maker's Mark bourbon ($4 a scoop). The bourbon is creamy and boozy, while the fresh mint is bright. Together, it's a Mint Julep in ice cream form. Sigh.