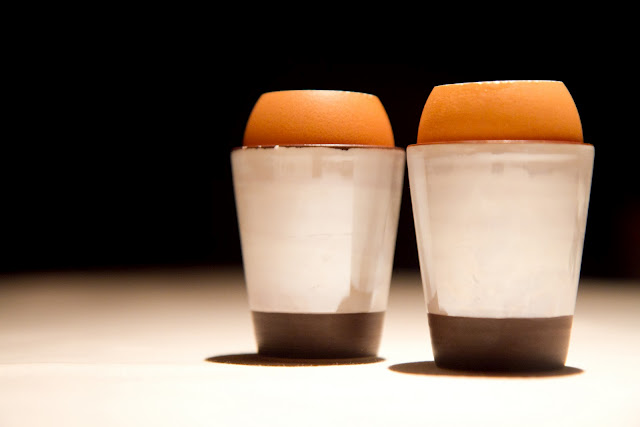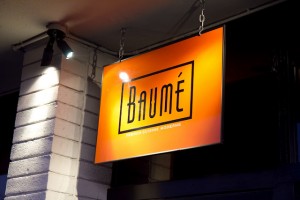 There are meals that live on in memory: a diorama of conversation, heartwarming food, and that misty glow from a fine bottle of wine. Then there are the game changers, meals that are an elaborate tapestry, weaving complex threads of creativity into an unexpected whole. True: experimentation is useless if it is not also delicious. But if the food is as impacting to the taste buds as to the eye, it borders on art.
Baume (pronounced "bo-meh") vies for the latter category at a level not seen enough in the Bay Area. Having lived in numerous parts of the country, including near major food cities (New York and Los Angeles), and ever eating my way across the globe, it's easy to list San Francisco as one of the world's great food cities. We breathe food from our pores, the quality of ingredients and passion for good cooking as high as you'll see anywhere… and has been for decades.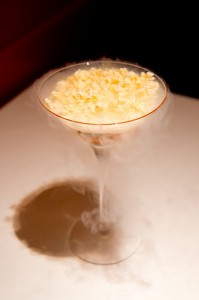 Here I never suffer for impeccable presentation, ethnic authenticity, or heartwarming perfection. Where I find myself hunting for inspiration is in the realm of, for lack of a better term, molecular experimentation? Molecular gastronomy has been deemed by many as "out" (or according to Britain's seminal chef Heston Blumenthal, "dead"), a "trend" that watched its glory days die with the closing of legendary El Bulli. But if, as Thomas Keller posits, the issue is in the terminology, since the ripple effect of Ferran Adria has so permeated restaurants everywhere as to become "standard", then experimental cooking is far from irrelevant.
Though the Bay Area has pushed boundaries for decades, one finds countless perfect Neapolitan pizzas or whole animal menus here, but only a handful of molecular menus. Maybe it's our fierce devotion to purity, our desire to be above pretense, our commitment to letting ingredients speak for themselves that makes the Bay Area somewhat skittish around fussy equipment, even as we played out sous vide and foams along with every other leading food city.
We have our masters (e.g. Manresa, Coi, Restaurant at Meadowood, Benu, the great French Laundry). We also claim that growing category of fine dining, molecular cooking in affordable, casual formats (AQ, Commonwealth), a godsend to those of us who want boundaries pushed but not under the weight of stuffiness or stratospheric costs.
The study of science and gastronomy has been greatly advanced by locals like Harold McGee and Elizabeth Cawdry Thomas. While we have made notable inroads historically and new ones of late, I wish for just a few more Alinea and Jose Andres' The Bazaar-type restaurants on our varied culinary map.
Craving comfort and loathing pretension as much as anyone, I don't want to see us shrink from boundary-pushing. There's room for it all. With the "dumbing down" of fine dining everywhere in recent years, many fear appearing ostentatious. Hence, "upscale comfort food" has taken over formerly more creative menus ad nauseam. Such a climate makes moves like chef Dominique Crenn opening Atelier Crenn all the more bold.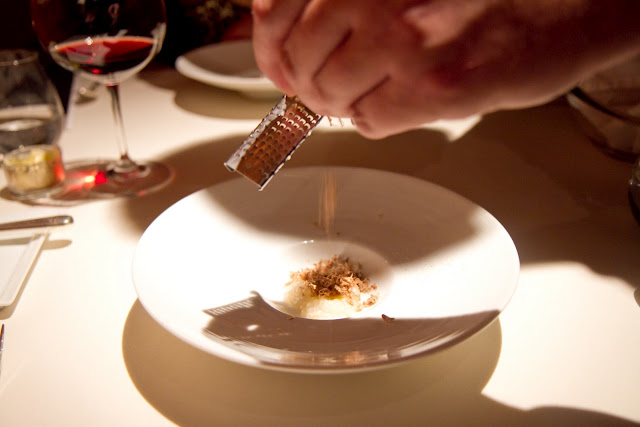 Thankfully, Baume is not staying in the safe, comfort zone. Foams may be long over, but for an adventurous food lover, to sit down for three hours with merely a list of ingredients, nearly 20 bites and courses, is an exciting event.
Baume has become one of our best fine dining restaurants. It is artful, employing molecular processes alongside classic French technique. A list of ingredients like vadouvan, Calvados, kabocha, caviar, and like, tease but essentially give little intimation of what lies ahead.
Naming Baume one of 2010's best new restaurant openings in both SF Guardian and the Perfect Spot, I found Chef Bruno Chemel's vision inspiring, even as the restaurant was still discovering itself. Returning at the end of 2011, it is coming into its own. Prices reflect this "sense of self". Formerly just over $100 per person, it's now a whopping $168 without drink. Add on wine pairings and it's $288 (or $368 if you desire the premium wine pairing). It's one mighty expensive night out. But there are more courses than there were before, more intermezzos, bites, and delights at every turn. If you're going to splurge, Baume is one of the more experimentally satisfying fine dining options in the Bay Area.
The setting is understated, modern, but still a little staid, even museum-like. Thankfully, intimacy and bright orange and brown tones keep it from being cold, with one small room of 4-5 tables and additional individual tables behind curtains. Service is seamless, though with this many courses, expect to see waitstaff often throughout the meal. I am always impressed when I can ask even a server filling my water about ingredients and all are well-versed on each dish. This level of care is crucial in a place like Baume. I'm glad to say their staff seem clued in on the vision.
Even a menu of expensive aperitifs (four, ranging from $15-28) is elevated since my last visit. A Baumetini ($18) is dramatically presented with sparkling sake poured over liquid nitrogen lilikoi/passion fruit "ice", an icy haze erupting from the glass, while the taste is tart, intense, palate-cleansing.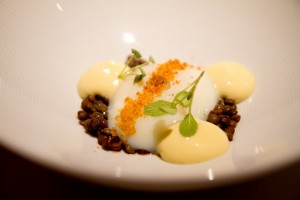 On a white, indented ceramic block sits a round roll of fig pistachio "focaccia" – the bread course. Looking more akin to mochi, the warm, green roll perks up in yuzu glaze and salt flecks. Moving on to juicy beets and onions in panko crumbs with a potent shot of celery beet juice, it's clear this meal won't be typical.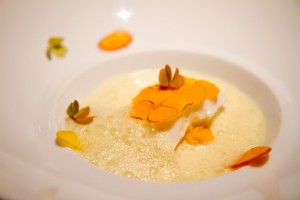 In 2010, Chef Chemel's most memorable dish was a 62 degree egg. This is the only dish I recognize from the year before, silky as ever, though presentation is different over lentils in a vermouth sabayon, topped with tiny sage leaves and toasted garlic bread crumbs.
Produce proves to be a realm where Chemel shines. A delicate Autumn salad is one of the most beautiful and finest tasting dishes. It combines bits of apple, pear, squash, and vivid red leaves with acorn wafers. The dish blossoms with a gorgeous pairing of 2005 Domaine des Baumard Clos du Papillion Savennieres from the Loire, a 100% Chenin Blanc that surprises with orchard fruit contrasted by mineral earthiness.
Other stand-out moments included the add-on course (yes, for even more money) of Alba white truffles from Piemonte, Italy, in season and available for a matter of days. They generously shaved a luxurious truffle over cauliflower tapioca risotto, pairing it with 2006 Morey-Coffinet Morgeot Chassagne-Montrachet 1er Cru from Burgundy.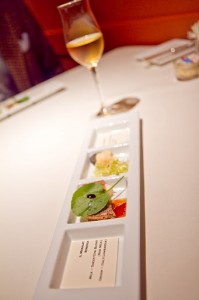 Fatty suckling pig in crispy skin is a winning main with braised endive and ginger sponge foam. Apple plays prominent in both freeze-dried green apple slices and a sauce of balsamic Calvados (French apple brandy). A bright, acidic 1999 Heitz Cellars Trailside Vineyard Cabernet from Napa alternately displays a raisin richness reminiscent of port, making an ideal apple-pig companion.
Dessert comes in four parts, but it's a liquid shot that leaves an impression: fizzy, young coconut water soda with a lychee float. After dessert, I was served house eggnog with nutmeg foam in an egg shell. Perfect for December, it's a playfully refined statement to end a nearly three hour feast.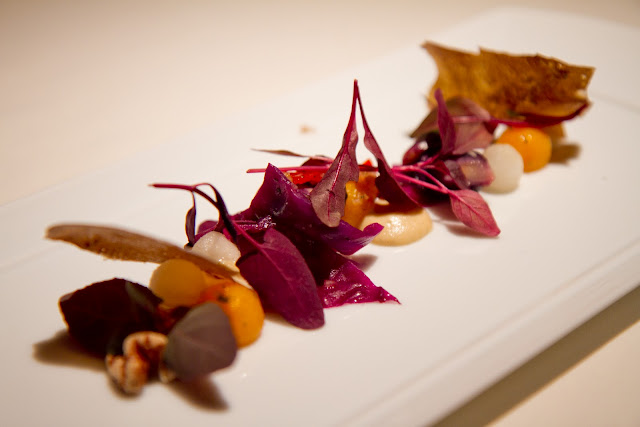 Additional courses:
– Caviar parfait with green apple, puffed rice, carrot, smoked creme fraiche, gold flecks
– Matsutake mushroom wasabi consomme with 2007 Chateau de Fonselette Blanc, Cotes-du-Rhone – surprisingly excellent pairing, bringing out sweet, mulled cider notes in wine
– Halibut in pumpkin scales with coconut vadouvan emulsion
– Lobster with vanilla coffee foam, lavender, mushroom, paired with 2009 Kistler Chardonnay Les Noisetiers, Sonoma Coast – wine is full bodied, with mineral, passion fruit notes
– Intermezzo: green apple sorbet over green apple sand with marjoram
– Grass-fed filet mignon with leek terrine, truffle jus, black shaved truffle, paired with 2007 Bernard Burgaud Cote Rotie, a Rhone Syrah with dry mouth feel, tart, earthy notes
– Cheese course: funky, earthy, French cow's milk cheese, L'Ami du Chambertin served with grapes and frisee; creamy, earthy, raw sheep-cow's milk cheese Il Menalat Robiola, Lombardia, Italy
– Dessert: Pink ruby red grapefruit mint gelee; a "Rocky Road" redux including vanilla orange marshmallow and liquid nitrogen-toasted walnuts; coconut passion fruit blanc mange with Madelienes on a bed of guava