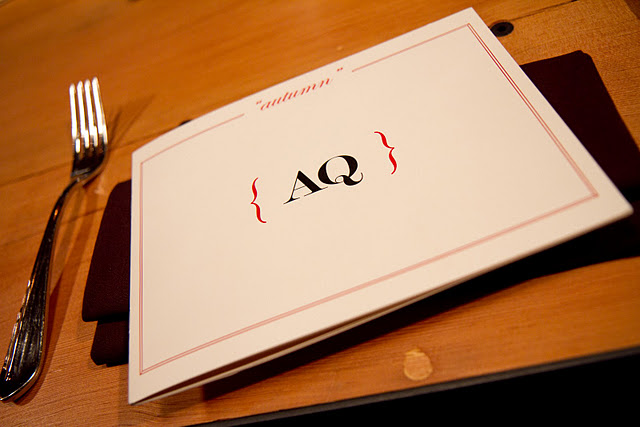 AQ, 1085 Mission Street (between 6th & 7th), 415-341-9000
In its initial opening weeks, AQ reminds me of Commonwealth and Sons and Daughters. At all three restaurants, precision marries inventiveness… at a reasonable cost. AQ's starters are $9 or $13, while entrees are $24 (prices lower at lunch). Dining in cities the world and country over, I can vouch that it is rare to see this level of skill and creativity at this price.
Seasonal menus are a dime a dozen here, but how often do you witness seasonal trees and plants with seasonal bar glassware, and a seasonally-changing bartop?
As AQ's bartop morphs from copper to Italian marble for the winter and fall leaves enliven, the space exudes celebratory beauty. There's exposed brick, funky whisk lighting, open kitchen and a ridiculously cool basement lounge with mid-century lamps and couches viewable from a mini-bridge walkway at the restaurant's entrance.
Then there's the food. Executive chef/owner Mark Liberman combines New York and San Francisco sensibilities (he's cooked in both cities, France, Napa, and with Daniel Boulud and Joël Robuchon in Vegas), Mediterranean and French influences, but in style and ingredients, is decidedly Californian.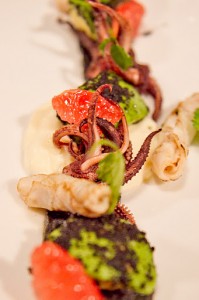 All this comes into focus when you taste Monterey squid and charred avocado ($9). Parsnips and grapefruit add brightness, while black sesame char over silky avocado ushers in a dish rich, earthy, unusual. A delicate starter, it is rife with flavor.
I adore Boudin Noir (blood sausage or black pudding, depending on if you're from the US or UK/Ireland) and Liberman's version is a thrill. A warm, spiced pile of tender meat (not in a sausage casing) is companion to chestnuts done three ways ($9): raw, confit, and as a cream sauce. With quince and sorrel, the dish pops. At this point, I'm catching my breath at the level of detail and sapidity, recalling countless basic salads or sandwiches I've had for the same price.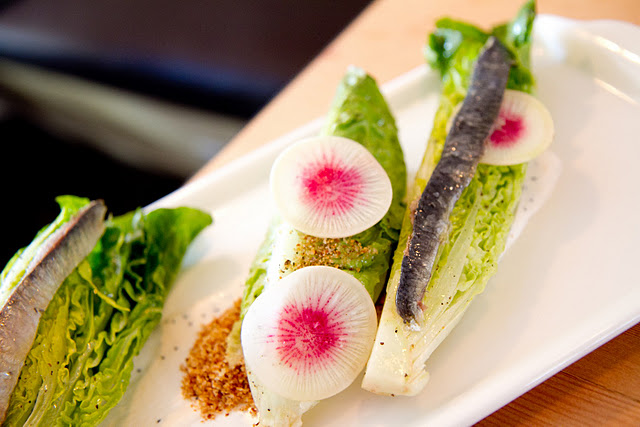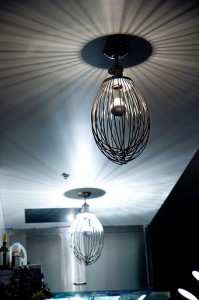 In each dish, nuance prevails without getting mired in overwrought fussiness. Starters are small, but entrees are filling as they are complex. With every visit, my meals keep getting better. Only open since October, I repeat what I noted last month about AQ's bar menu: AQ is a restaurant to watch.
Not as revelatory as the charred avocado or boudin noir, I was still pleased with toasted barley and Dungeness crab ($13) tossed with mushrooms and Douglas fir, and with cauliflower ($9) in various iterations from charred to raw, doused in vadouvan spices with golden raisins.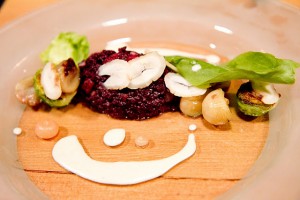 In the Autumn spirit, roasted pumpkin ($10) sits alongside carrots, ancho cress greens, with a heaping scoop of mascarpone cream. Even a little gem salad in buttermilk dressing ($10) fends of being typical with poppy seeds, watermelon radish and cured sardines.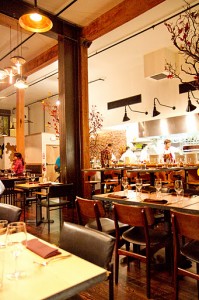 On the entree front, one witnesses Liberman's range in a juicy, utterly satisfying slow-cooked veal breast (all entrees $24), subtly candied in orange, accompanied by unfried, plump sweetbreads and broccoli. He does not leave vegetarians in the shadows with Kohlrabi "Bourguignon". Kohlrabi, a brawny German turnip, stands stoically in the center of the plate, a root sprouting from the dish with flair. Notes of horseradish and star anise peek out but it's the red wine sauce that must be lapped up.
Desserts (desserts $6 lunch, $8 dinner) are equally expert in detail but didn't capture me the way savory dishes like the veal breast, boudin noir, or charred avocado have. I enjoyed ginger cake with Asian pear and salted toffee, cooked in Amaro Montenegro, and a devil's chocolate cake dusted in coffee and smoked streusel, with shavings of roasted white chocolate, though I could have used more smoked streusel to bring out the earthiness of the cake.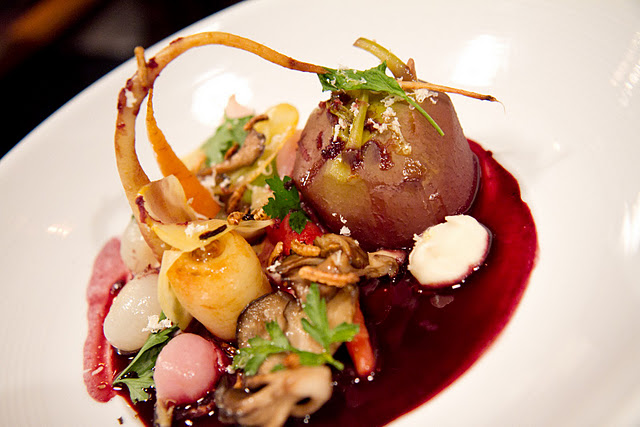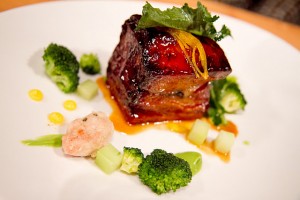 As I've written before, the bar, with a winning team of talented bartenders helmed by Timothy Zohn, is worth a visit alone and should be a new go-to for cocktailians. Winter's chill diminishes sipping New Amsterdam # 1 (all menu cocktails $10): raisin-infused Bols Genever, maple syrup, Old Fashion bitters, and a splash of apple cider. Head south with Mexican Piano: Espolon blanco tequila, huckleberry syrup, lime, tarragon, topped with a torched bay leaf.
In keeping with early opening weeks, they mix lovely aperitif and digestif cocktails, many amaro based, with a section of classics given seasonal treatment, like a Sazerac of date-infused Russell's Reserve Rye, sugar, Peychaud's winter bitters.
The concise menu reflects a thoughtful range, vintage glassware is gorgeous, and cocktails sophisticated yet unpretentious.
Already, AQ feels like "the whole package": seamless, warm service, excellent bar and cocktails, exciting cuisine, smart space. I wouldn't be surprised if AQ becomes a favorite San Francisco dining destination for many.