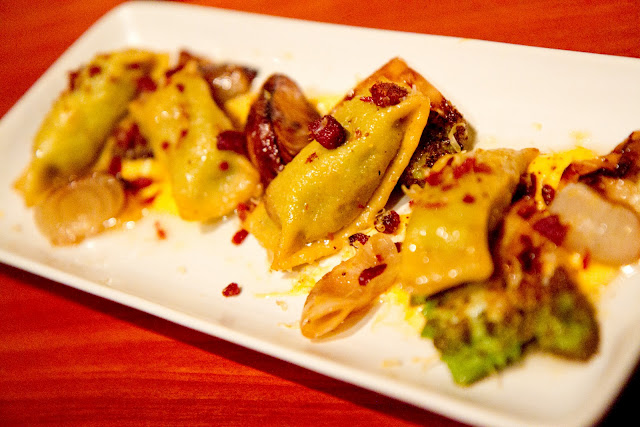 MAVEN, Lower Fillmore (598 Haight St. at Steiner, 415-829-7982)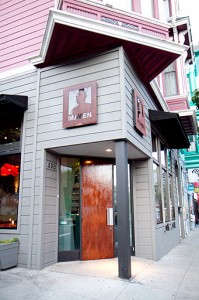 Enter through a corner door to a restaurant lined with high communal tables, upstairs seating area, and a redwood bar backed by a stone wall overflowing with plant life. Formerly RNM, Maven is a sleek, new cocktail haven in Lower Haight. I knew the cocktails would be good, but I was pleasantly surprised at how strong the food is. Maven opened as a drink with food pairing concept, the menu listing three pairing columns. In the middle are generously-sized "small" plates, a couple entrees and dessert. To the left is a "distilled" column of cocktails, to the right, "fermented" beer and wine offerings.
While co-owners Jay Bordeleau and David Kurtz (Kurtz is also executive chef) have worked in numerous fine dining and popular establishments (like Michael Mina, Saison, Beretta), in keeping with the times, Maven is decidedly casual yet chic, an upscale bar with impeccable food. Sous chef Matt Brimer (formerly of Maverick) works with Kurtz on dishes more interesting than they read on paper.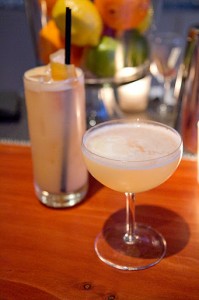 Wise they were to bring on Kate Bolton (of Michael Mina) to helm the bar. Elegant restraint is something she honed during her days at Michael Mina working alongside Carlo Splendorini. Working my way through each of her balanced cocktails, there was little down time.
Jamie Pait (who worked in pastry at Slanted Door) made a slew of house syrups, like ginger and five spice, which Bolton uses in her recipes. Pait's hazelnut orgeat simply rocks. Orgeat is a creamy, nutty almond syrup. With hazelnuts instead of almonds it is equally silky – fantastic even on its own. In Nauti' Mermaid ($10), it adds sexy layers of nuttiness to Jamaican rum, lime, orange and coconut juices. Thai spirit shines in the cocktail's vacation-like smoothness as it cools a dish of Monterey Calamari ($9) laden with Thai chilies, ginger, coriander. The calamari cleverly comes two ways: fried and grilled.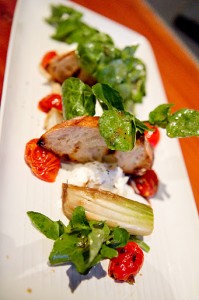 Another happy match occurs  in braised fennel and watercress ($9), again far more satisfying than it sounds. Grilled fennel works beautifully with creamy burrata cheese and charred cherry tomatoes (a twist on a Caprese) over grilled toast. Its cocktail match is International Mistress ($11), a soft but powerful mix of amaro (Nonino) and mezcal (Sombra), luxurious with orgeat and grapefruit, with just a hint of mezcal smoke. Also more exciting than the overwrought sliders category would suggest are Chinatown duck sliders ($9), like a gourmet Chinatown sandwich with tender duck, shiitake mushrooms, bitter greens and a smack of bacon. Its cocktail pairing is the 5 spot ($10), a bright blend of La Favorite rhum agricole, lime, maple, house ginger and five spice syrups, crowned with a Thai basil leaf.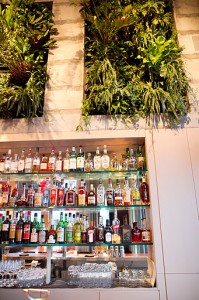 Lush and subtle co-exist on the menu, while Bolton generally keeps cocktails light enough on alcohol so as not to overwhelm the food. Global Warming ($11) is a unique aperitif. Not only do you get dry riesling, but sake, even a splash of Ransom's Old Tom Gin. Tart with lemon, a little scoop of absinthe sorbet permeates the drink as it melts. Brilliant. Its food spouse is a superior scallop crudo ($12), silken paired with hazelnut, shiso and tart apple.
Contrast raw scallop freshness with rich broccoli agnolotti ($11/$18), a pasta meaty with southern Tasso ham, savory with orange-hued mimolette cheese and cipollini onions. Its drink mate is a full-bodied, but not overwhelming, Hometown Vixen ($9). Bolton infused black pepper in Four Roses bourbon, mixing it with lemon and two house syrups: gomme and a luxurious roasted pistachio.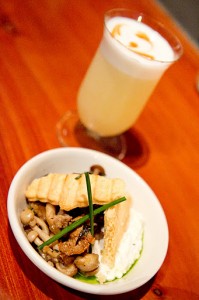 The only dish I wasn't as taken with is still well-executed: seared arctic char ($23) swimming in smoked fume broth with carrots and turnips. There's nothing wrong with the soft white fish – it just lacked the flavor punch found in its accompanying pickled PEI mussels. Its match was one of the best cocktails on the menu, Hibiki Highball ($12), showcasing Japanese whisky (Hibiki 12 year, in this case) with a giant ice cube, house ginger syrup, bitters and soda water. Wine and beer pairings are likewise thoughtful (e.g. Hennepin, Ommegang's farmhouse saison beer, with a mushroom tart, or Poco a Poco's funky, fun Chardonnay with the arctic char).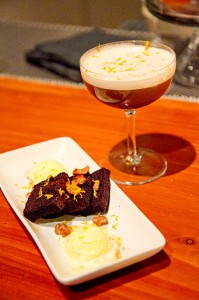 Dessert could easily be Beach & Hyde, an off-menu cocktail named after the cross streets of legendary bar, Buena Vista. Inspired by Buena Vista's famed Irish coffees, the drink is Evan Williams bourbon, coffee brewed with cocoa nibs and vanilla, plus egg white and orange zest. If you want to actually eat dessert, you won't suffer with dark Mayan chocolate in brownie-reminiscent slices, accented by black cardamom ice cream.
In fact, you won't suffer here at all. Whether in for cocktails, wine, beer, food, or all of the above, Lower Haight has itself a destination restaurant.