These six noteworthy new books are either just released or out this fall.
THE BLUE BOTTLE CRAFT of COFFEE: Growing, Roasting, and Drinking, with Recipes – James Freeman, Caitlin Freeman, Tara Duggan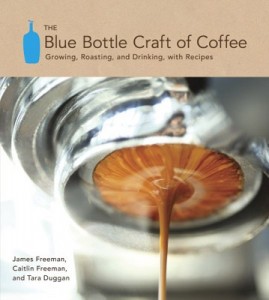 Since its first kiosk in January 2005, Blue Bottle has been my first choice in coffee, from ethos (served immediately, individually, beans sold fresh after roasting) to taste. Musician James Freeman dove into coffee after being laid off from a corporate job post-9/11… the story of how he began is inspiring in the Blue Bottle Craft of Coffee book intro. Written with his wife, Caitlin, and James Beard-nominated food writer Tara Duggan, photography by Clay McLachlan illustrates sections on global growing regions, roasting, cupping, pour-over, siphon, espresso machines, and other techniques.

Caitlin, resident Blue Bottle pastry chef and former owner of Miette, contributes over 75 pages of recipes – not so much utilizing coffee, but breakfast recipes "with morning coffee" from Blue Bottle cafes, desserts and treats "for dunking", and contributing chef friends' recipes like Stuart Brioza's (State Bird Provisions) tuna melt with piquillo peppers. Though Blue Bottle has now gone nationwide with NYC locations, in these pages one waxes nostalgic over this Bay Area success story bringing us all better coffee. Released October 9.
DESTINATION COCKTAILS: The Traveler's Guide to Superior Libations – James Teitelbaum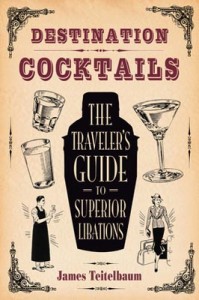 Chicago resident James Teitelbaum wrote the kind of book I would happily write, the first I've seen of its kind detailing the best craft cocktail bars globally. Destination Cocktails is a cocktail aficionado's trusty guide to destinations in obvious places like NY and SF, to less obvious towns such as Reno and Cleveland. Internationally, the book covers the gamut from Wellington to Edinburgh (the latter city missing Bon Vivant and Ranconteur).

There are a few missing greats but like restaurants, information from bartenders to owners can change so quickly after publication. Despite those challenges, Teitelbaum gives a comprehensive collection that would set any budding or well-traveled cocktailian on the right path. From London (Worship St. Whistling Shop, 69 Colebrooke Row) to Denver (Williams & Graham), many of my global tops are highlighted, alongside cities/bars I've been hankering visit (ah, Tokyo!) Released September 1.
SPQR: Modern Italian Food & Wine – Shelley Lindgren & Matthew Accarrino with Kate Leahy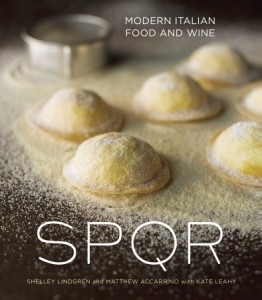 A beautiful, visual tribute to Italy, restaurant SPQR releases a book by its wine director, Shelley Lindgren (also of A16), and executive chef, Matthew Accarrino with Kate Leahy. The book features eight regions of Italy, each influencing creative recipes from SPQR's kitchen and from which Lindgren chooses wines. Her essays explore lesser known producers and varietals succinctly but with depth. Accarrino's artful skill with Italian cuisine (which we thankfully can enjoy at SPQR) may not appear easy for most of us, but there are tips and photo breakdowns of recipes, small animal butchery and pasta-making. Photos by Sara Remington inspire with a romantic eye tempered by realism. Released October 16.

FORAGED FLAVOR: Finding Fabulous Ingredients in Your Backyard or Farmer's Market – Tama Matsuoka Wong with Eddy Leroux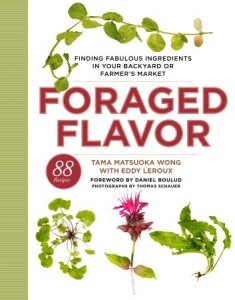 At a recent intimate gathering at Coi, I was privileged to spend time with Tama Matsuoka Wong, forager for Daniel restaurant in NYC (Daniel Boulud wrote the book's forward), sampling bites made with ingredients she'd foraged with Coi staff while visiting the Bay Area. We celebrated her new book Foraged Flavor, out this summer, and I learned of her career change from lawyer to forager in New Jersey (my former stomping grounds), where her three daughters are involved in her foraging, cooking lifestyle.

The book's clean, classic layout shows of botany-style plant diagrams, seasonal groupings, and approachable-but-gourmet recipes like dandelion leaves with poached eggs and bacon. There's foraging and growth tips and key characteristics of each wild plant, further spreading the foraging gospel.
COOKING OFF THE CLOCK: Recipes from My Downtime – Elizabeth Falkner
Longtime local chef Elizabeth Falkner recently moved to NYC, and though we miss her here, thankfully the Top Chef Master star, who was just shooting the upcoming season of The Next Iron Chef, released her second book this week (August 28th). As a James Beard-nominated pastry chef, her first book, Demolition Desserts, focused on the sweet side, while new Cooking Off the Clock is a volume of everyday, accessible recipe favorites.

There are sections on condiments (kimchee to tahini sauce), flavorful salads, playful snacks (three types of hot wings: Moroccan, Tabasco-honey, black bean-sesame-ginger), starches (noodles, pasta, grains, rice, main courses, like an old school beef stroganoff), a few of her beloved desserts (two versions of cherry pie), and pizzas, including her amazing pastrami pizza -like a Reuben pie, Russian dressing, shredded cabbage, thinly-sliced pastrami, and all – which I never forgot from her restaurant Orson and to which other versions have not compared.
DAILY DECADENCE: The Art of Sensual Living – Sherri Dobay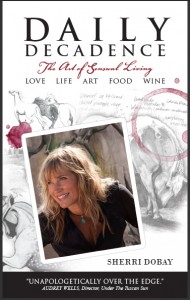 Sherri Dobay's voice in the new Daily Decadence feels like a kindred spirit… though young, her romantic, sensual verbiage communicates that "old soul", the kind of view with which I've seen the world since girlhood. For her, it's through food, wine, art, nature, horses (she's a rider). For me, it's a dozen other ways, but the voice is inspiring as it is comforting.

More memoir than cookbook, and formatted as such so harder to open up while working in the kitchen, recipes are not as much the draw as overall tone, with sections grouped around decadence (Divine Decadence, Decadent Simplicity, Decadence of the Seasons, Decadence of Letting Go) and wine recommends explored from a right-brain perspective rather than analytical tasting notes. Reading bits and pieces of the book at a time is like a sip of crisp, refreshing wine.