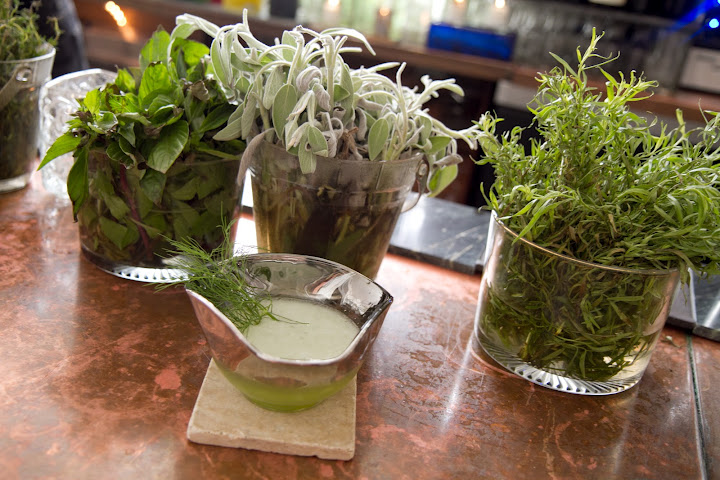 Exploring New Orleans restaurants extensively in recent years, as far as I'm concerned, the city offers some of the best cuisine in the world. When it comes to cocktails, as with food, Nola is blessedly averse to trends and unusually respectful of history, so even through dark ages of cocktails (1960's-90's), New Orleans' cocktail classics like the Sazerac, Ramos gin fizz, and Vieux Carre continued to flow. But even a couple years ago, there was little in New Orleans reflecting the cocktail renaissance that NY and SF have long known and that is sweeping cities across the US the last few years. Swizzle Stick Bar has been open since 2003, but though I love the decor, I've not had a standout drink there. In 2009, Cure opened and despite being all the rage, counted in numerous "best bars" lists, I didn't find Cure exciting compared to many craft cocktail bars globally. Instead, I'd trek to Bar UnCommon for the bartender that changed the way I drink, Chris McMillian, Bar Tonique for laid back quality, or classic Quarter escape, Arnaud's French 75 Bar.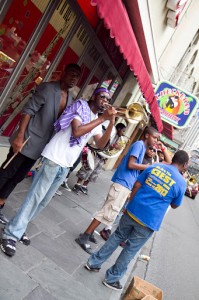 What a difference a couple years make. Though there are still only a handful of craft cocktail havens alongside stalwarts of an era gone by, there's a fresh breeze blowing through New Orleans' restaurants and bars. Interesting to note, a number of New York bartenders have migrated to the Crescent City, infusing NY craft into Nola's rich cocktail heritage, as a Times Picayune article noted while I was in Nola in July.
Two of the most interesting, unexpected menus this visit were from New Orleanians who took over bars in both the hotels I stayed at: International House, which despite small rooms is a peaceful-chic respite from French Quarter mayhem, only a couple short blocks from the Quarter, and the old world elegance of Windsor Court with its recent $22 million restoration. My suite at Windsor Court offered views and a deck overlooking the city, roomy living room, bedroom, and vanity room… a graceful, quiet space for rejuvenation in the midst of summer heat and Tales of the Cocktail madness.
LOA BAR at INTERNATIONAL HOUSE, CBD (Central Business District)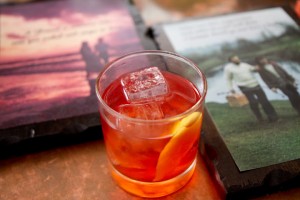 Off the candlelit, sexy lobby of the International House, where I stayed during my recent visit, is Loa Bar. Bar Manager Alan Walter came from Iris, mastering herbaceous cocktails alongside Sharon Floyd. Besides being a musician and blessedly well-versed on one of my great loves, classic country music, Walter and bartender Brian Adee crafted a range of cocktails ($10-13) that could read "overwrought" noting sometimes over five seemingly dissonant ingredients. But each drink tried was a surprise, layered in flavor, different from any other bar menu in town.
First, Green Door ($13): vivacious, herbal notes of Green Chartreuse mixed with fresh pressed apple, mint, lemon and basil and SAGE liqueur had me hooked. Served in a curvaceous silver bowl, the aromatics filled my nose, even from a distance. When I sipped the soft green elixir, it was like bathing in a green garden… almost healthy, bright, eye-opening. I craved it again the moment I left the bar.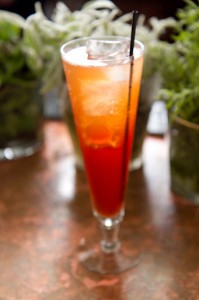 Adee spent countless hours tweaking 20 different versions of a Sazerac (New Orleans' official city cocktail), which he seeks to perfect, joking, "There was little else to do in Kansas, where I moved from." He made me a boozy version of a Sazerac with VSOP Cognac (the original Sazerac base), white whiskey, Rittenhouse rye whiskey, and a Kubler absinthe rinse, as well as one of his recipes, a Southshore, that is equal parts kaffir lime-infused cachaca, Campari, Carpano Antica sweet vermouth, lemon, agave nectar, salt-cured kumquat muddled in agave, topped with soda. Refreshing, lightly bitter and not overdone as it might sound.
There's many intriguing paths to take on Loa's menu, I wish I could have journeyed down more. Blueberry aquavit with celery and lemongrass, perchance? Or a tribute to country's greatest couple, Johnny and June: Beefeater gin, Johnnie Walker Black, plum, cardamom and flamed orange. Or Yellow Chartreuse, Jasmine liqueur, tangelos, bell pepper and Peychaud's Bitters? Each fascinating. As long as this crew is mixing behind the bar, I'll be back.
COCKTAIL BAR at WINDSOR COURT, CBD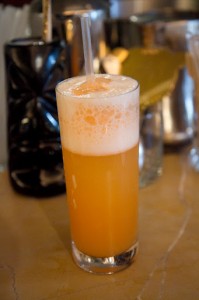 Spending half my week at the stately Windsor Court, I'd sipped a dram upstairs in the old school Polo Lounge in years past with its strong Scotch selection. Relaunching the blandly named Cocktail Bar in the lobby this year as part of Windsor Court's renovation, the hotel appointed young, talented Christine Jeanine Nielsen (who came from Loa Bar at International House) to helm the bar, working closely with the hotel's Executive Chef Kristin Butterworth to craft culinary drinks. Like Loa, her menu was an unexpected surprise.
In keeping with the soda fountain revival happening in my own city and around the nation, Nielsen uses lactart, acid phosphate and other fountain techniques in a number of drinks. Inspired by "what she likes to eat," vegetables sing in her cocktails. I fell for the soda fountain-like Carrot Fizz ($10), frothy with soda and egg white, it's Karotte brandy, fresh ginger and carrots, lemon and sugar completing this refreshing sipper with ginger bite. Beet & Co. ($9) is a mix of BarSol pisco, pressed beet juice, agave, lemon and Angostura bitters. Soft with egg white and purple-red, it's a vibrant drink with plenty of lemon tart though I wish I could taste more beet earthiness as I have in favorite beet cocktails of years past.
Freezing Aperol, prosecco, mint and watermelon into a giant ice cube, Nielsen tops the Aperol Spritz 'n Squared ($8) with prosecco and mint as the cube slowly dissolves, infusing the aperitif with bitter, herbal notes amidst the bubbly. Delta Dawg ($12) is ideal for fall with Pierre Ferrand 1840 Original Formula Cognac intermingling with Thai cayenne spiced Steen's cane syrup. The syrup is a local favorite, given a real kick from the cayenne infusion, though it could be too sweet if not for the wise addition of acid phosphate infusing it with sparkling life.
For dessert? The boozy Exotic Shake ($14): El Dorado 5 year rum, house vanilla ice cream, fresh pineapple juice, house pineapple syrup, lactart for fizzy bite, clove tincture, topped with spiced Benedictine whipped cream. It's a decadent pleasure. As with Loa, I appreciated the use of craft spirit brands like Hangar One, Aviation Gin, North Shore, Nolet's Gin, and the unforeseen cocktail oasis in a hotel lobby.
BELLOCQ in the Hotel Modern, CBD
Opened in December 2011, Bellocq is Nola's hot new cocktail "it" bar and with good reason. Filling a niche not overdone, with a faint whisper of kinship with the cobblers and juleps at London steakhouse Hawksmoor, Bellocq is roomy, chic with velvet couches and chairs, comfortable sections arranged to encourage intimate conversation. Bartenders are expertly trained on the cobbler, a cocktail style dating back to at least the 1830's of a base spirit, sugar, fresh fruit and then radically new elements of ice and a straw. Reminiscent of a Julep in the use of crushed ice and sometimes frosty silver cups akin to a Julep cup, cobblers are ideal in hot weather, with which Nola is well-acquainted.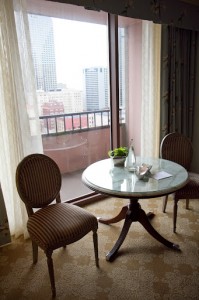 A classic sherry cobbler leads a menu ($8.95-$14.95 per cocktail) created by Kirk Estopinal, Matthew Kohnke and Neal Bodenheimer, but there are cobblers utilizing a range of spirits, like yellow Chartreuse with jalapeño, citrus and hellfire bitters, for one. While Bonal (the lightly bitter, refreshing French aperitif akin to Lillet) is a worthy choice accompanied by grapefruit zest, my favorite is a Bual Madeira with orange and lemon, those fantastic Madeira properties (nutty, dry, rich) shining here.
Despite how intriguing they sounded, punches didn't compete with cobblers. Though I appreciate the classic process of clarified milk in the Mary Rocket Punch, the mix of Cognac, lemon and Peychaud Bitters was so subtle it lacked impact. There's a handful of classic cocktails outside of cobblers, an extensive fortified wines menu, even beer and a shot options. Though off the beaten path in CBD, it's worth a trek for cocktail lovers seeking something different.
SoBOU, French Quarter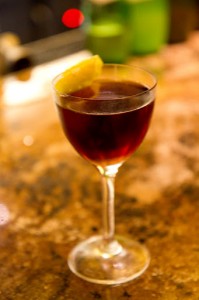 Opened in July from the legendary Commander's Palace Family of Restaurants, SoBou (which I reviewed last issue for food and beers on tap at tables) could claim cocktails as its strongest selling point with Bar Chef Abigail Gullo (formerly of Swizzle Stick and Fort Defiance in New York) helming a solid team of bartenders.
Being conveniently located in the French Quarter (South of Bourbon Street is what they're going for in the name) in a casual, multi-roomed space, I found myself at SoBou more than once in a week. There's light refreshers and tall, on the rocks cocktails (think bucks, fizzes, flips), like Faubourg Tall Boy (Earl Grey-infused gin, creme de cassis, lemon and sparkling wine), but highlights were off menu. One gracious bartender made me a classically inspired, three ingredient winner of Cynar, Del Maguey Vida mezcal and Cinzano, when I asked for something either bitter or with mezcal. Meaty is the best descriptor for this combo – and that is entirely a compliment.
MAUREPAS FOODS, Bywater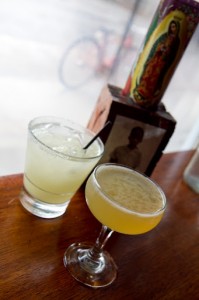 Maurepas Foods is my favorite new Crescent City restaurant (see last issue), aided by the fact that it also boasts strong cocktail offerings from Minneapolis transplant Brad Smith. The menu is seasonal, simple, straightforward but still interesting.
A Bywater Daiquiri is the shining neighborhood star, a vivacious, not-too-sweet combination of rum, mango, banana, lime, and piloncillo (unrefined whole cane sugar), it's tart, refreshing. A hint of smoke adds sultriness to the Chameleon, bright with limoncello, cucumber and grapefruit, while naming points go to the Mofo Cosmo, which is a pour of Old Grand-Dad bourbon. In general, they perk up classic profiles, like gin, Chartreuse and lime in the Merriweather, with seasonal fruits like rhubarb.
SYLVAIN, French Quarter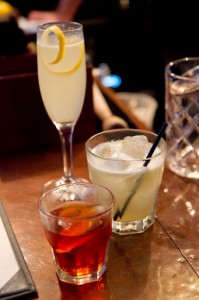 Though it can get packed on weekends, my weeknight excursion to Sylvain was mellow and welcoming in the historic Quarter restaurant (near Jackson Square on dreamy Chartres Street), making it a new Quarter favorite for a proper cocktail and a bite.
Built in 1796, the space evokes a Colonial tavern serving gastropub fare like Champagne and fries, braised beef cheeks, pulled pork sandwiches, and shaved brussels sprouts. Drinks are simple (commonly three ingredients), skillfully-prepared – and good fun to boot. Mordecai's Paloma ($10) uses mezcal instead of the Paloma's traditional tequila base, grapefruit juice perked up with Chef Alex's hot sauce, while beer cocktails like Table Tennis ($9) mixes Pimm's No. 1 with Hitachino White Ale and a little citrus.