Tales of the Cocktail brought me back to my beloved Nola. I've done articles on the CBD, Uptown, Carollton and Garden District, Fauborg Marigny and Treme neighborhoods, and on French Quarter food. Now I'm back in the Quarter with drink and food updates…
French Quarter Cocktails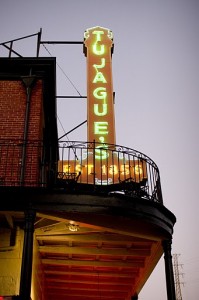 Loving the time-transporting atmosphere of the truly magical Jean Laffitte's and the dank, historical Old Absinthe House doesn't help when the drinks aren't so good. Tujague's fares well with history, crustiness and fine Sazeracs, and Napoleon House, famous for their Pimm's Cup (which I find watered-down), oozes 1700's charm. Nowhere in America do I know of bars that hold the pirating, French, Creole, only-in-New Orleans' mystery each of these places hold.
Skip Bourbon Street (anything but live jazz at the awesome Fritzel's, Maison Bourbon for dixieland, and the one-and-only Preservation Hall), and head half a block off Bourbon to the delightfully divey Erin Rose, complete with crappy drinks (or cheap shots), espresso ice machine (kind of like a house Frappuccino with Irish whiskey), crusty locals, savvy tourists, and a kick-ass jukebox.
But when you need a decent drink in the Quarter? The charm of all the intrigue-laden places I've mentioned, sadly does not equal a proper cocktail.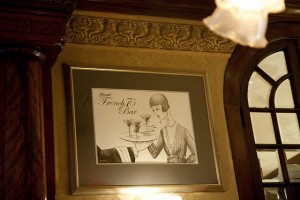 BAR TONIQUE – Bar Tonique is a noteworthy addition to the Quarter, right on the purportedly dangerous edge of the Quarter and the Treme, facing Louis Armstrong Park. Pretty new to the scene, it's now my number one recommend for drinks in the Quarter. The brick-walled space holds booths, an alcove and plenty of bar stools (even a roach that ran across the alcove floor on a recent summer night! What do you expect from 100% humidity?)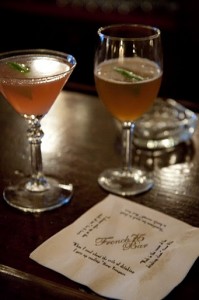 The staff are tatooed, friendly and shake some fine classics (The Last Word, Ward 8, etc…) along with cocktails like Blanche Dubois, a refreshing mix of muddled strawberry and mint with Beefeater gin, orange curacao, orgeat and lemon… the orgeat added nutty dimension. And most cocktails hover around a reasonable $7-8.
FRENCH 75 – Widely regarded as one of the best bars in New Orleans, and some say, the country, French 75 has the added (and now rare) perk of being a cigar lounge. So light up and take in the circa 1930's atmosphere while sipping a French 75 (of course), Sazerac, or aperitif. It's a place where I can go dressed up and have grown-up conversation, even a little romance with my drink.
French Quarter Eats



Last year I shared a few Quarter eats with you (including Coop's, which I revisited this time around – still the best jambalaya I've ever had). Here's Quarter eats from my July visit.
BAYONA – I've been trying to get to Bayona for years, having long heard about the illustrious chef, Susan Spicer. Granted, I only visited for lunch, but was not exactly thrilled with the rather dated (read: 1980's) dining room and a menu not quite as varied as I'd hoped. In the end, there were two real stand-outs.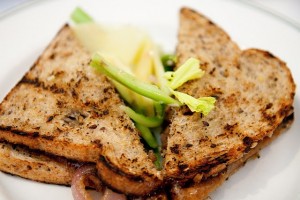 Eggplant "Caviar" Tapenade ($7) is light, enlivened by fresh feta chunks, a bit of anchovy and tomato on toasts, while Sauteed Sweetbreads ($15) are plump and vibrantly tart with lemon-caper butter, though the fried notes grew tiring after a couple bites. Goat Cheese Crouton ($10) were toasts piled with mushrooms in Madeira cream. Lots of bread in this meal.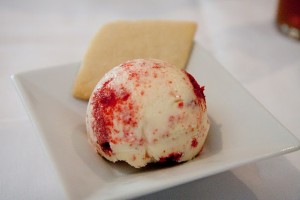 Despite more bread inherent in a sandwich, things got exciting with their signature lunch dish: Smoked Duck/Cashew-Peanut Butter/Pepper Jelly Sandwich ($12). The duck falls apart, savory and creamy with the peanut butter. An adult's PB&J. Dessert won over my whole table: a house special ice cream of Creole Cream Cheese (which I will never say "no" to) laced with chunks of Red Velvet Cake. If I had to exhale a slight moan with each spoonful, could you really blame me? Not if you tasted it.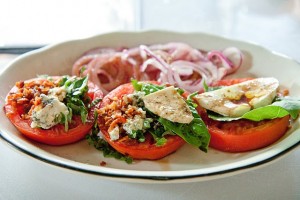 IRENE'S CUISINE – First, you get a group welcome from Irene herself and waiters at the door. Then, there are multiple dining rooms, each more seductive than the last (I prefer the lush middle room with marble fireplace). Irene's is actually off-the-beaten-path for the Quarter, yet remains a Nola institution. They have no website and prefer to do things as they've always done them, which works when dishes are made with such loving-care and a sense of history.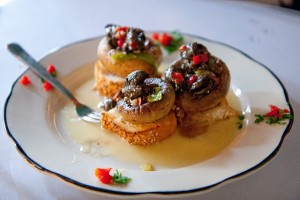 I started "light" with a special of giant Creole Tomato slices topped with buffalo mozzarella and red onion on one half, pancetta and blue cheese on the other. Nothing wrong with that. Escargot aux Champignons ($8.75) were meaty mushroom caps cooked in butter, garlic, leek and parsley, stuffed with plump snails. Yes, thank you. Lightly-fried Soft Shell Crab, another pleaser. But even better on the fried tip? Fried Oysters & Grilled Shrimp ($10.50) sauteed in Italian breadcrumbs. On my first night in Nola this July, one bite of those flavorful fried oysters and I knew I was back.
Another highlight, besides the sweetest, most genuine service one could hope for, was a side of house-made pasta: Ricotta & Spinach Ravioli ($7.50). Delicate, melting pasta is warm with cheese and spinach, topped with shaved Parmigiano, a hint of nutmeg, and, most importantly, a divine red pasta sauce that belies their Sicilian influences.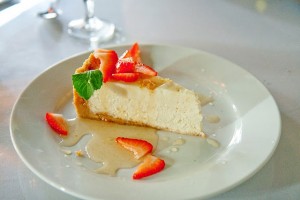 Talking me into dessert wasn't painful when it meant Creole Cream Cheesecake with Louisiana strawberries and amaretto syrup. If you haven't had Creole cream cheese (which I eat as often as I can when in Nola), you are sadly missing out. Light and fluffy, it's also tart, creamy, unforgettable. The pairing of a sweet Hungarian dessert wine, Royal Tokaji's 2006 Tocai, made for an ideal completion to a true New Orleans dinner.
CLOVER GRILL – Two years ago, I stayed in an apartment on the edge of the Quarter/Fauborg Marigny, passing Clover Grill almost nightly, open 24 hours with darling, retro diner authenticity. In the course of Tales, one craves 3am sustenance after hours of cocktail tasting.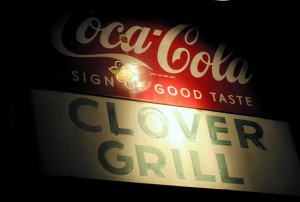 Thankfully, Clover Grill more than took care of my needs. The clientele is boisterous, but not obnoxious. It feels like one all-night party, though service is understandably harried with steady crowds. They grill up a surprisingly good Burger ($5.49) that reminded me of childhood, particularly fun loaded with jalapenos and cheese (an additional $1.09). Their Chocolate Malt ($3.99) is one of the maltiest and best I've had. An Omelette ($4.99) tasted right doused with chili ($1.09). This a classic in these parts and a mighty fine neighborhood diner.
GREEN GODDESS – Green Goddess is an odd Quarter spot. Located in an alley right around the corner from the Hotel Monteleone where I stayed for Tales, it opened in 2009 and despite a rather cheesy name that reminds me of a hippie Berkeley restaurant (and the salad dressing), a local told me this was one of the more creative new openings in the Quarter. I popped in for dinner, charmed by the sweet chef and staff, a quirky, under-stated space and alley location.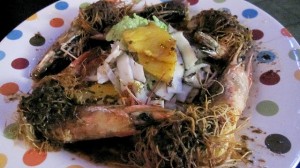 They take cochon (pig), gulf shrimp, tasso ham and other local foods, and mix in Asian influences for what often sounds odd but works. Banh Xeo ($13) is a Vietnamese rice crepe filled with crabmeat, sprouts and avocado, served with a sweet chili garlic sauce. Shrimp "Wearing a Grass Skirt" ($14) is BBQ Louisiana shrimp roasted in shredded phyllo with roasted pineapple and coconut slaw.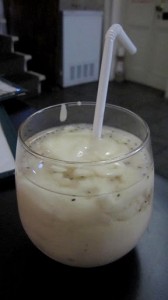 Not all of it works as well as fusion I've had in my own city or NY, but I respect the ambition and attempts of this spot to do something different, international and out of the Quarter, or even Nola, norm. I want to try more of their menu.
If I hadn't been burnt out-completely on cocktails, I was eager to sample their eclectic mix of drinks like The Jesuit Bend ($10), a Brazilian cachaca concoction with O.N.E. berry coffee juice (not sure if that would be good or not?), pepper syrup, and Fee Bros. Aztec chocolate bitters.
I did enjoy their Mango-Banana Lassi ($6), which was thankfully tart and balanced. Particularly noteworthy was the added texture of basil seeds and a curry sugar rim.