So you have to meet up downtown. Whether dining with a visiting friend or colleague or needing a meal pre or post downtown event, here are five newcomers and longtimers serving worthwhile dishes near meetup central, Union Square.
THE CAVALIER, SoMa (360 Jessie Street between 5th & 4th, 415-321-6000)
A fox hunting mural, riding artwork, red and black banquettes, taxidermied animal heads, a sleek, 27-seat zinc bar. The latest London hotspot? That's rather how The Cavalier, new restaurant from the crew behind Marlowe and Park Tavern, feels: as if a modern-day London lodge was transported to funky Hotel Zetta, a short jaunt from Union Square.
British influences become apparent in a classics-driven cocktail menu featuring gin, a lovely Pimm's Cup ($11), and cocktails originating in legendary London bars like The Savoy. Even American rye whiskey gets the Queen's treatment in cocktails such as The Victorian ($12) where George Dickel Rye intermingles with Earl Grey tea, sweet vermouth and a rinse of Madeira (fortified Portuguese wine).
It's a meal fit for a fox hunt when dining on wild mushroom pie ($14) with a side of minted peas and beans ($8), fish and chips ($19) or venison tartare ($16). But this traditionally-inspired British fare with a light, New American touch and gourmet delicacy. Case in point: Welsh rarebit, that beautiful mélange of melted, fondue-like cheese and brown sauce (often mixing ale/beer, mustard, Worcestershire, and cayenne) over toasted bread. Here it's in the form of a fluffy, mini-souffle ($13), warm with ale and cheese, topped with a cheddar crisp. As one of my favorite bar food options, I delight in rarebit reinterpreted here.
Another reinterpretation: a Scotch egg, that blessed tradition of a hard-boiled egg wrapped in sausage and coated in bread crumbs, is here expressed as a Duck Duck Scotch egg ($12), a duck egg encased in duck confit, breaded, then baked, atop plum chutney.
Here small plates are quite small, so a more filling option is steak & oyster pie ($19), a generous cut of beef cheek simmering with carrots, onions and other vegetables, one oyster on the shell, and the flaky, pot pie-like crust standing dramatically atop the pot instead of crusted over it.
For the cocktail lover, dessert could easily be The Barrister ($13), a bracing blend of Buffalo Trace bourbon, Nardini Amaro, white/dry vermouth, Benedictine, which as a whole evokes sweet, dark chocolate-orange notes.
LOUIE'S BAR & GRILL, SoMa (55 Stevenson St. near 1st St., 415-543-3540)

Since the Pour Guys of Tempest Bar took over Louie's Bar & Grill this Spring, it's been one of my husband's favorite lunch stops downtown. Lighthearted bar bites, like spicy miso calamari ($10) in miso sauce, spicy with Thai bird chilis, or sweet potato fries ($6) seasoned with li hing mui (salted plum) and dipped in Sriracha ketchup, typify the new menu.
Chef Stephen Crawford (formerly of Michael Mina) is having fun with these dishes and lunch sandwiches or sliders of cornmeal-crusted flounder ($12) flecked with Old Bay aioli and tomato relish. I am hooked on Sweet Lou's Bangkok wings ($10), lively with Chinese black vinegar, Thai bird chilies and sesame seeds. This is sweet-savory, umami-laden chicken, tender and begging for a cold beer.
JASPER'S CORNER TAP, Downtown/Union Square (401 Taylor at O'Farrell, 415-775-7979)
It's been easy to sing Jasper's Corner Tap's praises since it opened in 2011. Conveniently located a couple blocks from Union Square and the Theater District, with a bar run by one of the country's great bartenders, Kevin Diedrich, it's the kind of place one can drink a fantastic cocktail, beer or wine with a good meal… all day long.
Since Traverse City, MI, native, Chef Mike Ransom came on board earlier this year, the food remains consistent: elevated pub food offering a little something for everyone. Deviled eggs win for prettiest dish, available individually flavored ($5) or as a trio of all three flavors ($9) – green goddess, asparagus salmon, and pickled beet. Ransom's crispy piggy ($8) is proper drinking food: pepper roasted pig shoulder in fritter-like form, accented by pickled apples and cider mustard.
Unexpectedly, at a restaurant where I crave the Chicago dog, burgers, pretzels ("drinking food"), my favorite new addition from Chef Ransom is the pork chop entree ($21). The coffee-brined pork chop is tender over baby kale, ratcheting up "the meaty" with bits of chorizo, sweet with pressed apple in a cider mustard jus.
On September 14, Jasper's launches a weekend "Bad Ass Brunch" (11am-2:30pm) serving dishes like poblano relleno, chicken fried quail & waffle, seasonal "pop-tarts", while Diedrich has created cocktail sections of Bloody Mary's, Fizzes (Ramos Gin Fizz, Silver Rye Fizz, Anejo Fizz) & Royales (Champagne Julep, Sparkling Paloma, Black Velvet).
BLUESTEM BRASSERIE, Downtown/Union Square
Bluestem Brasserie utilizes whole animal practices, using as many parts as possible in multiple dishes, and also sourcing from local farms, the Bay Area standard. Chef Francis Hogan keeps things interesting with specials like Wednesday's lobster bake or Thursday's American Road Trip, like a recent focus on NJ (Chef Hogan's home state and one of mine), offering five dishes ($10 each or $25 for 3) inspired by the region. He highlighted unsung areas like Trenton with Trenton-style tomato pie using Early Girl tomatoes or a Trenton pork roll, a beloved breakfast ham on a roll with egg, cheese, salt & pepper ketchup.
Amid meaty entrees like apple-fed pork ($25) accompanied by shishito pepper-Napa cabbage slaw, watermelon rind pickles, and whiskey-grilled peaches, a surprising highlight is a vegetarian entree of wild mushroom-caramelized onion cakes ($19). Sweet and meaty simultaneously, the tender cakes are accompanied by a seared brandywine tomato and garbanzo pistou punctuated by a light crumble of goat cheese.
Pair dishes with thoughtful wines on tap, like 2012 Saintsbury Rose from Carneros ($9 glass).
E&O ASIAN KITCHEN, Downtown/Union Square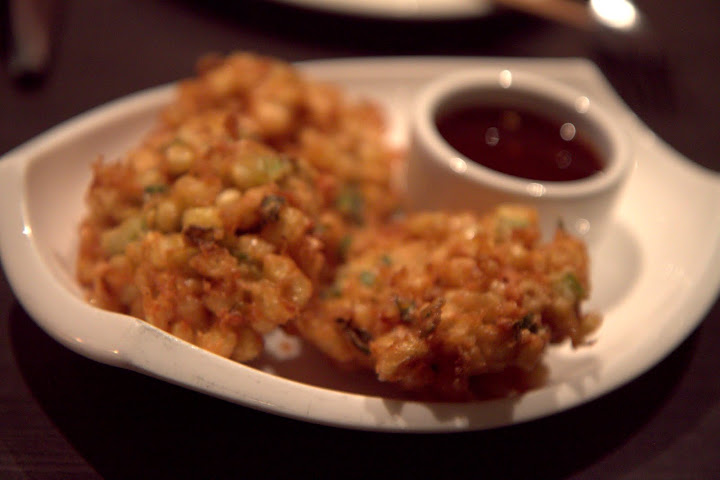 E&O Asian Kitchen's "traveling the Spice Route" series is a monthly-changing food and cocktail romp through a range of exotic spices from star anise to sichuan pepper (the latter being November's featured spice). Though I miss the restaurant's touch of Polynesian kitsch before its redesign, Chef Sharon Nahm is doing some good things in the kitchen.
In June, cardamom was the featured spice, a tender, medium rare lamb sirloin ($24) being the spice route entree, partnered with cardamom-scented curry sauce and mango relish.
Pair with a boozy Mai Tai ($12) and vbegin a meal with E&O's beloved Indonesian corn fritters ($13), dipped in sweet tangy chili soy sauce, which has been a favorite for over a decade.