This article was first published at Zagat on February 1, 2016. All photos and article by Virginia Miller.
Our Wine Country neighbor up north may be (thankfully) a much slower pace, providing no end of day trip and weekend escape options, but the wide open spaces and country lanes — plus busier downtown Napa — are still filled with urban-quality dining. Whether "fine food" (the new wave of fast food) or upscale, here are 10 restaurants, many of them less than a year old, each worth a visit to Napa.
Why it's hot: The romantic Harvest Inn is a surprise (and ideal weekend escape — pictured top) tucked off Highway 29 in St. Helena in groves of redwoods and five gardens that supply Charlie Palmer's Harvest Table restaurant located in the inn and opened last May. Executive chef Levi Mezick (formerly of Restaurant 1833 in Monterey) turns out something for everyone, from his fan favorite house burger to unforgettable, decadent truffle butter chicken for two, a dish he popularized years back at 1833 with truffle butter injected under the skin. But don't miss crudo, salads and small plates that delight with balance and elegance, even better partnered with lead bartender Joel Pfeifle's creative cocktails.
Must-order: French Margarita (low proof made with vermouths); roasted carrots in house buttermilk, vadouvan curry blend, pistachio and oats granola (pictured); crispy pig ear salad with shaved carrot, Asian greens, cilantro, yuzu vinaigrette; scallop crudo marked by pickled serrano chiles, avocado, cactus pear emulsion; truffle butter chicken for two.
The details: 1 Main St., St. Helena; 707-967-4695
Why it's hot: As one of our 10 most important Bay Area openings of 2015, NINEBARK has only continued to wow — and bring something wholly special to Napa — in its first four months. Chef Matt Lightner has cooked in some of the most acclaimed kitchens in Europe and in NYC and is turning out food that pulls from Europe to Japan, while reflecting all the bounty and range of California, served in a striking, three-floored space.
Must-order: Dishes change constantly but look for seasonal spreads on bread like carrot pimento, bacon, cheddar spread and unusual market selections of vegetables and fruit on ice (pictured); recent highlights include a brilliant poke in kombu, brown butter dashi and house fish sauce; roasted sturgeon belly and mushrooms in heirloom sourdough rice.
The details: 813 Main St., Napa; 707-226-7821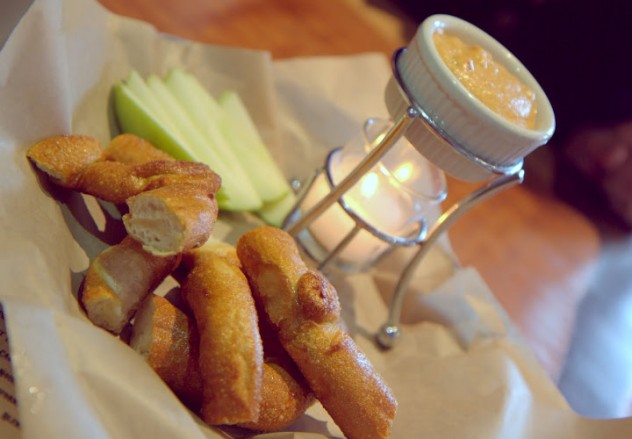 Why it's hot: Open last summer, Napa Palisades Saloon brought a chill craft beer bar to downtown Napa, also serving delicious, hearty pub food alongside local wine and cider on tap (stay tuned for cocktails this year). With over 40 California beers on draft and those popular Reuben croquettes, it's an ideal place to watch a game or linger with friends.
Must-order: Reuben croquettes packed with corned beef, sauerkraut, Swiss cheese and dipped in 1000 Island dressing; Saloon burger layered with white cheddar, stout-braised onions, Grandma Brown's pickles, "The Sauce".
The details: 1000 Main St., Suite 100; Napa; 707-296-1552
Why it's hot: Since 2007, Solbar — at the soothing, refined Solage resort in Calistoga — is one of Wine Country's great overnight stays complete with geo-thermal soaking pools and a destination-worthy restaurant. Chef Brandon Sharp continues to turn out excellent east-meets-west dishes and house breads that go well beyond the usual bread program, from tortillas to steamed bao buns. And since a major 2015 remodel, the dining room and bar is more striking and welcoming than ever.
Must-order: Housemade ricotta and lacinato kale agnolotti (with Calabrian chile, pickled currants, leek confit, pinenut gremolata, salsa verde); yellowfin tuna sliders (lunch/brunch only) in black garlic sauce and kohlrabi slaw on housemade steam buns; crispy petrale sole tacos (lunch/brunch only).
The details: 755 Silverado Trail, Calistoga; 707-226-0850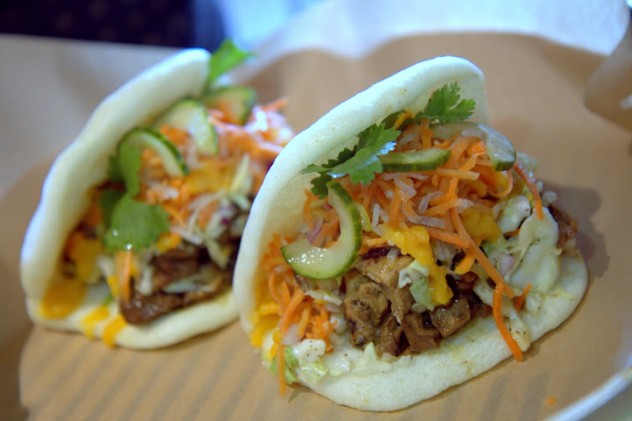 Why it's hot: What we wish all fast food could be (and a few pioneers — like founders, Ben Koenig and chef Jason Kupper — are doing, calling it "fast fine" for fast food with fine dining ethos), Heritage Eats opened late spring 2015 sourcing from local farmers and some of the best heritage-raised meats in the country. In fact, ingredients, meat and fish sources are listed on the wall as customers order at the counter to go or dine in the airy, bustling space tucked away in a strip mall. Everything hovers around $10 or less and, even better, a portion of sales goes straight to Share Our Strength's No Kid Hungry campaign.

Must-order: House hibiscus tea; banh mi Dutch crunch packed with grilled lemongrass pork; Jamaican bao (pictured — Jamaican jerk chicken on two steamed bao buns with crunchy cabbage slaw, Asian pickle & pineapple habanero sauce).
The details: 3824 Bel Aire Plaza; Napa; 707-226-3287
Why it's hot: Opening last February in relaxed Calistoga, Evangeline executive chef Gustavo Rios marries New Orleans spirit with French technique in a charming restaurant where two-thirds of the tables are outside. French and local wines and Nola-influenced cocktails accompany Creole and French fare enjoyed in the rustic-modern space and outdoor patio.
Must-order: Fried pickles; shrimp etoufee with hush puppies; Croque Marin (brunch only) with Millionaire's bacon, Mornay sauce, fried egg.
The details: 1226 Washington St., Calistoga; 707-341-3131
Why it's hot: A chill winemaker and food/drink industry hangout hidden in a downtown Napa alley, Colleen Fleming and Aubrey Bailey opened CADET mid-2014. It's heartwarming to see how beloved the space has become, featuring winemakers and brewers as guest bartenders on Wednesday nights, while customers who buy a bottle get to choose the next record to played on the turntable.
Must-order: Prosciutto platter; grilled cheese sandwich with Central Coast Creamery's cow's milk; pimento dip and chips; wine, beer or cider (of course).
The details: 930 Franklin St., Napa; 707-224-4400
Why it's hot: Open at the end of 2014, La Taberna is still just what Napa needs (with the steady crowds to confirm it): a mid-afternoon through evening tapas bar where bites average $4-7 and sherries by the glass, craft beer, port, wine and low-proof cocktails transport you straight to the pintxo bars of Spain.
Must-order: Suckling pig; lamb tartare; Tetilla Galician cheese and honey empanada; smoked black cod; white port and tonic.
The details: 815 Main St., Napa, 707-224-5551
Why it's hot: Since 2014, Archetype has been packed with regulars basking in the glow of architecture legend Howard Backen's striking space (he also designed many of the Bay Area's great restaurants and wineries) and chef Ryder Zetts' comforting yet inspired dishes. The restaurant continues to be a draw to St. Helena — and a Napa Valley brunch favorite.
Must-order: Buckwheat blinis with burrata, kraut and beet relish; beef and broccoli in sesame cashew dressing and black garlic jus; tandoori-spiced cauliflower in lemon dressing with pickled lemons.
The details: 1429 Main St., St. Helena; 707-968-9200
Why it's hot: With a wine bar serving wood-fired pizza at Oxbow Public Market since 2010, last fall, Ca' Momi opened a full restaurant in downtown Napa, blessed by Verace Pizza Napoletana (VPN) and Associazione Pizzaiuoli Napoletani (APN) certification, confirming their authenticity making proper pizza Napoletana, or Naples-style, pizza. The sleek, airy space is California Green Certified so they win on the environmental front, too.
Must-order: Spaghetti alla bottarga; pistacchio e mortadella pizza (mortadella, creamed pistachio, smoked mozzarella di bufala); organic margherita pizza; animelle al marsala (pan-seared Sunfed Ranch sweetbreads, marsala, butter).
The details: 1141 1st St.; Napa; 707-224-6664