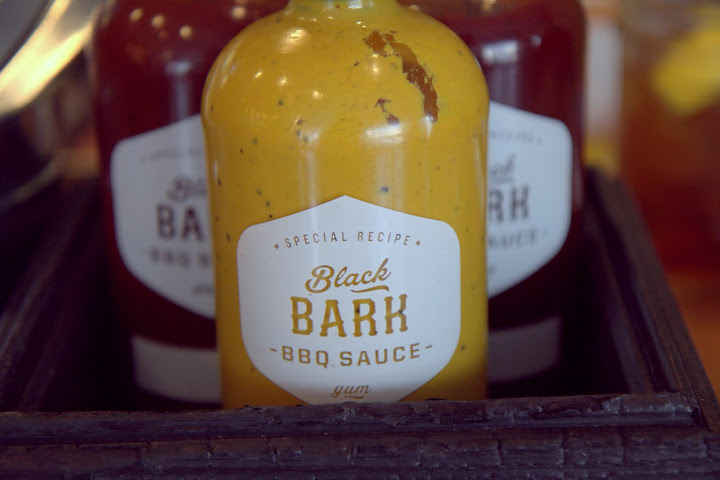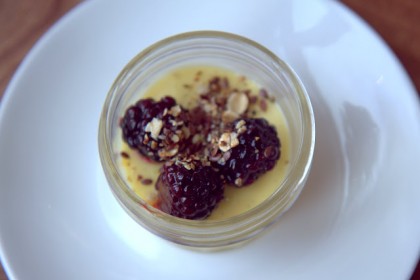 Though SF has been a pioneering dining city for decades longer than the 15 years I've lived here — and I've been schooled on what food can be since the moment I moved here — 2016 started off with an almost ridiculously excellent eating month. More than half of these restaurants either opened January or in recent months, while a couple longtimers are going strong. The challenge is there were so many stellar dishes this month, these first 8 could have all actually been #1.
On the welcome trend front, I dig the healthy eateries with good-tasting food (in this case, gluten-free, dairy free, sugar free) popping up in various neighborhoods, as is the case with Little Gem, which opened in the already saturated Hayes Valley (please, something like this in the Upper Haight/Cole Valley!) in December with sugar free desserts, salads, wraps, smoothies and the like. On the non-healthy side, the meats (rather than the lackluster sides) at brand new Black Bark BBQ hold some joys, particularly the pulled pork and sausage links — and they do right by South Carolina mustard and Memphis-style BBQ sauces, too.
Here are my top 10 January dishes and new openings, some from new, others established, restaurants.
1. The Mina Test Kitchen: Little Italy's 100 Layer Lasgana

Mina Test Kitchen is an enchanting new concept on a quiet block between the Marina and Cow Hollow where every season the restaurant changes theme and menu, not unlike Next in Chicago.
The current Little Italy theme (the second since opening in August 2015), pulls from chef Adam Sobel's Sicilian roots, and calls to my Sicilian heritage and Jersey upbringing, with red and white checkered tablecloths, a delightful soundtrack playing Louis Prima and Ella Fitzgerald, and heartwarming-yet-elegant pastas and courses (a steal at $49 per person, excluding tax, gratuity and beverages). They are about to switch over to an intriguing Indian theme post-Valentine's, which I am certainly excited for, though I sure will miss Little Italy.
Thankfully, I went twice with family and shared memories of heartwarming dishes (and cocktails here), from Nana's stuffed pepper packed with breadcrumbs, pancetta, pecorino, olive oil, sea salt, to a baked ziti that transported me back to childhood. Even a simple insalata tricolore is a pristine, crisp salad and a wedding soup that is the ultimate in comfort. But it's the 100-layer lasagna that I will not soon forget, silky, and dissolving in meaty, red sauce goodness. Desserts also captured me, like an off-menu cannoli. Arrivederci, Little Italy.
2. NINEBARK's Poke and Sturgeon Belly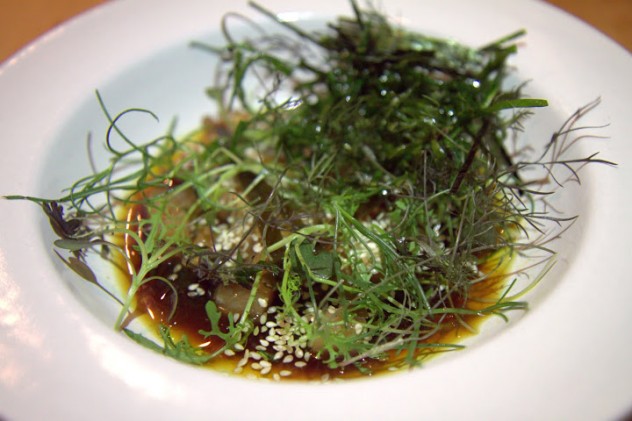 NINEBARK is such an exciting addition to Napa and NorCal at large, offering the "whole package" in service and drink in addition to chef Matthew Lightner's visionary dishes (more on recent cocktails here).
After two visits, I am wowed by the Michelin star-worthy quality and international perspective (no surprise given his cooking at Noma and Mugaritz). There are notes of Europe and Japan here, reflecting all the bounty and range of California, set to impeccable service from the AvroKO team.
Dishes change constantly but just like Lightner's stunning beet pimento spread at a NINEBARK preview, his recent seasonal spreads of carrot pimento, bacon and cheddar were equally lovely, as was his incomparable and unusual market selections of vegetables and fruit on ice.
But it was two fish dishes that stuck with me and even felt like whispers (and the exquisite perfection of) Japan: a delicate poke ($16) in kombu, brown butter dashi and house fish sauce as well as roasted sturgeon belly, matsutake and enoki mushrooms ($15) in heirloom sourdough rice, bread-y and comforting.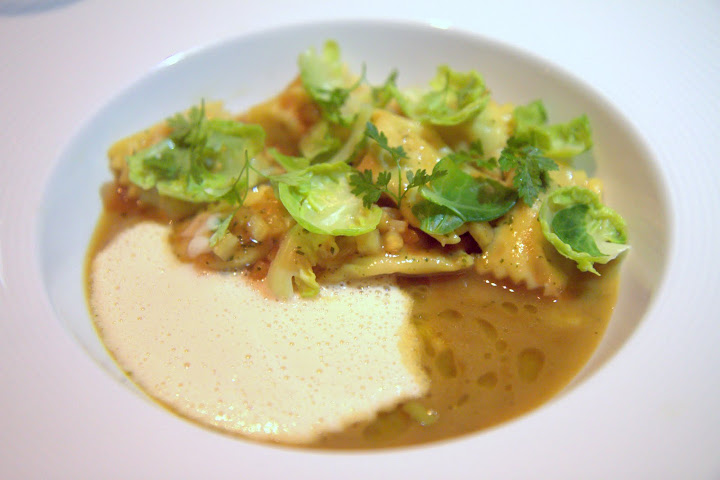 3. Cadence's Rabbit Agnolotti

Just open January 13 with ticketed prix fixe dinners ($49 each) or a la carte available for walk-ins, Cadence's unusually-designed, spacious dining room is big enough to accommodate all of the above. Though I haven't tried a la carte dishes yet, I tasted both the vegetarian ("in the ground or from a stem") and meat/seafood ("above ground or from the water") prix fixe menus. At four courses plus an amuse bouche, chef Joey Elenterio's menus are a STEAL. He's doing fine dining quality with artful precision and deliciousness that exceeds other menus in this price range.
While there was not a slouch on either tasting menu, Elenterio's pastas immediately delight, especially plump rabbit agnolotti in roasted garlic jus and celery root milk dotted with apple oil, over smoked brussels sprouts. It's complex, unfolding with layers of flavor, luxuriant and filling.
4. Harvest Table Carrots, Pig Ear Salad & Scallop Crudo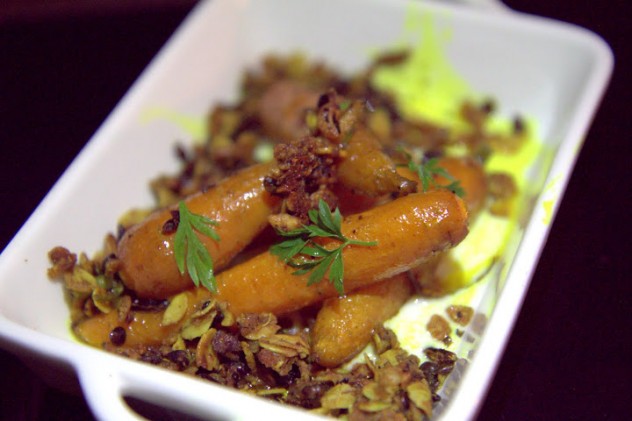 From my recent Zagat Napa article: The romantic Harvest Inn is a surprise (and ideal weekend escape) tucked off Highway 29 in St. Helena in groves of redwoods and five gardens that supply Charlie Palmer's Harvest Table restaurant located in the inn and opened last May.
Executive chef Levi Mezick (formerly of Restaurant 1833 in Monterey) turns out something for everyone, from his fan favorite house burger to unforgettable, decadent truffle butter chicken for two, a dish he popularized since 2011 at 1833 with truffle butter injected under the skin. But don't miss crudo, salads and small plates that delight with balance and elegance, even better partnered with lead bartender Joel Pfeifle's creative cocktails [more on recent cocktails here].
— Three of my recent favorite dishes were flavorful, vadouvan roasted carrots ($6) in house buttermilk and a sweet-savory pistachio and oats granola; crispy pig ear salad ($6), subtly crunchy and salty in a mound of shaved carrot, Asian greens and cilantro tossed in yuzu vinaigrette; silky scallop crudo ($14) accented by pickled serrano chiles, avocado and cactus pear emulsion with a citrus kick of lemon and yuzu.
5. La Urbana's Cast-Iron Fish with Sesame Mole
A recent dinner return to La Urbana was unexpectedly better than ever on the food front (more on recent cocktails here), though strangely I see user-driven site ratings going down. I had maybe the best dish I've ever tasted there: a changing fish dish in a nutty, sesame mole, brightened with lime and red onion. It's light yet earthy and soul-gratifying, transporting me back to Oaxaca.
6. The Perennial's Cauliflower Toast & Pumpkin Seed Bisque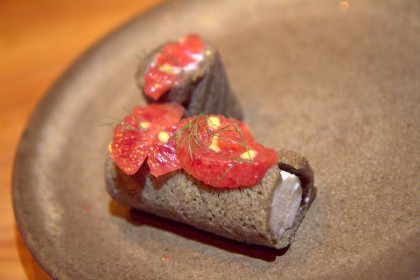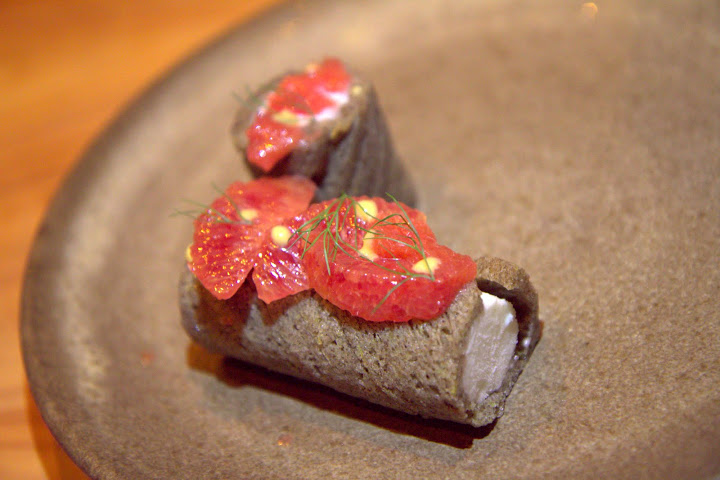 Opening January 20, the long-awaited Perennial has been worth the wait, if my first week visit is any indication. It's forward-thinking, unparalleled eco-conscious format focuses on everything from the bar program to aquaponics, garnering national and local press well before it opened.
I'm happy to say the food (and drink — more on that next issue) alone is worth a visit, with the eco processes not only easing your conscious but making you wish ALL restaurants practiced them.
Head chef Chris Kiyuna — with chefs Richard Lee & Nicola Carey (Nicola is also pastry chef) — is crafting dishes that are shockingly affordable for the quality (generally $11-12 for starters and topping out at $23 for entrees), while even desserts wow, as with a buckwheat financier ($11), rolled up like a thick crepe, filled with parsnip ice cream and accents of fresh winter citrus.
Celeriac gnocchi ($19) is a standout, less like traditional Italian gnocchi, though dense and pillowy, over nettle puree with grilled apples, preserved sudachi (Japanese citrus) and accents of nasturtium leaves. It's a fine study in acidic, sweet, earthy, vegetal, creamy, textured contrasts.
Unexpectedly, what sounds like a basic cauliflower toast ($12) was immediately a favorite: perfect house wheat bread topped with puntarelle (in the chicory family) and cilantro with a savory mushroom glaze imparting umami depth.
Another exceptional dish: pumpkin seed bisque ($12), which is nothing like pumpkin soup, but is a light green with understated nutty, sweet, citrus and earthy notes from fried and raw sunchoke, cardamom and lemon oil.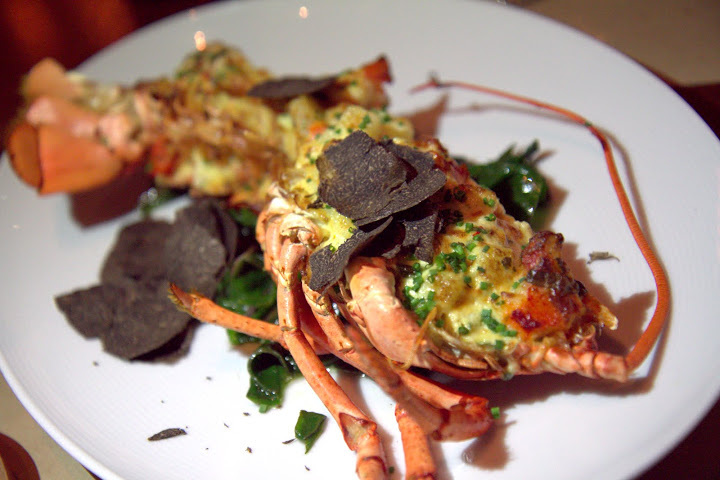 7. RN74's Lobster Thermidor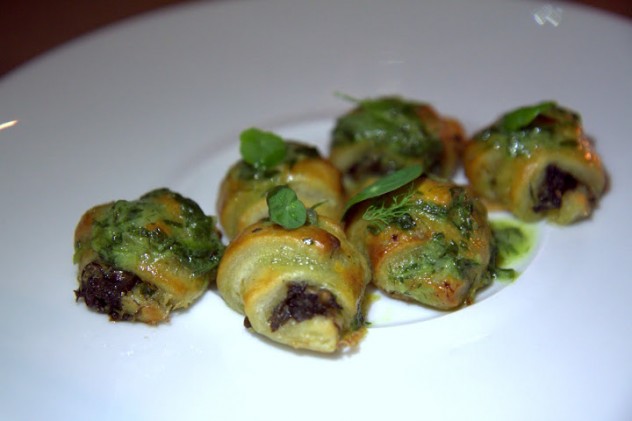 Since opening in 2009, RN74 has been a stellar wine destination with a pioneering Burgundy and French wine program, among other wine regions, thanks to Mina Group wine director and sommelier Rajat Parr. Lead sommelier David Castleberry continues to carry the torch with four new weekly wine nights, like Unicorn Wines featuring rare and unique bottles by the glass, Half Bottle Hump Day (half price bottles on Wednesdays) and Flying Blind, focused on guided blind tastings.
But more than ever in 7 years, I find the kitchen keeping step with the wines. RN74's food has landed at varying levels through a number of chefs over the years, but executive chef Michael Lee Rafidi (formerly Noma in Copenhagen and Talula's Garden in Philadelphia), who came on board in fall 2015, is breathing new life into the menu. Exuberant decadence comes in the form Burgundy escargot croissants and caviar doughnuts with smoked fromage blanc and uni. Lobster thermidor ($52) stole the show, dramatically swimming in coral veloute and garlic streusel over Swiss chard, with a seasonal shaving of Perigord truffles. Decadence at every turn.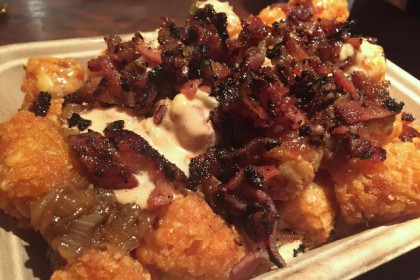 This is not a 1960's American-style lobster thermidor but more in line with the original August Escoffier recipe from France in the 1880s, creamy with egg yolk and brandy-laced lobster sauce. You can almost feel the pounds adding on as you eat it… and it's worth it.
8. Wes Burger's Animal-Style Tater Tots

A weekly Wednesday night pop-up at Mojo Bicycle Cafe, Wes Burger is thankfully about to open a brick-and-mortar location (although the Mission yet again gets another food destination so hopefully the pop-up continues on Divis).
Mojo's thoughtful craft beer offerings on draft make ideal pairings for Wes Rowe's fatty-good, brisket-ground burgers. Last week it was Korean burgers oozing with miso mayo, kimchi, pickled onion, and sharp cheddar. Hell, yes.
But the show was almost threatened to be stolen by his tator tots. They are a popular Wes Burger offering, but last week it was "animal-style tots", a nod to the great In 'n Out, laden with queso, caramelized onions and Wes' 1000 Island dressing. With the optional topping of thinly-shaved bulgogi bacon, they were impossible to resist.
9. Maven's Albacore Tataki
From my 2.9.16 Blackboard Eats article on affordable, fun date nights: With longtime bartender Tim Hagney moving into the role of bar manager, Maven remains an ideal date night for casual yet sophisticated cocktail and food pairings in an intimate but lofty space. Head upstairs to the mezzanine for the most romantic perch in the house, and ogle the list of dishes that run from $7 to $29, with only two coming in over $25. The albacore tataki salad ($14) is just right for sharing—bright with lime, coconut, pickled peaches, and curry vinaigrette. It also pairs nicely with a John's Shandy ($12), an invigorating blend of bourbon, quince, lemon, mint, and IPA beer [more on Hagney's cocktails here.]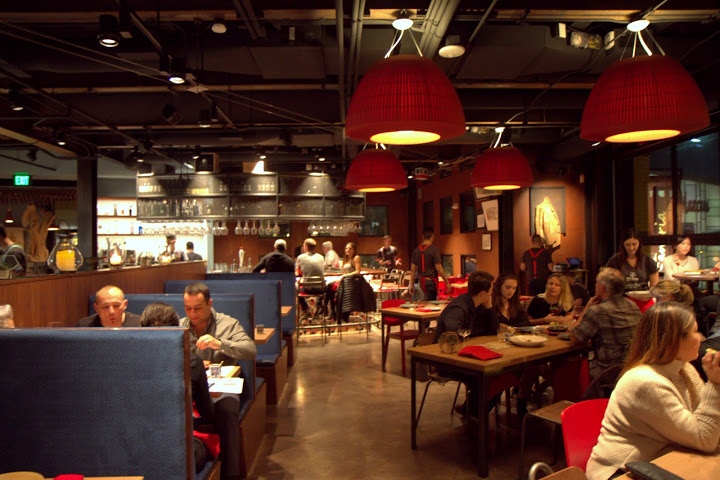 10. Teleferic Barcelona's Fish of the Day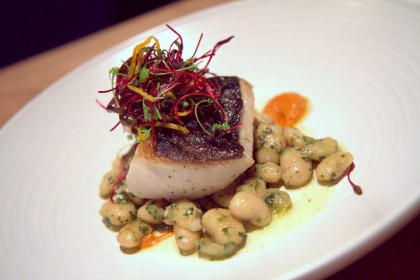 From my 2.9.16 Blackboard Eats article on affordable, fun date nights: The first offshoot of this Spanish destination to hit the states—the original location is actually in Barcelona—Walnut Creek's Teleferic Barcelona is the suburban destination restaurant worth hopping on BART for. Opened in January, this bustling party whisks you to Spain with pinxtos (bite-sized tapas) carts rolling by, proper Spanish-style gin and tonics (served in massive wine glasses with an array of produce), and an open-air rooftop bar. The menu offers a range of options running from $14 paella (again, dished out from a passing cart) to a wide selection of shared plates. Think of it as your affordable getaway for a night.
— While drinking proper, Spain-style gin and tonics (in wine goblets, packed with fruits and garnishes), the pintxos cart holds a number of delights. Pescado del dia or fish of the day was the standout dish on my first visit, a silky miso black cod cooked sous vide and served over lush butter beans.