This article was first published here at Table8 where I am national editor.
Daytime drinking — in the right setting with excellent food — transports me immediately to Europe, lingering over a Spritz and supplì streetside in Roma or a glass of wine with a long lunch in pretty much any European city. One of the many things I love about my city is that the European lifestyle is alive and well in countless sidewalk cafes and daytime sipping spots… and, of course, brunch offers the right setting for morning feasting with drink.
Here are four restaurants that recently started serving brunch and have top-notch drinks, from Italian Spritzes and amari to craft beers and drinking caramel.
ESCAPE TO ROME: LOCANDA, The Mission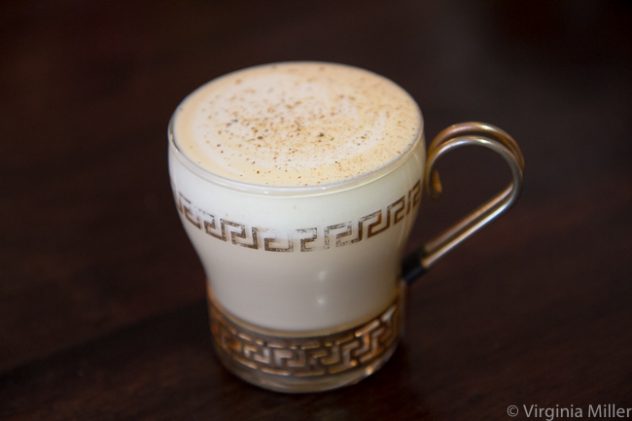 Launching brunch this March, Locanda has long been a Mission destination for chef Anthony Strong's Roman Italian cuisine and for amaro-driven cocktails. While the brunch isn't strictly Roman (thankfully so, especially when it comes to those almost light, perfect Eli's latke-style hashbrowns), its spirit is, represented in soulful cooking, Spritzes and, yes, amaro.
Eat This: It's hard to resist a nocino (Italian walnut liqueur) walnut sticky bun ($5), while eggs in purgatory ($14) is my savory course of choice. It is essentially a Middle Eastern-style shakshouka, here with two baked eggs, spicy tomato sauce and pecorino cheese sopped up by Locanda's popular grilled pizza bianca bread. Simple, summery perfection — and an ideal dessert — comes into play with Linden Hills cherries dipped in vanilla mascarpone ($7).
Drink This: My favorite of the spritzes is bar lead Jared Padovani's CioCiaro Spritz ($11), a complex yet utterly drinkable blend of three amari, including CioCiaro, a bit of lemon and Prosecco. But Padovani creates quality cocktails across-the-board, including some of his non-amaro-based drinks like Hormiga Colorada ($12), a frothy, sutble-yet-earthy mix of mezcal, tequila, house orgeat and egg white. But don't miss the salty, lush drinking caramel, served with ("corretto", $11) or without ($6) booze.
NEIGHBORHOOD PERFECTION: Horesefeather, NoPa/Western Addition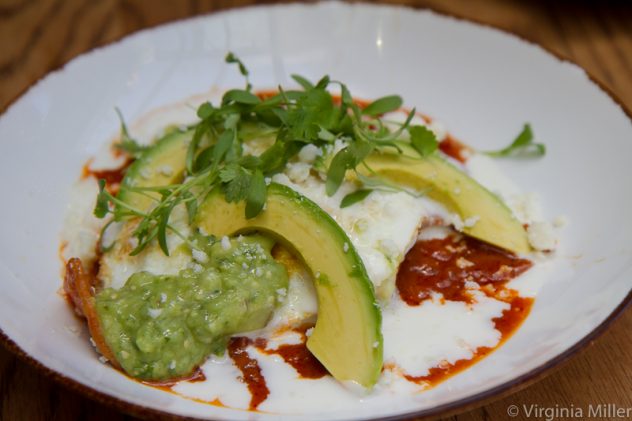 Horsefeather is my ideal kind of neighborhood bar with high quality food, cocktails and casual yet classy American arts & crafts retro design. Open this April (one of my top openings of the month), and launching brunch a couple weeks ago, over three visits I've dug into the food and drink with pleasure. Brunch is no exception.
Eat This: Dinner items like the house burger, beet salad or refreshing halibut ceviche are on the brunch menu (served 11am-4pm on weekends) but you'll want some of skilled chef Ryan Chinchilla's brunch dishes, like his spot-on chilaquiles ($15), essentially two over easy eggs with red and green (rojo y verde) salsas, the red essentially a heartwarming red mole, accented by queso fresco cheese, creme fraiche and avocado. Then there is a slow cooked eggs and pastrami hash ($15) accented by sauerkraut remoulade, quinoa sprouts and pickled mustard seeds. Yes. But my favorite was unexpectedly cheese curd pancakes ($12), laced with rum and whispers of orange, but blessedly not sweet other than the touch of whipped cream, stone fruit and maple syrup. The pancakes are perfect: alternating between fluffy, moist and gently crisp on the edges.
Drink This: The California Cooler (more on that here) continues to be a standout, ideal at lunch with its white wine base, but there's also cold brew coffee in the Sergeant Major ($11), available only at brunch, mixed with rye whiskey, vanilla almond milk and maple syrup, under a dusting of freshly shaved nutmeg.
BEER TEMPLE BRUNCH: Monk's Kettle, The Mission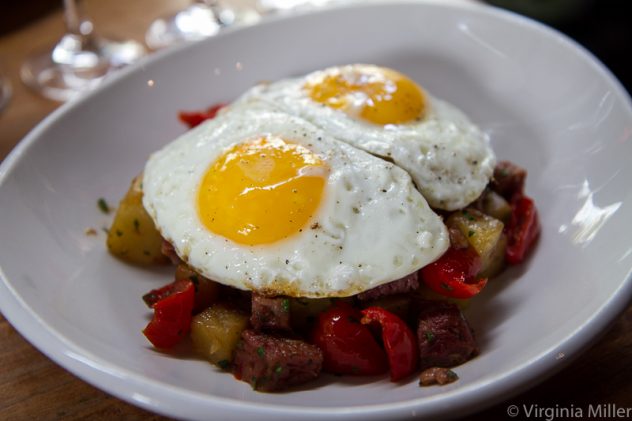 Monk's Kettle has been a pioneering beer restaurant destination since opening in 2007. They've long served lunch but their new brunch (12-4pm weekends – just launched in May) offering some downright hearty yet gourmet dishes that pair with that impressive collection of around 150 beers and nearly 30 on draft. Bonus: sidewalk seating imparts a "transported to Belgium" feeling.
Eat This: Though house charcuterie has been ubiquitous at many SF restaurants the past 15 years plus, chef Mike O'Brien (formerly of Mikkeller Bar, so he knows about pairing food with superb beers) is bringing that full steam to Monk's with the likes of his housemade salame Toscano and capocollo cotto (spicy cooked ham) and other rotating meats, rillettes and pates, available on a charcuterie board ($17 for two items or $6 each) punctuated by accents like a dreamy, Rodenbach beer-soaked sour cherries and strawberry rhubarb jam, alongside house brown and yellow mustard seed mustard. His gratifying breakfast sandwich of sausage, fried egg, cheddar and arugula comes on a house pretzel bun ($17), while the house corned beef and potato hash ($17), graced with fried eggs, is enlivened (in color and taste) by sweet and hot peppers.
Drink This: Staff are knowledgeable and well-versed on their wide range of ever-changing draft beers and interesting, often rare bottles. You can also go with flights or splurge on special bottles like only-available-in-California Dogpatch Grand Cru from Almanac Beer.
WEEKDAY LOW-PROOF BRUNCH: Starbelly, Castro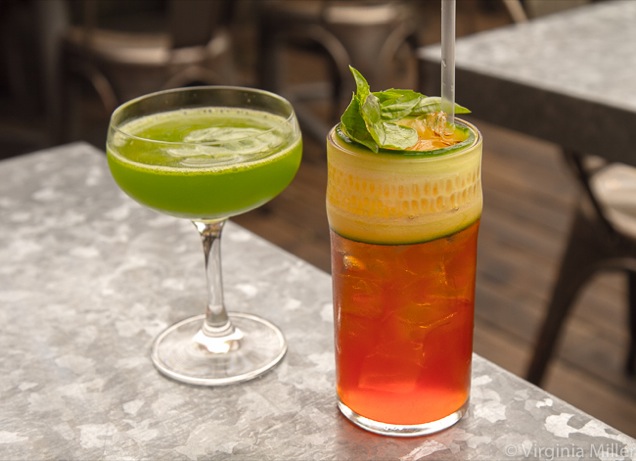 Though weekend brunch marked by egg-laden pizzas, Pimm's Cups and that cozy back patio have long been a draw at the Castro's Starbelly (open since 2009), as of last month, they now serve brunch on weekdays. Doing their best to adhere to their chosen hashtag of #makingtheworkweekbetter, they smartly offer free WiFi and open up that charming patio and menu every day for brunch/lunch until 4pm.
Eat This: Executive chef/partner Adam Timney serves a lush house chicken liver pate ($12) with sweet onion marmalade or generous salads like the wheat-berry salad ($12) packed with arugula, asparagus, cherry tomato, basil and feta. The fries with three dips remain a draw ($7) and comfort comes in the form of a fried chicken po boy ($10) layered with jalapeno radicchio slaw on an Acme sesame bun.
Drink This: The biggest surprise is how lovely their low-proof cocktails are, an addition since the past year or so. Low alcohol doesn't mean these cocktails are an afterthought. They do right by a Pimm's Cup ($9) mixing house-made pimm's, cucumber and basil. I especially love the Highgarden ($9), a light, seemingly simple drink of Dolin Dry vermouth, lemon and basil, given complexity by Sutton Cellars vermouth, served green and bright.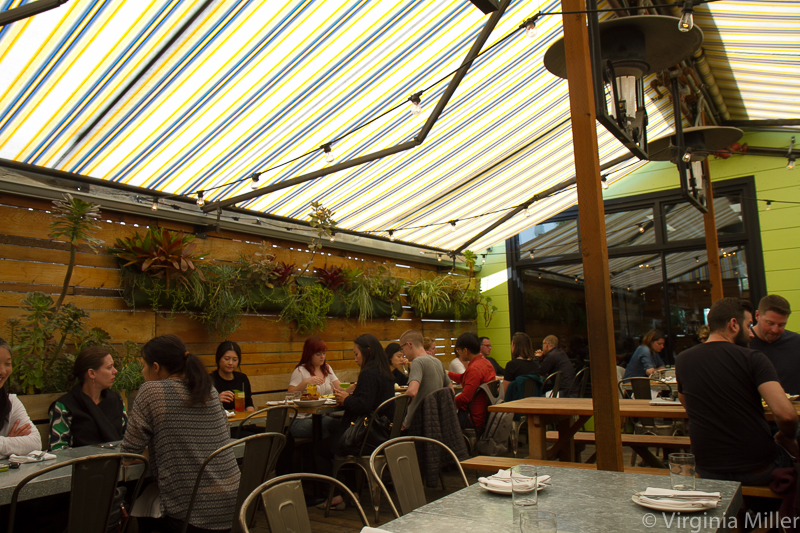 Save
Save