This article was first published here at Table8 where I am national editor.
It's been a busy month of San Francisco openings. The key restaurant and bar openings of November are The Saratoga, Onsen, Sofia Cafe, August 1 Five, Milan import Panino Giusto in Cupertino, The Roosevelt Sip 'N' Eat, from NYC to SF: Babu Ji, Kenzo, Flores, Phlox Commons. While I've been to the majority, here are my top four newcomers… and why they stand out.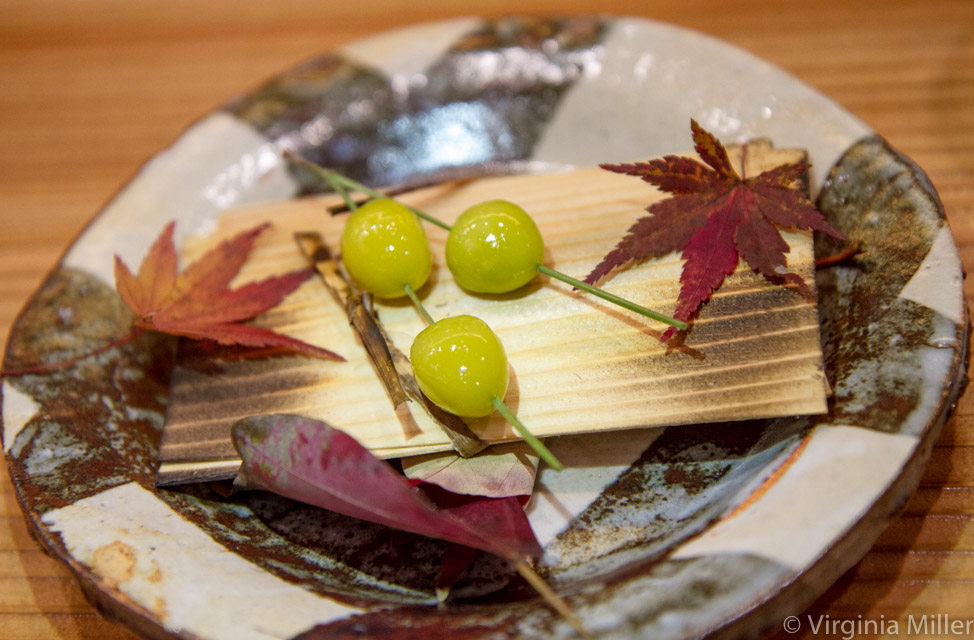 KENZO, Napa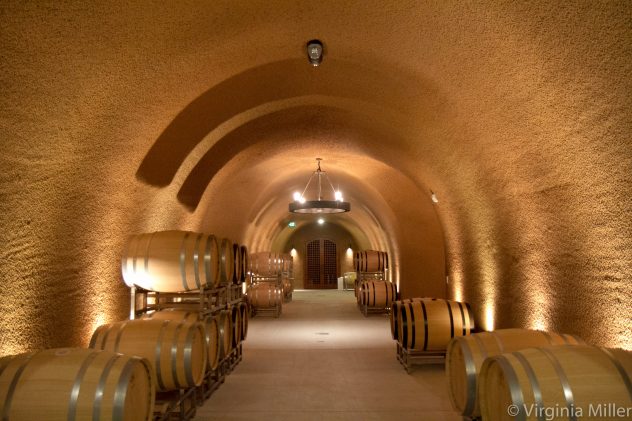 Opening November 16, Kenzo will be one to keep an eye on. $225 to $270 per person menus (in proper Japanese fashion, tip and tax is included) and what might seem to some like stiff service in a bright but formal space means user reviews have started off mixed. But my initial experience at the brand new downtown Napa restaurant from the famed Kenzo Tsujimoto, who founded Capcom Co., Ltd. in the 1980's of Street Fighter and Bio Hazard video game fame, transported me straight back to Japan. Since the 1990's, Tsujimoto has owned acres of land and opened a stunning winery in the hills of Napa, where he and his wife have a home.
THE WHY: There has been a slew of pricey, Japan-authentic sushi restaurants proliferating in SF in recent years. But less so on the real kaiseki front, the traditional, seasonal tasting menus of Kyoto that may have raw fish in the mix but are generally cooked dishes of great delicacy, often on a Michelin-starred, fine dining level.
Kenzo is just such a restaurant. They also have a sleek sushi bar offering edomae-style sushi, a private sushi bar and tables in the maple and teak-lined dining room serving ever-changing kaiseki menus. The experience is certainly not for every pocketbook and will be best understood by lovers of Japanese cuisine and culture, who appreciate the delicate nuances of meals in across Japan.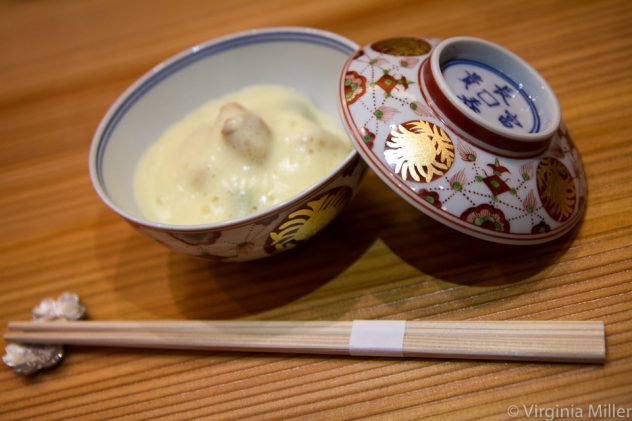 WHO: In keeping with the quality of Mr. Tsujimoto's restaurants in Japan, Kenzo has brought on Hiroyuki Kanda, a chef who has cooked from Osaka to Paris and is known for his namesake Kanda, a Tokyo restaurant that has received the coveted three Michelin stars for nine consecutive years.
EAT THIS: There is an 8-course, $225 kaiseki menu and a $225 sushi omakase, including sashimi and nigiri selections from daily shipments flown in from Japan. The nine-course premium kaiseki ($270) might feature the likes of a delicate snow crab and scallop shinjo dashi broth soup laced with yuba and parsley or Wagyu beef cutlets graced with watercress and nori (seaweed) salad.
DRINK THIS: It's all about pairings from the Kenzo Estate wine collection, from rosé to a range of reds. For those of used to premium Japanese sakes with such a meal, there is that option as well, although a tasting at Kenzo Estate is only by reservation so this is a good chance to try wines from the exclusive winery.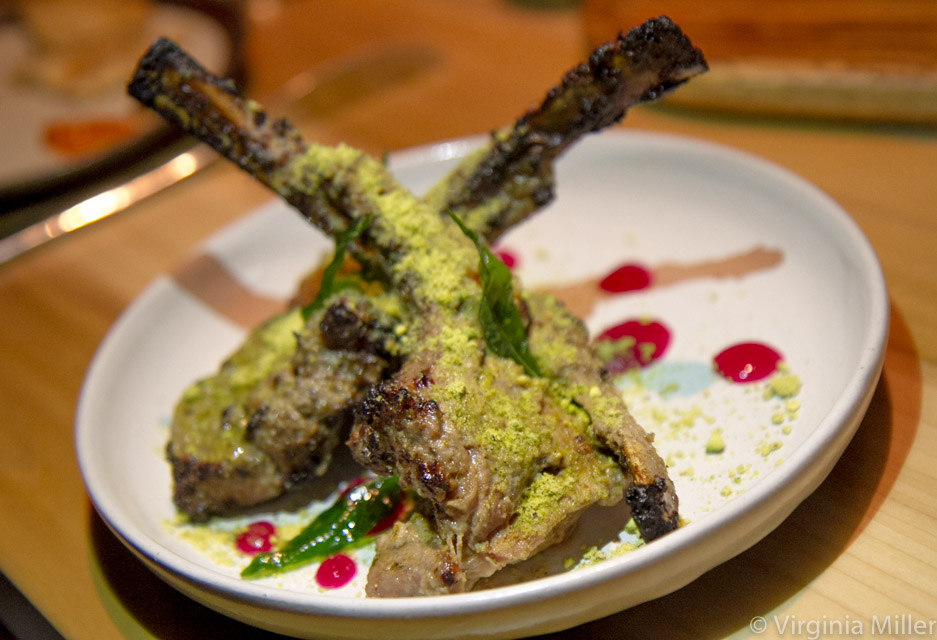 AUGUST 1 FIVE, San Francisco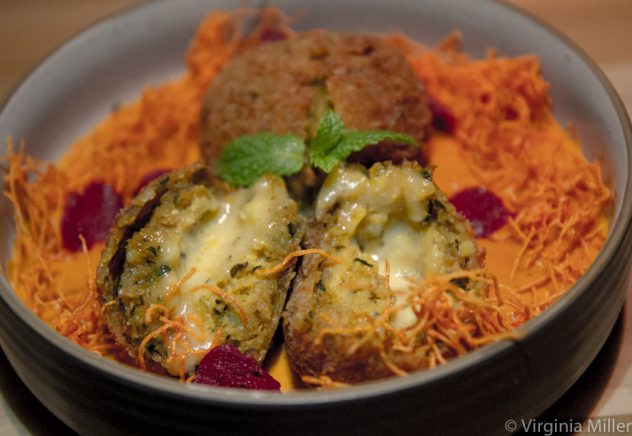 August 1 Five, named after the date of India's independence from British rule, is ideal for pre-symphony, ballet, SFJazz or opera dining, Civic Center lunches and, most importantly, it's a new dining destination for those of us longing for more refined, varied Indian cuisine of the modern ilk we see in London (on the fine dining side locally, talented chef Srijith Gopinathan at Campton Place is one of the best local examples of innovative, refined Indian cooking).
WHO: Owner Hetal Shah left a job at Google to open this restaurant (her second outside the more casual Red Hot Chilli Pepper in San Carlos) with her husband, Rakesh Tondon, and business partner Brian Howard, who knows his drink and crafted the restaurant's delightful cocktail menu. They hired chef Manish Kumar Tyagi from acclaimed Rasika in Washington D.C. who is bringing a fresh, new eye to dishes you've had before — and those you haven't.
THE SPACE: In a 4,000-square-foot space with essentially a split dining room, relaxed bar area and elegant teal, velvet booths, there are many ways to treat August 1 Five, whether as a leisurely sit down restaurant to a cocktails and bites respite.
EAT THIS: Northern Indian regional influences play prominent, alongside a few treasures like dhokla ($8), a fermented chickpea flour bread, here graced with coconut flakes, mustard seeds, fried curry leaf and jalapeno jam — a twist on a popular dish originating in the western Indian state of Gujarat.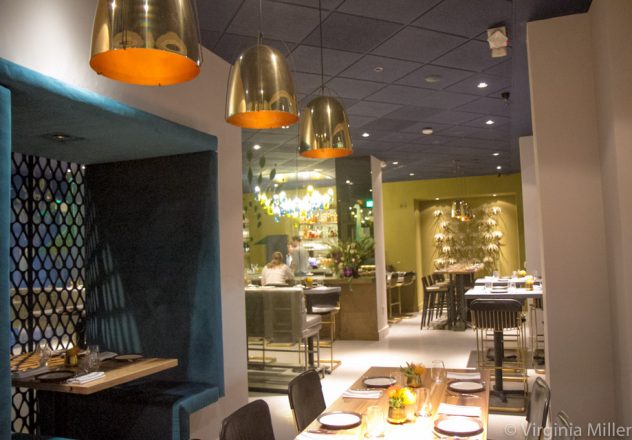 Chef Tyagi's inspired textures impart a refreshing brightness to many a dish, including excellent, savory bison keema ($14), all ground meat and caramelized onion comfort scooped over tomato house-baked pao (roll-like bread). There is also chaat, hearty biryanis, a gol guppa flight ($8), basically a play on pani puri with five flavored waters to pour over the crispy shells, as well as naan and samosa trios ($9 each).
Going against the typical trend, some of the strongest dishes lie in the entrees section. Silky tandoori sea bass ($29) shines with lemon zest, yogurt, dill and buckwheat, while tender lamb chops ($32) are succulent goodness marked by cashew paste, yogurt and cardamom. Plump lobster ($34) is laced with mustard seeds, lemon, curry leaves, creamy coconut milk and wakame salad. The sleeper hit might just be bready balls of soy kofta ($17), oozing Monterey jack cheese in a pretty unforgettable tomato fenugreek sauce that lingered delightfully on my palate throughout the evening.
DRINK THIS: Howard's cocktails ($12 each) thankfully keep to the Indian flavor profile with touches of London (the Cricket Cup, a creamy variation on a classic Pimm's Cup, still tall and refreshing with lemon, cucumber shrub and ginger ale but given texture from Bols Yogurt liqueur).
Two sweet but balanced crowd-pleasers? The Turmeric Lassi, lush with kefir in dark rum and passion fruit, and the Dark and Foamy, essentially a classic Dark & Stormy but served in a coupe glass with Old Monk rum, lime, Angostura bitters and, as a twist, ginger foam.
Particularly interesting are drinks like Royal Bombay Yacht Club, essentially a simple drink of Ancho Reyes Chile Liqueur, lime and mint, but unusual in that it features the Ancho as the base — to gently spicy, tart effect — instead of using it as a drink modifier or accent as is common elsewhere. Also recalling India by way of London is the Moneypenny G & T, a gin and tonic given complexity from touches of Yellow Chartreuse, pineapple juice, lemon and Combier rose liqueur.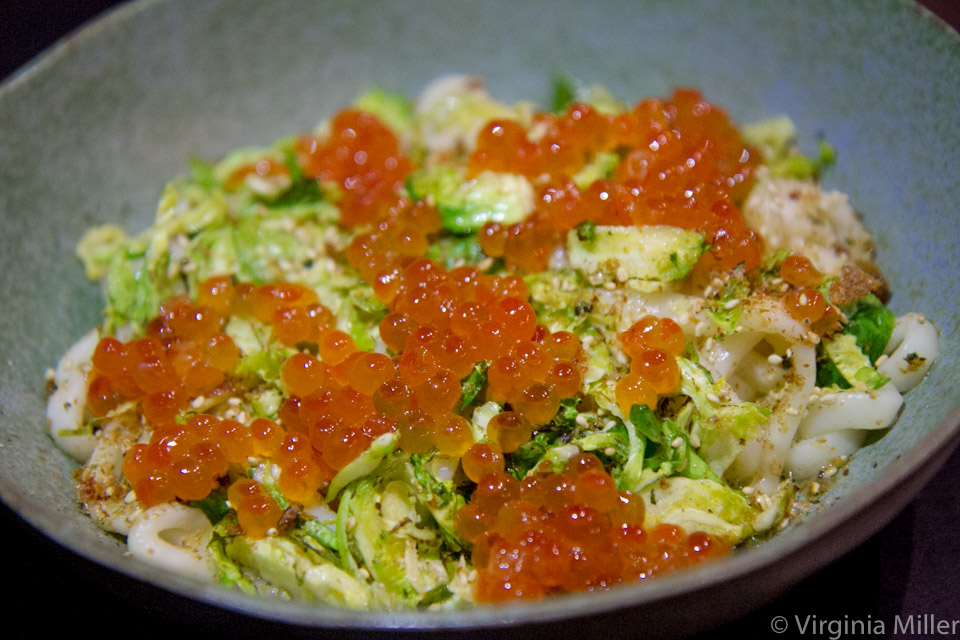 ONSEN, San Francisco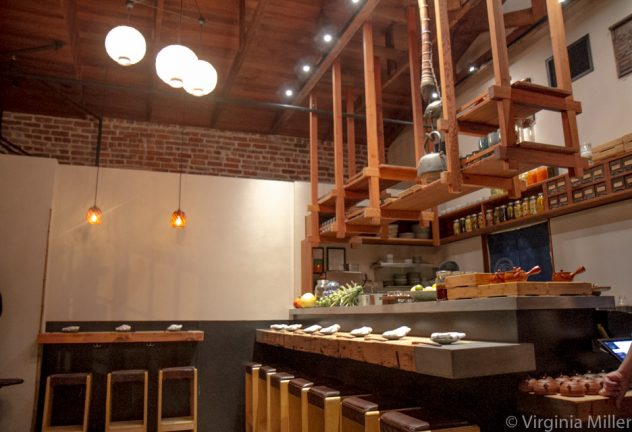 Just open November 11, Onsen is an unusual and special kind of restaurant, a wood-lined, Zen-like retreat in the heart of the Tenderloin — and in January, they will add massage and acupuncture offerings to their Japanese onsen-inspired bathhouse with soaking pool, steam room, redwood dry sauna and skylight.
THE WHY: As a tea house and restaurant in the front room, modern Japanese food and exquisite teas nourish, while lunch will eventually be added, ideal for daytime tea. You can stop by the restaurant only or visit for a meal pre- or post-bath. They are still working out bathhouse "kinks," especially pacing of groups, so come during "quiet" hours (listed as 10am-3pm when I recently visited on a Sunday) to avoid less-than-considerate noisemakers.
WHO: Husband and wife owners, Sunny Simmons and Caroline Smith, have painstakingly turned this former auto shop into an oasis of hand-carved woods and slate-lined showers. Simmons did the woodwork himself, while Smith, an artist and acupuncturist, added artistic touches throughout the space. The backlit onsen photography in the front bathroom is my favorite.
EAT THIS: The intimate restaurant area, with 20 seats, is warmly lined with wood and exposed brick, as chef George Meza (previously of Oro, Ame, Urchin Bistrot) brings NorCal and Japanese seasonality together in his refined but comfort-centric dishes, all under $17 with plenty of skewers and small dish options for bites with tea.

I particularly love his version of chawanmushi, silky soft egg custard ($9) graced with fresh Dungeness crab, porcini mushrooms and brightened with yuzu and vinegar. Skewers are straight off the binchotan grill, and after trying a range of meat and veggie skewers over a couple visits, I particularly like the seafood side, including Monterey squid in floral kaffir lime aioli ($8/15) and especially one big, local sardine ($5/9) dipped in shoyu laced with preserved tomato, togarashi and a generous dollop of butter.
Larger plates stand out, like plump maitake mushroom dumplings ($15) or raw McFarland Springs trout ($17), the latter looking glopped together in presentation but a luxurious, delicious combination of trout contrasted by crispy nori (seaweed) sheets, grilled bok choy, rice and fuyu persimmon. Another pleaser is warm udon noodles ($16), lush with jidori egg yolk and generously covered in brussels sprouts leaves and plump salmon roe. Pink lady apple mochi ($9), accented by almond, cinnamon and tapioca balls, makes for a soothing, clean dessert.
DRINK THIS: Exquisite teas and sakés, thoughtfully chosen by Smith and Simmons in their Japan travels, are the stars on the drink side, but there are also a couple Japanese beers, wines and two low proof cocktails.
Bonus: I was most touched to hear Simmons and Smith have worked hard to connect with the neighborhood and on their "closed" day (Tuesdays), are giving back to the Tenderloin community with free acupuncture for veterans and sliding-scale services for those in the neighborhood.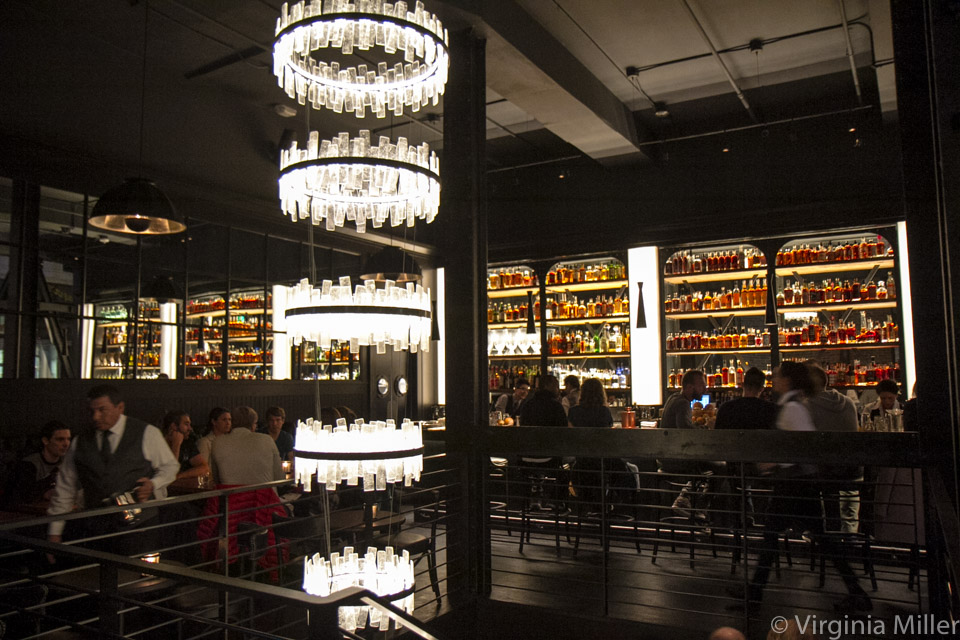 THE SARATOGA, San Francisco
Open November 10th from the Bacchus Management Group, The Saratoga serves the least ambitious menu of the four openings I single out this month, but it fits its own unique niche.
In the Tenderloin, it's a dramatic, bi-level supperclub-esque space that more than a little recalls NYC. With the restaurant name on plates and napkins and a 1907 space, there is an old school elegance to The Saratoga, from the lofty, massive, more industrial upstairs bar stocking over 800 dramatically backlit spirits bottles, but especially in the more intimate, bustling basement with white tablecloths and a Carrara marble-lined bar.
EAT THIS: From Parker house rolls ($2) to those dreamy Fiscalini cheddar-chorizo tots ($8), it's quickly clear the menu — from Bacchus chef Mark Sullivan and chef de cuisine Jason Wittek — is all about comfort. Thankfully, top-notch ingredients and execution insure quality in that comfort.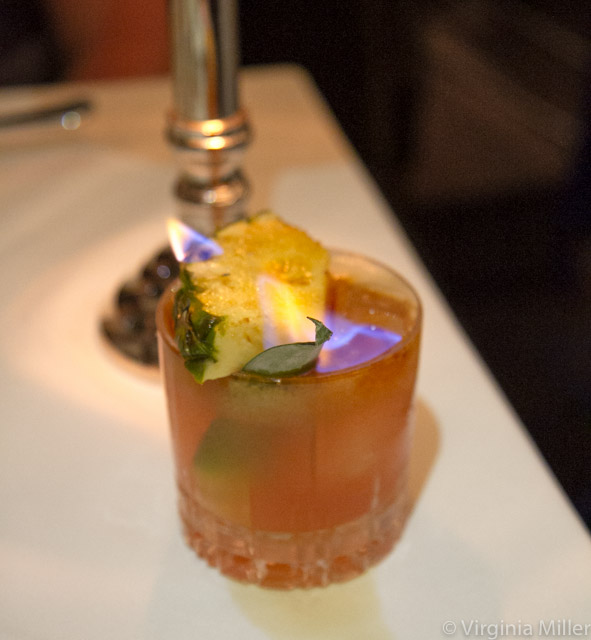 While there are a couple letdowns initially, like rather ho-hum, grilled New Caledonian blue prawns ($18) in a garlic-chili vinaigrette, there are a few highlights. The Cubano frank ($15) — a juicy dog laced with slow-roasted pork, Swiss cheese, yellow mustard and mojo relish on a Mayfield Bakery bun — is too damn fun. Another playful $4 bite is spicy pork belly buns, less Asian-style and more Southern, warm bread packed with pork, enlivened in Carolina Gold mustard BBQ Sauce.
DRINK THIS: Barman Brandon Clements has been with the group since he started at Spruce in 2007, bringing his "A" game to this new venture with, yes, some drinkable cocktails and "Cocktail Bill" Boothby (one of SF's own historic bartenders) punches for groups, but also with an impressive collection of vintage Chartreuse dating back decades, rare Benedictine and Fernet from the 1940s-70s and well beyond.
This is destination-worthy for us spirits' geeks, but there are plenty of lovely cocktails, too, the most standout in my initial visit unexpectedly being the gin highball ($12). Instead of being tonic or soda heavy, as most highballs are, it's nuanced with fresh honeydew, tarragon and lemon, packed with flavor yet oh-so-refreshing.
Save
Save
Save
Save
Save
Save
Save
Save
Save