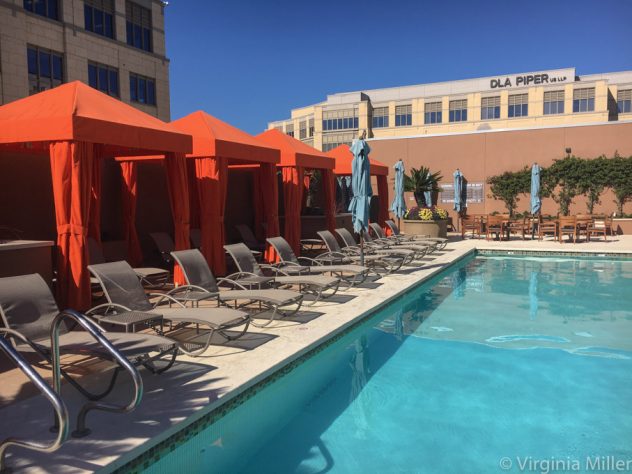 Being a Four Seasons hotel, it's already obvious why one might recommend Four Seasons Hotel Silicon Valley for that exceptional service and the luxury details common at Four Seasons properties around the globe.
But why this particular property? Four Seasons Silicon Valley is one of those hotels I have long been curious about, passing its nine-story, glass exterior countless times situated right on the 101 freeway.
It looks unlike most Four Seasons — more like an office building than luxury resort. Located across the freeway from an IKEA with the massive Bay just behind it seems less than idyllic. But this is a Silicon Valley oasis, one where you feel pampered and cradled as the modern world rushes by outside.
Unveiling a striking lobby remodel designed by EDG Design (I especially love the digital art wall showcasing a rotating selection of local artists), and new cafe, [esc], at the end of March, I was able to experience the standouts and strengths of this unique, technologically savvy Four Seasons.
Eat This:
First, there are customized cooking classes for you and a few friends in the hotel kitchen or a winery tour and picnic lunch in the beautiful Santa Cruz Mountains — more on both here.
At brand new [esc] in the lobby, executive pastry chef Eric Keppler turns out proper French pastries, from pain au chocolat to kouign amann, as well as toast laden with a lush house "nutella" and hazelnuts. House charcuterie and tartines are available throughout the day, paired with wine from an Enomatic system (more on that under "Room Standouts" below).
Downstairs, modern Cal-Italian Quattro is a massive, airy restaurant with expansive patios and fire pits. Executive sous chef Martín Morelli showcased an impressive menu that reminds me of Italy but also in the spirit of San Francisco's many best modern Italian restaurants, from Quince to SPQR.
Standout dishes during my recent visit included hamachi crudo ($22) in a green tomato water and bonito soy sauce dotted with avocado purée, radish, nori (seaweed), jalapeño and smoked sea salt, as well as pastry chef Keppler's striking desserts.
But as with the aforementioned SPQR, pastas are the star at Quattro, whether a dreamy, saffron-accented Acquerello risotto ($16 — inspired from another Michelin-starred, SF great: Acquerello) marked by Vacche Bianche Parmigiano, asparagus and Greek yogurt, or a meaty-delicate short-rib tortellini ($16) accented by huckleberries, black truffle butter and Fiore Sardo pecorino cheese.
Drink This: 
Director of food and beverage Richard Lanaud ensures a wine list in keeping with Silicon Valley wealth and choice: at Quattro, you can splurge on wines from Burgundy, Napa or Bordeaux, while also finding options further afield and across price categories (there are over 300 bottles, with many from Italy and California).
A notable offering from [esc] is a Cabernet/Merlot/Cabernet Franc/Petite Verdot (Bordeaux-style) blend produced exclusively for the hotel by Byington Winery in Alexander Valley.
At the new [esc] in the lobby, there is a rare, state-of-the-art Slayer espresso machine, the cafe staffed by experienced baristas who use it properly to craft espresso, cappuccino, macchiato, ideal with house-baked pastries (they use Italian-style, Seattle-based Caffé Umbria coffee beans). I also appreciate that the cafe stocks a few quality bottles, like nut milks and juices from CAN CAN in San Francisco and Juice Served Here cold press juices from LA.
They do have ambitions to step up the cocktail menus with more culinary crossover (already using herbs from the hotel garden, etc.) but at my visit the menu/presentation was elegant but pretty straightforward down to the ubiquitous barrel aged cocktails.
Property Highlights:
Can we say poolside s'mores? Though I wished for gourmet dark chocolate (even local TCHO squares) vs. the Reese's, Kit Kat, commercial chocolate mountain, the marshmallows are housemade and high quality, blackening to perfection as you roast them over a fire pit poolside at night set to DJ tunes.
The rooftop pool feels worlds away with bright orange cabanas to relax under. The spa is intimate with seven treatment rooms and masseuses who know what they're doing (like their Silicon Valley custom massage, which combines Swedish and deep tissue massage, customized to your preferences).
Room Standouts: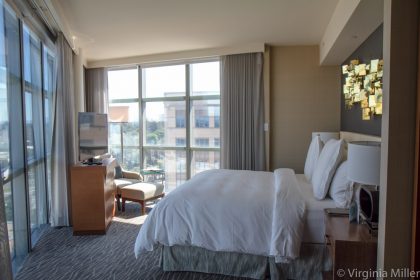 Privileged to stay in an Executive Suite with sweeping Bay views and the freeway below giving a sort of LA feel (if only we could eliminate that eyesore IKEA), floor to ceiling windows line the rooms with electronically operated window shades and tons of natural light.
The rooms in general are equipped with work stations/desks and technology ease in keeping with the Silicon Valley/Palo Alto location, making this hotel an ideal workplace away from work.
Marble bathrooms, L'Occitane soaps, luxurious sheets and bathrobes: it's all about modern comfort. Some rooms are even recently equipped with PLUM Automatic Wine Appliance (automated Enomatic wine systems), which are also available in the lobby next to [esc].