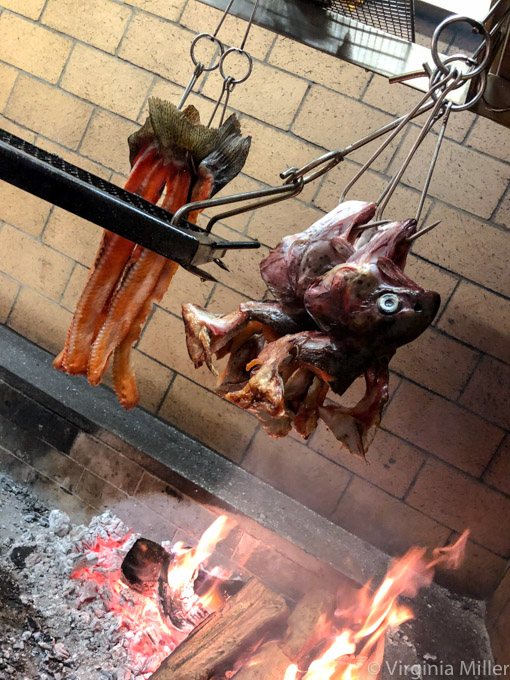 Published by Where Traveler on March, 15, 2019, my article on 6 Bay Area restaurants offering new and unusual fine dining experiences.
They run the gamut from the back of an SF cafe/wine shop offering dinners around themes involving custom plateware, to a single seating communal table for upscale Korean food in Palo Alto. Article here:
www.wheretraveler.com/san-francisco/eat/unusual-fine-dining-1
These five unique Bay Area restaurants offer an unusual fine dining experience, whether in whimsical-yet-decadent menus, intimate/private/communal tables or ocean views.
Table at Merchant Roots, Lower Fillmore
Run, don't walk to grocery/cafe Merchant Roots new tasting menu-only Table at Merchant Roots, just launched in January. You'll feel as if you were dining at the home of partners Madison Michael and chef Ryan Shelton, seated around an intimate, 8-seat table after-hours. Michael pairs thoughtful wines from the shop's collection, while Shelton's dishes (he does come from Michelin-level, fine dining at places like Baume, Palo Alto) are whimsical, creative and blessedly delicious. Their initial Elements menu (themes change quarterly) expresses the likes of earth, fire and stars on the plate. Take salt, represented by plump, nori-buttered octopus, fluffy squid ink bread as volcanic rock and cured trout roe. The custom plate is centered by a mini-volcano, which as the dish arrives, oozes dashi bubbles from its top.
Maum, Palo Alto
Who knew Palo Alto would be home to this 2018 arrival of upscale Korean cuisine pulling from NorCal's endless wealth of ingredients? Maum is also one communal table where you get to know your dining companions, set to only one seating a night. This means chefs Michael and Meichih Kim give their full attention to your inspired modern Korean dinner, while owners Brian and Grace Koo and a tight team ensure you feel pampered from the moment you arrive for amuse bouche and sparkling wine at the side of the room, until you're all seated at the table. Traditional Korean dishes like ssam and galbi — as well as ingredients like gochujang — get the refined treatment, while highlights include amuse bouche like soondae, a Korean blood sausage, in one savory-rich bite.
Eight Tables, Chinatown
It's impossible to find the likes of Eight Tables in the country: a fine dining Chinese restaurant with Taiwanese touches, housing merely eight tables so spaced out as to offer exclusive treatment from the moment you enter the warm drawing room off a Chinatown alley. Opened in 2017 by chef-owner George Chen, his inspiration draws on invite-only dinners in China and Taiwan and private Chinese supper clubs. A recent return ensures the experience is better than ever and the food? Ridiculously tasty, especially in courses like Chinese barbecue in five iterations, a seafood dumpling topped with sections of caviar, sea urchin, trout roe and finger limes or that stunner of nine amuse bouche bites covering different angles of the palate, from sour to umami.
Avery, Lower Fillmore
Still less than a year old, Avery is a unique fine dining experience in a city full of world class restaurants, one that is quirky and playful while decadent and high end in a tiny, two-floor space. Chef Rodney Wages (who rose to popularity with his R.T.B pop-up dinners) features the likes of abalone, sea urchin and caviar, alongside creative dishes like liquid tortellini en brodo or a variation of his umami pecan cheese buckwheat tartlet. Champagne-only wine pairings and an impeccable saké selection ensure one fascinating meal.
Navio, Half Moon Bay
Ocean views and a Scotland-esque landscape of cliffs and green make the Ritz-Carlton Half Moon Bay (HMB) and unforgettable retreat barely 30 miles south of San Francisco on the coast. Anyone can stop in for a meal at Navio, their upscale restaurant overlooking the Pacific below. Their Global Cuisine Series invites chefs both Michelin-level (like Suzette Gresham from SF's 2 Michelin-starred Acquerello) or from casual treasures (like HMB's cheery Dad's Luncheonette) to cook special dishes and tasting menus as well as teach Saturday morning cooking classes before a sit-down lunch (this year's impressive guest chef line-up here). But Navio chef Jason Pringle delivers goodness all year round in the form of dishes like ahi tuna ribbons laced with mustard fruit and basil coulis over black sesame sauce or tender harissa-spiced carrots in chermoula sauce and creme fraiche.