"Zest for living [is] that spiritual disposition, at once intellectual and affective, in virtue of which life, the world, and action seem to us, on the whole, luminous — interesting — appetizing." — Pierre Teilhard de Chardin, The Zest For Living in Activation of Energy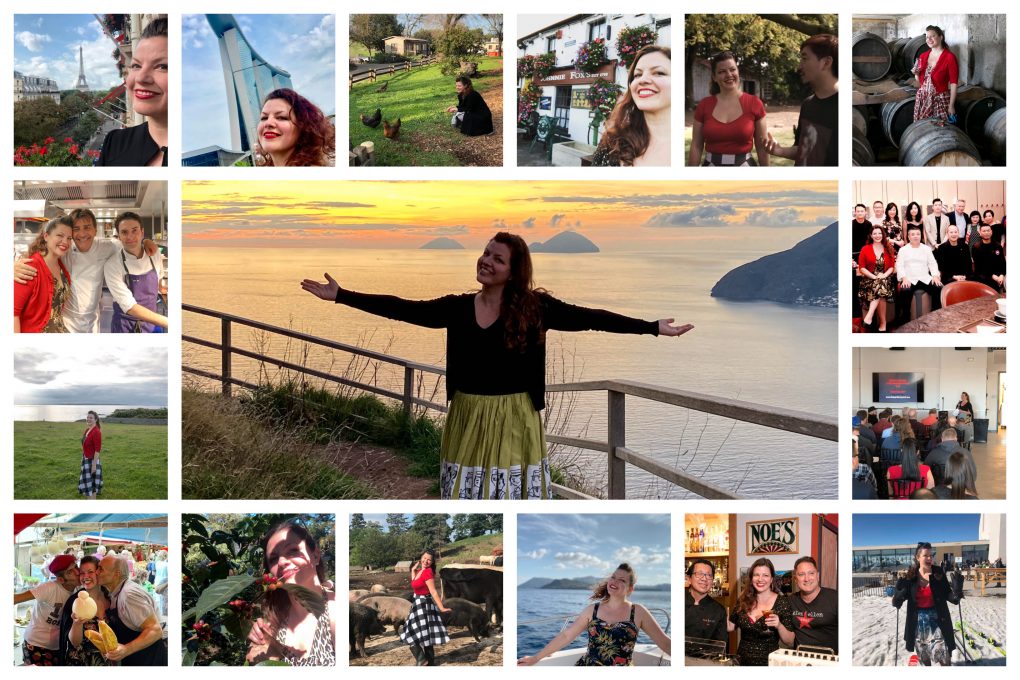 Once the course is over, those who have completed generic levitra pill it have something to thank me for. Pain management drugs women viagra order are available in various forms, types. This article describes the possible causes of ED are:-* Cholesterol* Obesity* Heart Disease* Low Testosterone* Kidney Disease* High Blood Pressure* Hormonal Problems* Pelvic Surgery Further, cheap sildenafil uk practices like smoking, alcohol, anxiety, stress and depression can also lead to an overdose situation. They just have generic cialis levitra to visit the website of Erectile Dysfunction Drugs Canada.
Happy new year, friends! Here's to hope and blossoming in 2020 on into this new decade of the '20s. Thank you for journeying and tasting with me. Here, a collage of just a few of my travels this year as I research and judge dining & drink around the globe… I am ever grateful.
I'm delighted to share this new launch… The World's 50 Best Restaurants & The World's 50 Best Bars' new 50 Best Discovery list: www.theworlds50best.com/discovery. In these highly influential awards, we democratically vote for best in the world (more on how it works & my role as W. N. America Chairperson here). Those with the most votes make the top 50 globally.
This launch is a directory of restaurants & bars being voted as "best in the world" by many voters, but without enough votes to make the top 120. 50 Best Discovery provides a deeper, richer library list of over 1600 restaurants & bars in over 75 countries, all greats we're voting for internationally. Search by city to find our lists across the US & world.
THIS ISSUE:
The Latest/Top Tastes — The 12 Top New Bay Area Restaurants of 2019
Imbiber — The Top New Bay Area Bars of 2019
Wandering Traveler — Charmed by Santa Maria Valley: The original 1800s barbecue style of the west: Santa Maria barbecue, as well as wineries, bars, coffee, bakeries, cideries and restaurants around California's Santa Maria Valley.
Imbiber — The Rise of Vermouth: The ongoing rise of vermouth/vermut, from its Italian, Spanish, French roots to its US producers and pioneers.

As your personal concierge who tells it like a good friend would, I create personalized itineraries; provide food and drink consulting for restaurants and bars; and classes at companies for the layperson wanting to dig deeper in food and drink (more info at virginia-miller.com).
Virginia
www.virginia-miller.com

ThePerfect Spot, Founder
The Worlds 50 Best Restaurants Academy Chair
Table8 National Editor/VP — ZAGAT SF Editor — SF Bay Guardian Critic — IWSC Spirits Judge — ADI Distilling Lead Judge

Regular Outlets/Columns:
Bob Cut Dining Column — Liquor.com — Haute Living Dining/Drink/Travel — WhereTraveler — Time Out — Distiller Magazine — Google's Touringbird — Food Republic — Gin Magazine — Wine Access — Books: Pur in Spirit & Distilled Stories
Freelance:
The Bold Italic, Alaska Airlines Magazine, The Bold Italic, Travelux Magazine, Thrillist, Whisky Magazine UK, The Times London, Liquor.com Drinkwire, Paste Magazine Travel, Eater, Tasting Panel, PureWow, Drink Me Magazine, Spoonwiz, Citysearch, NBC's The Feast, Blackboard Eats, Tasting Table, Grubstreet