"One discovers the light in the darkness, that is what darkness if for; but everything in our lives depends on how we bear the light. It is necessary, while in darkness, to know that there is a light somewhere, to know that in oneself, waiting to be found, there is a light. What the light reveals is danger, and what it demands is faith… This is why one must say Yes to life and embrace it whenever it is found — and it is found in terrible places; nevertheless, there it is." — James Baldwin, Nothing Personal
Surviving the heat and preparing for retreat, I hope you are holding on in these dark days, dear friends ~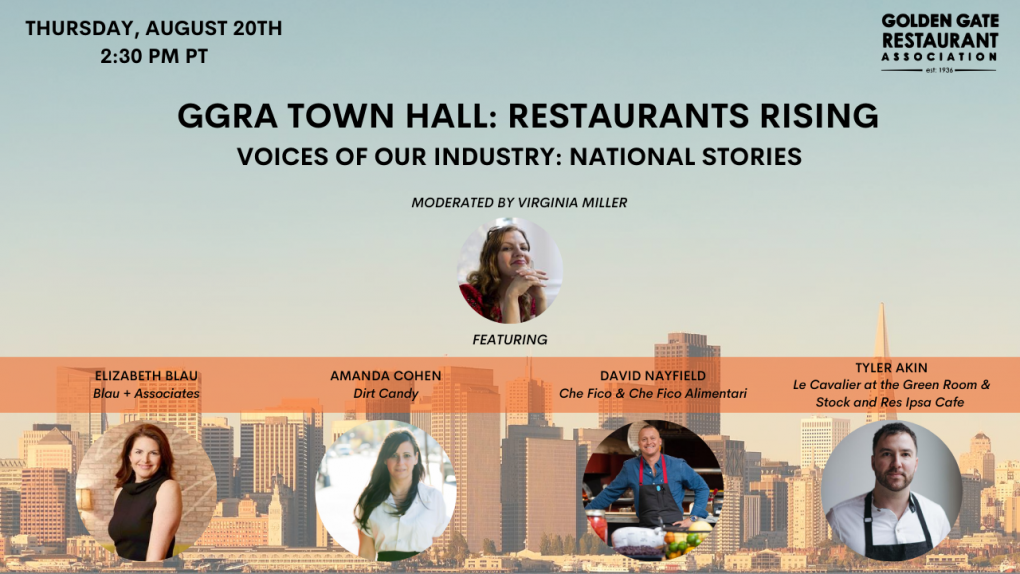 I continue leading/moderating or being part of weekly virtual industry panels, webinars and tastings — plus regularly dining outside, via takeout and delivery, all of which I am posting about @ThePerfectSpot on Twitter, Facebook and Instagram.
It's one day at a time fighting for Congress to pass the Restaurant Stabilization Act (contact your local reps here), a last hope for millions of our jobs, restaurants and bars to survive.
Thursday, on our latest Golden Gate Restaurant Association (GGRA) "Restaurants Rising" webinar at 2:30pm PST, I'll be in conversation with a national panel of chefs/restaurant owners from NYC, Philly, SF and Las Vegas (watch/register here).
Watch past episodes (beginning of May 2020) of our GGRA webinars here, featuring local and national chefs (fast casual to Michelin-starred), sommeliers, bartenders, media & food/drink industry on navigating our pandemic challenges and strategies.
THIS ISSUE:
Top Tastes — As Restaurants & Bars Struggle, Chefs & Bartenders Create a New Wave of Businesses: My latest feature for The Bold Italic on chefs, bartenders and industry folk working creative collaborations and new businesses in pandemic.
Imbiber — Distiller Bottle Column: Unique canned cocktails from a Copenhagen distiller. Apple brandy from New Hampshire. Small production Cognac. Australian whisky. Italian vodka. 10 spirits reviewed.
Around the Bay — Healdsburg's Visionary Women: In this Sonoma County town, a high concentration of Healdsburg's best restaurants, boutique hotels, winemakers and distillers and restaurants are female.
As your personal concierge who tells it like a good friend would, I create personalized itineraries; provide food and drink consulting for restaurants and bars; and classes at companies for the layperson wanting to dig deeper in food and drink (more info at virginia-miller.com).
Virginia