Published July 26, 2021, at Bob Cut Magazine: https://bobcutmag.com/2021/07/26/enjoy-these-new-restaurants-and-og-classics-this-summer
Our beloved restaurants and bars are back, though, along with the industry at large, greatly struggling with staffing and returning to full form after this unprecedented year and a half. So let's keep supporting and getting out. My dining column covers newcomers and longtimers (dine-in, takeout, delivery) worth visiting and why (last month's column here). As always, I have personally vetted, visited and ordered directly from each place:
NEWCOMERS
Empress by Boon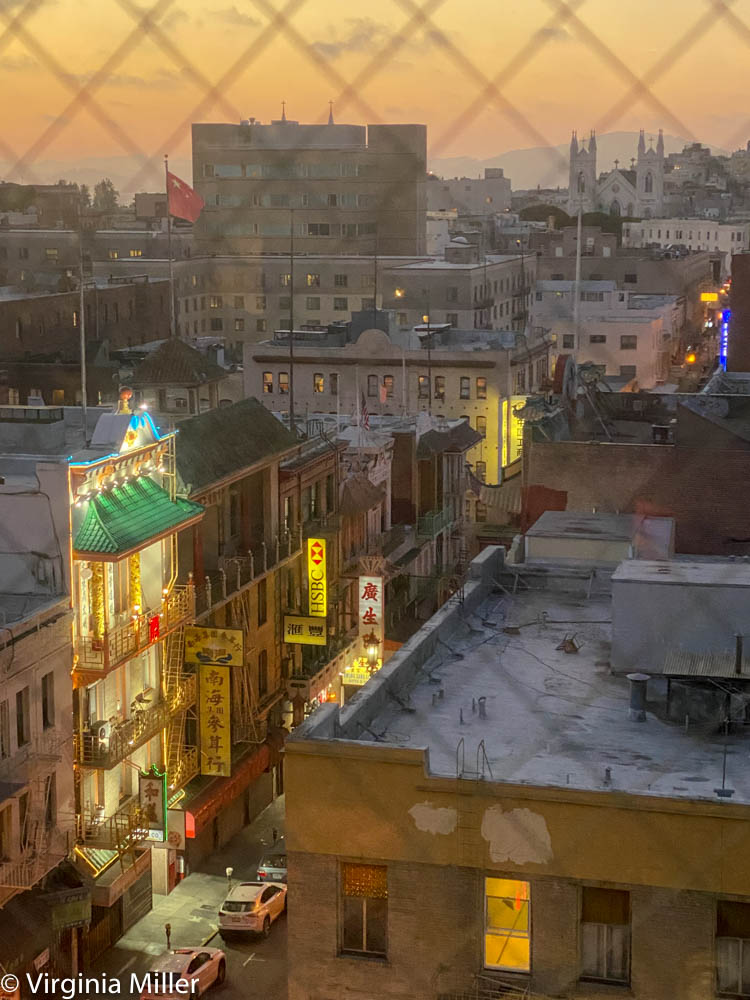 When Chinatown's legendary Empress of China started to be restored in 2019, the buzz began, reaching fever pitch since opening June 18. Empress by Boon has been a hot ticket; in my recent visit, packed with Chinese families and couples in the earlier evening, then a younger crowd as the evening went on. Chef Ho Chee Boon (formerly of Hakkasan) serves upscale Cantonese dishes utilizing organic ingredients from their Gilroy farm on their initial $68 prix-fixe menu, which includes dishes like succulent clove-smoked baby pork ribs in plum sauce and quail delicately fried in egg white, garlic and Hua Diao 20 year old wine. The food feels traditional yet current, with light, hand-pulled noodles and silky seabass reminiscent of miso cod, even if the honey was a little too sweet in some bites.
Expect gracious service from general manager James Minch and memorable desserts by pastry chef Rory MacDonald (formerly of Hakkasan, Gordon Ramsay), like passionfruit Brillat Savarin cheesecake served inside a passionfruit shell with a caramelized banana and insanely fresh banana passionfruit sorbet. Bar manager Emily Parian's cocktails were refined, even if some showcased listed ingredients better than others. Days Gone Bai was a standout for its bracing-yet-elegant showcase of Chinese Baijiu with Dolin Rouge, Leopold's Aperitivo with a Negroni-esque finish. The expansive 7,500-square-foot space is modern Chinese design by UK studio Atelier LLYS, centered around a dramatic bar and original wooden pergola, although the view over Chinatown, North Beach and the Financial District steals the show, especially as the sun sets. // 838 Grant Avenue, theempresssf.com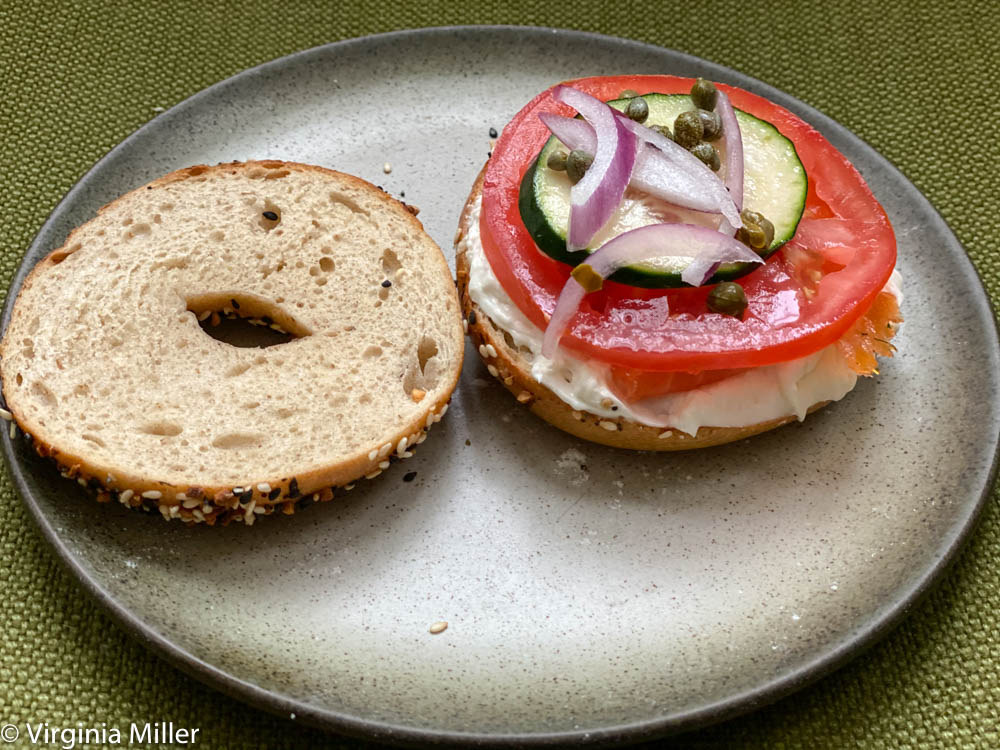 Toscano Brothers Italian Bakery, North Beach
Like anyone who has lived in NJ/NYC metro area, I'm perpetually unsatisfied with bagels outside that region, though I certainly appreciate Montreal-style. Leave it to pizza and dough master Tony Gemignani to bring us bagels that rival the best.
His new Toscano Brothers Italian Bakery opened at the end of April with a succinct but pitch-perfect offering of bagels, Italian breads, pizza dough, sandwiches —and soon— pastries. Tony and crew turn out hand-rolled, boiled (in liquid malt) and baked bagels on burlap-wrapped pine boards in an Italian Cuppone panettone oven (why the bagels are dubbed Dago Bagel told here). From fluffy, rich schmears to flour sourced locally from Central Milling in Petaluma, the naturally leavened bagels are the typical Tony-level-of-detail perfection. So are the divine breads, especially sour cherry-Maldon salt-chocolate bâtard or stone ground Italian Country Ace pagnotta bread dotted with rosemary and black olives. They often sell out so come early. Here's to Tony, King of North Beach! // 728 Vallejo Street, toscanobrothers.com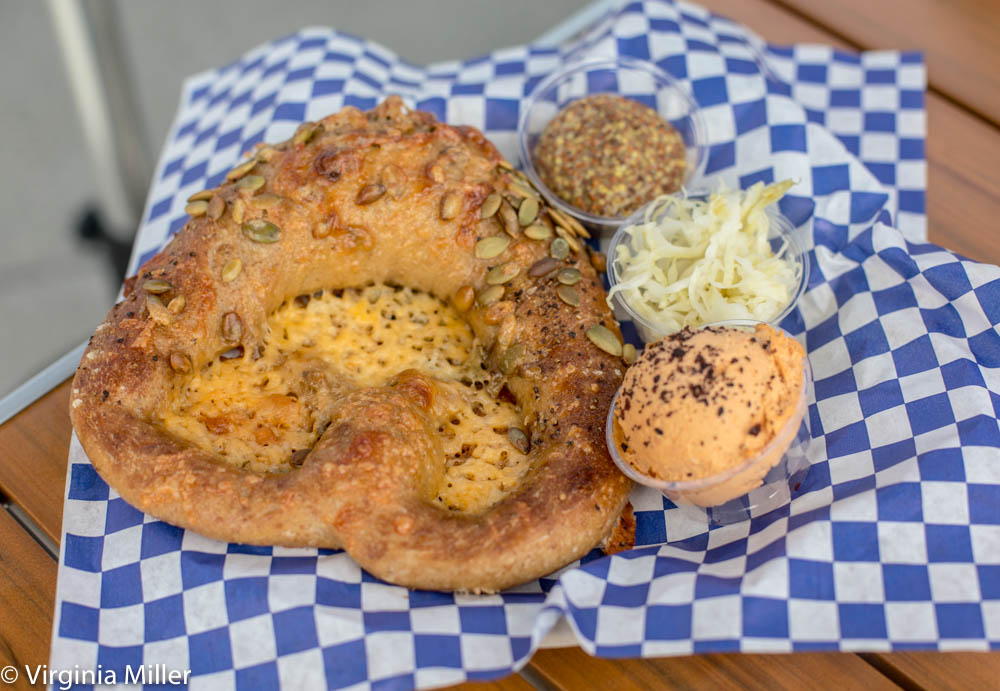 Harmonic Brewing at Thrive City, Mission Bay
Ed Gobbo, Jon Verna and Eric Tisch launched Harmonic Brewing in SF's Dogpatch in 2015, brewing beers like their signature kölsch, with live music and community gatherings. When they were approached about a space at the Chase Center, they jumped in. Here they share their music love and connection (notice their guitar fret logo) by also offering live music, Bay views and food and drink pre-and post-concert and Warriors' games on a vast patio and restaurant in the shadow of the stadium.
Start with their memorable beers, like the crushable new El Mero Mero (a Mexican-style, lime-kissed lager) and balanced beer cocktails, like a clamato-style Michelada. On the food side, expect carb-heavy heaven from one of our baking greats, James Beard Award–nominated baker Greg Mindel of nearby Neighbor Bakehouse. Highlights are many, whether his flaky-tender curry potato turnovers or a massive pumpkin seed-dusted pretzel baked with cheese and dipped in traditional German bierhaus-style spread of fontina, cream and paprika. A brunch menu offers additional foods with that leisurely waterside setting. // 1 Warriors Way, http://harmonicbrewing.com/thrivecity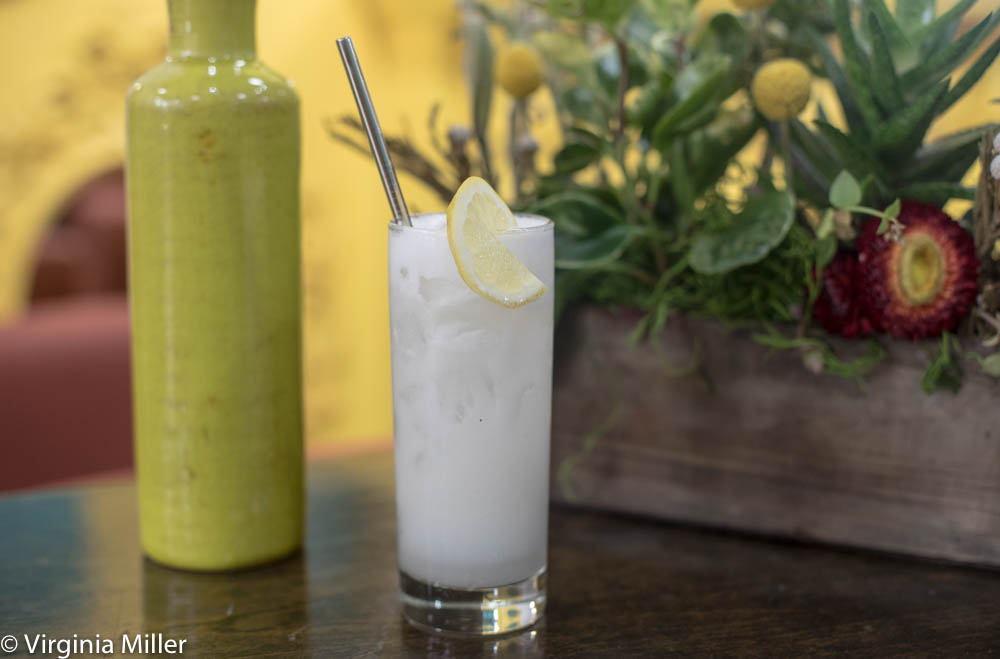 Chao Pescao, Civic Center
We were fans of Chao Pescao's Cuba-meets-Columbia food — celebrating owner Rene Denis' family heritage — when it opened in 2020 in the height of pandemic. They've just opened indoors complete with full bar and tropical vibes cocktail menu. The space feels like a sunny, colorful (primed in pinks, yellows, soothing blues) escape to Cuba, South America or Miami. It makes an ideal lunch respite and once they build out their back patio area, there will be even more of that island vibe. Colombian breads like gluten free pan de bono (tapioca rolls) or spot-on empanadas (especially the valluna de res flank steak empanada) are divine right out of the oven. Colombian-style arepas — like one packed with slow-cooked pork, sweet plantains, black bean, cilantro, chile de arbol salsa — are a menu standout, especially paired with drinks like the Coco Loco: rum, vodka, tequila blanco, coconut cream, coconut water, lime juice. // 272 McAllister Street, www.chaopescaosf.com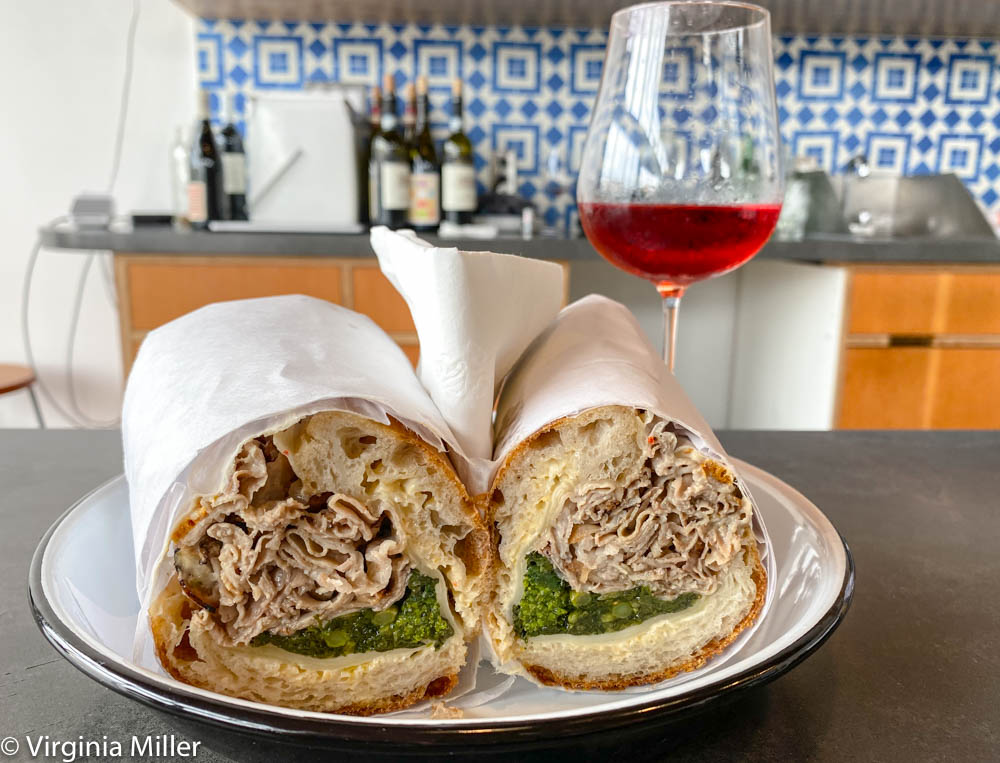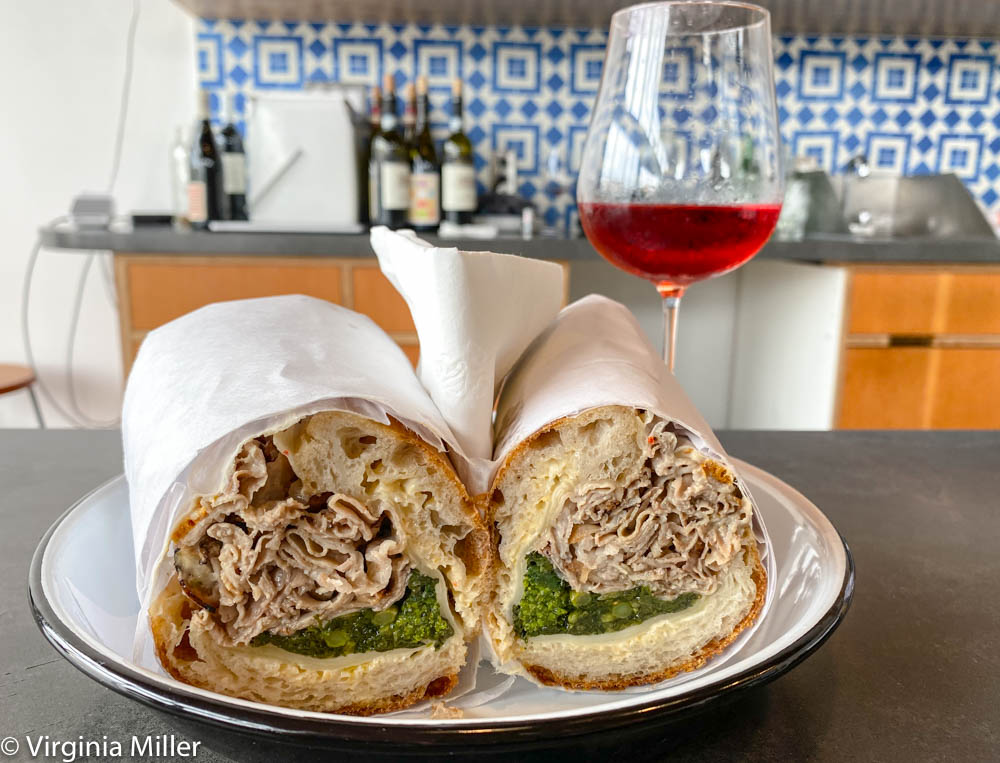 Palm City, Outer Sunset
Where has Palm City been all my life? That's how in love I am with Palm City, a casual Philly sandwich/hoagie shop meets hip wine and beer bar from owners Dennis Cantwell and Monica Wong, which opened April 2020 in pandemic with window service, recently debuting its lofty indoor space plus a few sidewalk tables. There can be wait for the spare few tables even at a weekday lunch, but you can order takeout or come pick up beers and bottles of wine from their thoughtful selection that includes cult Italian wines to skin contact/amber wines (a nice cross-section is available by the glass if you eat in).
The beer selection is likewise prime with local brewers like Alvarado and Cellarmaker, but especially exciting, my two Santa Cruz-area faves, Sante Adairius and Humble Sea Brewing, which Cantwell sometimes drives down to pick up himself. Now let's talk food. While starters like anchovies, spicy garlic cheese spread or a speck and stone fruit salad delight, the hoagies are Philly-legit. Cantwell has Philadelphia roots and it shows with downright addictive hoagies in pitch-perfect seeded rolls baked by none other than Neighbor Bakehouse. Don't make me choose between the herb garlic roast pork hoagie, soft and oozing with Pt. Reyes Toma cheese and provolone (taking me back to my beloved John's Roast Pork in Philly), or the Italian American Hoagie, jam-packed with mortadella, finocchiona, mozzarella, Parmesan, shaved onion, arugula, n'duja sauce, all singing in harmony. Took home a strawberry-rhubarb hand pie… a perfect breakfast the next day. // 4055 Irving Street, www.palmcitysf.com 
Bao, Mission District
Watch your dumplings and bao buns being freshly made in this sleek newcomer, Bao, opened May 2021 in the Mission. Cantonese dim sum standards are all here, from char siu bao buns to dan tat (egg custard tarts). But these options abound all ove our Chinese-dense city, so I have the most fun feasting on options you can't find everywhere in SF, like crab xiao long bao (soup dumplings), kimchee-beef potstickers or baked wasabi sticky rice dumplings filled with Chinese sausage, mushroom, dry shrimp, salted egg yolk and wasabi. Though I find the black sesame bao the standout amid the sweet buns, they wisely offer a mix, where you can try one of each dessert bao bun, including one decorated with a panda face. // 590 Valencia Street
Ocean Beach Cafe, Outer Richmond 
Open January 2021, Ocean Beach Cafe welcomes with its Hawaii vibes, from surfboards to chill outdoor parklet complete with vintage Duke's sign. Owner Joshua James' history includes years living in Hawaii and bartending — which now translates to his non-alcoholic focus. James is building what he hopes to be the largest selection of non-alcoholic beverages in the U.S. He already has an impressive roster of non-alcoholic spirits, cocktails, wines, beers and all manner of RTDs (ready-to-drink/canned drinks).
Standouts and rarities like Ghia, For Bitter For Worse and sparkling Sovi Rosé "wine" impress seasoned spirits/cocktail judges and drink writers like me. James crafts house cocktails (like the smoky-bright Mezcal Madre featuring Free Spirits "Tequila" and For Bitter For Worse Smoky No. 56) and throws #SoBar tastings where for a reasonable price you can taste a wide variety of these booze-free products. Solid avocado ricotta toast, breakfast burritos and Hawaiann huli huli chicken satiate as you taste. This is a special neighborhood cafe and a big win for the sober, pregnant, health-conscious, etc. drink lover who still wants interesting, quality drinks. // 734 La Playa Street, oceanbeachcafe.square.site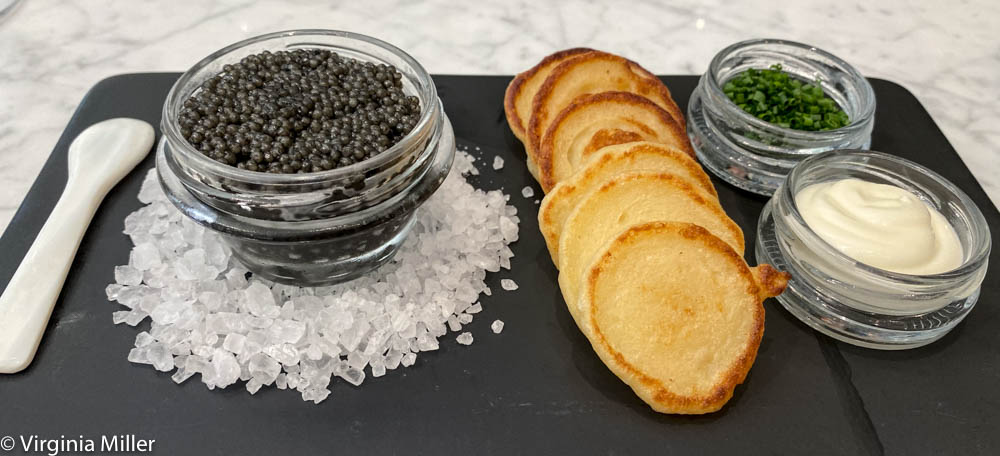 The Caviar Co., Tiburon
Though female-founded-and-run The Caviar Co. has been around a few years as an SF-based tasting room and line of locally-sourced caviar many Michelin-starred restaurants (and beyond) feature, their charming, chic Tiburon cafe just opened late spring 2021. It's a winner, from the Champagne and sparkling wine collection (like a more affordable Sanger Voyage 360 Brut Nature Champagne) to proper glassware and elegant vibe. The bites and snacks feel addictive, whether black truffle grilled cheese (Point Reyes Toma cheese, Truffle Shuffle carpaccio, chives, white sturgeon caviar on brioche), house-made blinis with caviar or Sal de Ibiza chips dipped in a creamy herb dip covered in bright, orange smoked trout roe. Lingering here feels like a "treat yo self" escape. // 46 A Main Street, Tiburon; http://info.thecaviarco.com/champagne-caviar-tasting-room
LONGTIME FAVORITES
Nari, Japantown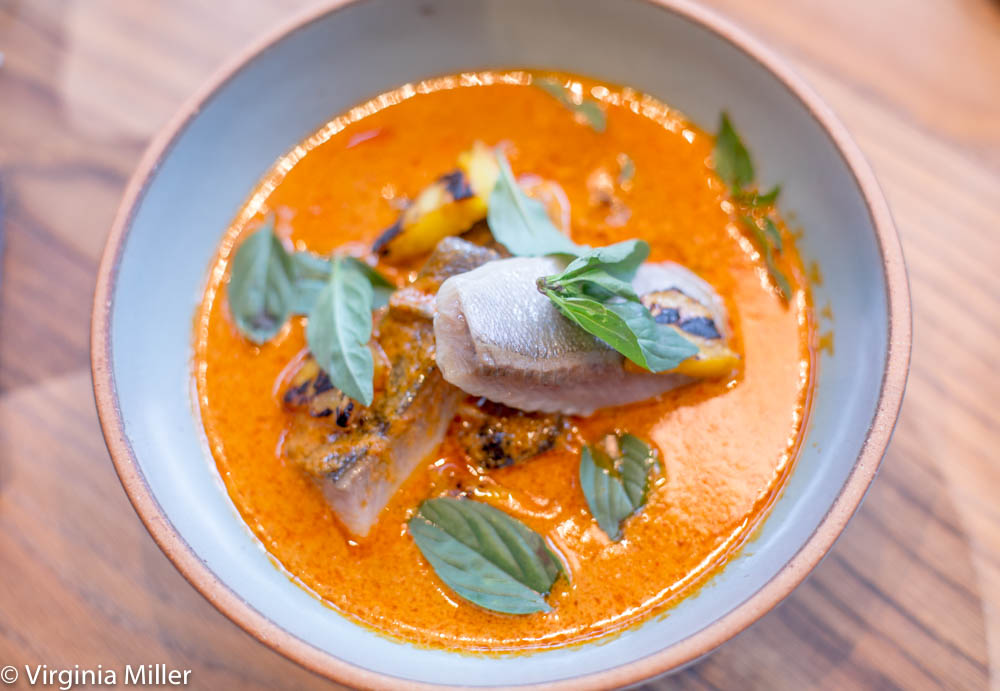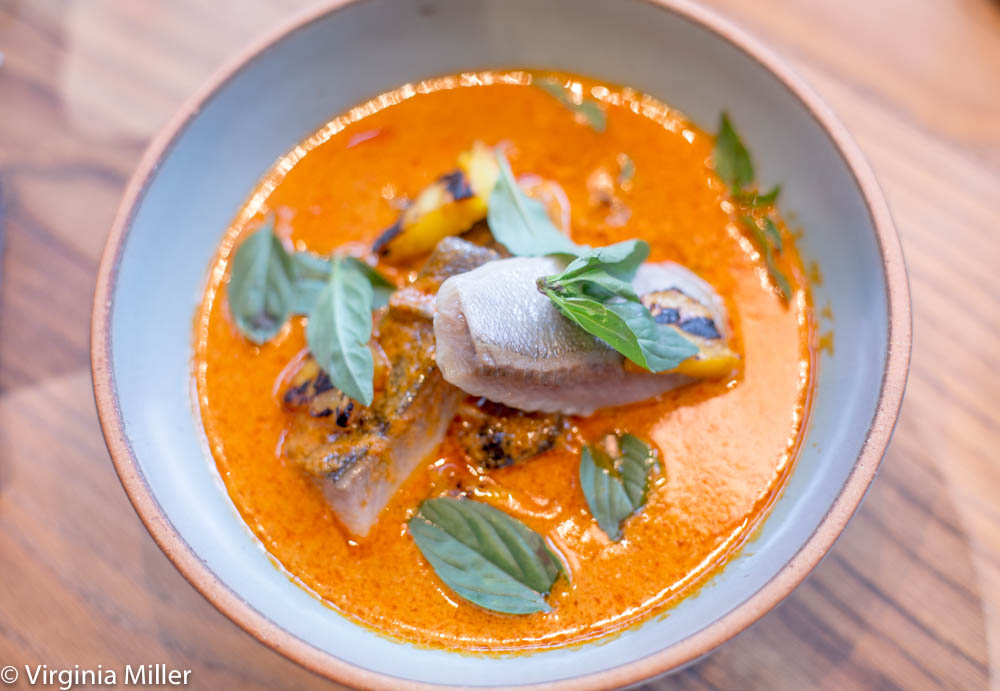 Nari, one of the most exciting Thai restaurants in the nation, is back open indoors as of June 2021 and it feels so good. Nari is the Sanskrit-derived Thai word for "women," appropriate for this gifted team helmed by executive chef Pim Techamuanvivit, who, with chef de cuisine Meghan Clark, celebrates recipes from Pim's family and her deep study of antique Thai cookbooks.
Clark started working with Pim when Pim opened her Michelin-starred sister restaurant, Kin Khao, in 2014. Nari is the more upscale of the two with refined cocktails and a greenery-lined space. New dishes wow, like Fort Bragg black cod gaeng kua curry redolent with Thai basil, hearts of palm and lightly charred pineapple. Ditto a summer-rich yum polami savory melon salad, savory and sweet with white soy, chili, coconut and herbs. Even peanut and cilantro-dusted grilled Monterey squid and pork jowl dish features pork so caramelized and tender, it's as seductive as candy. // 1625 Post Street, www.narisf.com
Presidio Social Club, The Presidio
As many longtimers continue to return to life, the Presidio Social Club Exchange reopened for weekend brunch, lunches and Thursday through Sunday dinners (including their new Sunday Supper "greatest hits" prix fixe menu). It almost feels like a whole new restaurant with its new, expansive deck made of Monterey Cypress and PSC's just-opened seasonal gift shop and marketplace, which offers everything from flowers to picnic provisions. It feels so right dining in the Presidio under towering trees on chef Ray Tang's addictive spice-fried Cornish game hen in charred scallions, chilis, peanuts and cilantro, or uber-tender Brandt Ranch beef short ribs with vegetable potato hash salad. // 563 Ruger Street, www.presidiosocialclub.com

BONUS LOCAL FOOD & DRINK RECOMMENDS
— Just Enough Wines: Launched in September 2020 by two women who met at Stanford, Just Enough Wines is an SF-based company featuring canned wines they personally source from California grapes plus chardonnay from Oregon's Willamette Valley. With bubbly, rosé, chardonnay, pinot noir — and currently producing their first wine themselves, releasing late 2022 or 2023 — Just Enough's clean, modern cans and quality wines are steadily becoming available in more states (where to find here).
— Strainge Beast Kombuchas: This new line from our neighbor up north in Chico — and among the earliest pioneers of the craft beer movement, Sierra Nevada — Strainge Beast hard kombuchas (yes, that's the correct spelling) are pretty damn fabulous. They're balanced and crushable, but also offering unique flavors, inspired by cocktail recipes and bartenders. This inspiration shows in creative combos like watermelon-sea salt-lime-mint or unexpected standouts like blueberry-acai-sweet basil. This is "next level" kombucha, born and made in NorCal.