"Too much of anything is bad, but too much of good whiskey is barely enough." – Mark Twain
Last issue I shared a few dynamic new spirits releases across categories, from creme de menthe to Scottish gin. This round, it's Scotch sips for a winter's night. While I continue to sip Mortlach 16 and one-of-a-kind bottles from the Scotch Malt Whisky Society I recently brought home from Scotland, wishing they were available in the States (there is a Society chapter in the US, and as is true with each bottle they offer, the ones I had in Scotland were single releases there), here are four producers that are available and would be gladly received as holiday gifts by Scotch whisky lovers in your life.
Something Different
BOWMORE – Smoky Sophistication
Smoky, like a fine cigar, with muted, sophisticated tones… that's Bowmore's 15 year "Darkest" Scotch.
For Islay Scotch-fanatics (Islay: the island on which generally peaty/smoky Scotches thrive), this one is an understated beauty. Where Laphroaig's standard 10 year Scotch hits hard and heavy on the smoke (Ardbeg's Supernova and Alligator take it even further – like sucking on an ashtray… in a good way), Bowmore 15 takes a more seductive route. Tantalizing on the nose with chocolate, pepper and wood, the taste is rich in cedar wood, sea brine, sherry, toffee, and, yes, peat. This gorgeous Islay Scotch is aged in American bourbon and Oloroso sherry casks, without being overwhelmed by either sherry sweetness or peaty smoke.
It's among my top peat-driven Scotches of all time, a lesson in balance, offering all the smoke one could desire, but not merely that. Bowmore is the oldest distillery in Islay, around since 1779. In keeping with its rich history, it's one of Islay's gems – at a reasonable price. $69.99
BALBLAIR 2000 – Young and Bright
Young and bright aren't words one thinks of in relation to Scotch. Way up north in the Highlands, Balblair crafts stand-up Scotches with just such a profile.
Though I like the green apple, woody spice of their 1989 single malt, I'm more taken with the younger 2000. Golden, and balanced, it unfolds with pear and green apple notes, making way for honey, coconut, and a spice zing that lingers warm and soft on the palate. It tastes young, yes, but this makes it no less complex than an older, mustier Scotch. In fact, in my latest travels through Scotland, Balblair 2000 stood out not just because of it's modern packaging, but because it is fresh, different than many of the other whiskies I was sipping (and well-priced for a single malt). Though not easy to find in the States, SF's own Whisky Shop has it at $62.50 a bottle. $62.50
Elegantly Approachable
THE MACALLAN – Romance & Range
Returning last month from Speyside up in Northern Scotland, I stayed on the enchanting Macallan estate. I'll never forget the austere peace of their 370 acre land: the river Spey, lush green hillsides contrasting with vivid colors of fall, moody storms passing swiftly through.

The Macallan whiskies are a lesson in elegance, even if the popularity (and thus scarcity) of higher-aged product drives up prices. Harmony of spice and brightness is obtained by maturing their Scotches in both sherry and bourbon casks.
Besides their bracing 10 year cask strength Scotch, which is sadly not available in the States, my favorites are on the pricier end: 21 year Fine Oak ($180-250) is heady with jasmine and tropical fruits, while nutty, orange blossom notes of the 3o year Sherry ($900-$1000) compliment its earthiness. Both are gorgeous. On the affordable end, the 15 year ($80) is honey-rich, with cinnamon and floral notes melding into orange and chocolate. The classic Sherry Oak 12 year ($49.99) is a great value, evoking orange marmalade, vanilla and toffee. $49.99-$1000
THE GLENROTHES – Smooth Balance
If you can find Glenrothes Vintage 1994 ($79), snatch it up, for it is the last of the vintage. Making way for Vintage 1995 ($82) just released this month, the Speyside whisky producer makes some of the more elegant Scotches from the region.
Like The Macallan, they mature their whiskies in both sherry and bourbon casks. 1995 evokes pepper, cedar, creamy butterscotch, and when a couple drops of water are added, a surprising whisper of chocolate. 1994 gives off a nose of apple and even pencil shavings, while tasting of woody vanilla.
On the cheaper end ($45), you won't go wrong with Glenrothes classic Select Reserve ($45), bright with orange zest, malt, salt, and coconut.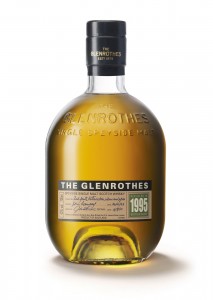 If you want to go all out, hunt for the rare (only 120 bottles in US, $375) 1996 Single Cask Editor's Edition. The nose evokes an earthy, aged rum and demerara sugar, while the taste is crisp spice, maple syrup richness, and Oaxacan chocolate. A truly unique Scotch.
I recently spent time with Glenrothes director Ronnie Cox, his sense of humor and good taste evident. Glenrothes is one of the great blended whiskys, and as he quipped: "Single malts for thinkers, blended whisky for drinkers." I'd say Glenrothes is for both. $45-$375