Southern food has a profound hold on me. No, I am not a Southerner. Having grown up in the Midwest, and mostly East and West coasts, it seems to be the major US region my family didn't move to. Yet few cuisines the world over elicit in me such yearning and comfort.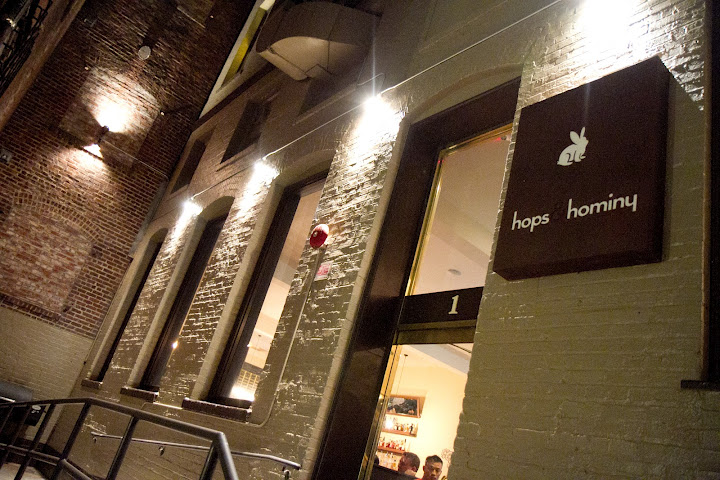 Whether road tripping through numerous states in the Deep South for barbecue, reveling in Low Country and Gullah cuisines in Charleston and surrounding islands, on bourbon-filled journeys to Kentucky, or returning yet again to incomparable food and music mecca, New Orleans, my connection only deepens.
Finding the real deal outside of the South is tricky, to say the least. Aside from the likes of my beloved Brenda's and delightful Boxing Room, these two new and two established spots fulfill cravings with more than one dish.
HOPS & HOMINY, Downtown (1 Tillman Place at Grant Ave., 415-373-6341)
Recently opened downtown, Hops & Hominy has the charm of being tucked away at the end of an alley off bustling Grant Ave. I must admit, when I saw packed crowds and a neon maraschino cherry (vs. quality brandied ones) in my cocktail, I doubted H&H, opened by three Florida natives. But in this early stage, it shows promise.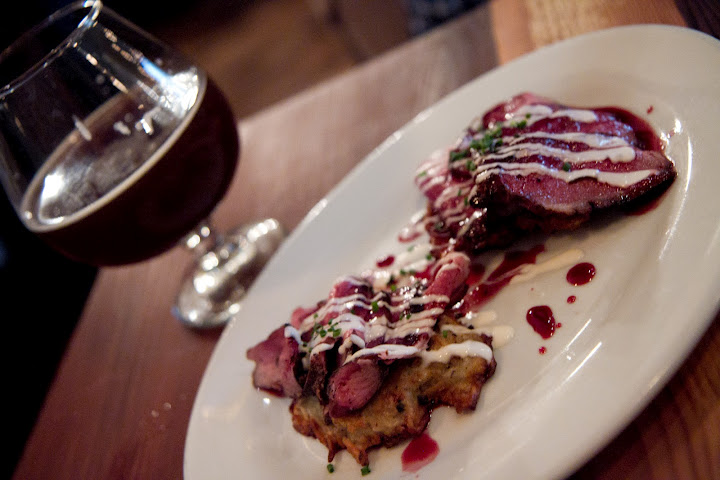 Despite the cherry and too much ice, a Smoked Bacon Old Fashioned was more balanced than I expected. Infusing Bulleit bourbon with bacon, the drink is thankfully light on maple syrup. This is not exactly a cocktailian's destination but you can get a decent imbibement. Better to go with their beer menu: Dogfish Head 90 Minute IPA and Ommegang Hennepin Saison are examples of the greats they have on tap.
In terms of food, a couple dishes jump out. The most unusual for this setting is espresso-cured chocolate duck ($12). Rare duck is perched on a potato pancake with mascarpone drizzled on top. Chocolate and coffee notes are subtle, adding an unexpected seductiveness to the dish. While the potato pancake doesn't exactly fit, it doesn't detract either. Mac 'n cheese is so common, it's not often worth noting, but here, served piping hot in a skillet ($8), it's oozing with cheddar goodness and typical house cured bacon. Crispy sage leaves elevate it. Buttermilk battered chicken ($19) is not the best in town, but free-range chicken is tender and generously portioned. This dish is an ideal way to also try the mac & cheese, a companion along with brussels sprouts. (I couldn't help but crave the chicken on waffles instead of solo – maybe for future a brunch?) Deep water shrimp & cheesy Southern grits ($19) work but don't recall the best of the South, though shrimp are plump and thick grits agreeably cheesy.
HOG & ROCKS, Mission (3431 19th St. at San Carlos, 415-550-8627)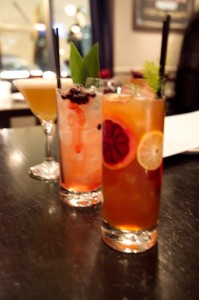 Hog & Rocks has grown into one of our great casual gathering spots, with better than ever cocktails and food, and a winning American whiskey selection. I've been a huge fan of their ham platters (the hog) and oyster selection (the rocks) since they opened, particularly when they offer such incredible Southern hams as Tennessee 's G&W Hamery lightly drizzled with sweet Fresno chili syrup.
Admittedly, the impetus for recent visits was a new Scott Beattie-designed cocktail menu and new bar manager Michael Lazar. There's long time Beattie favorites on the menu, like the Fall-influenced, whiskey-apple-ginger lushness of his John Chapman (oh, that Thai coconut foam!)

Two original drinks are Lazar's bright Calabria ($11), Old Grandad 114 bourbon, bergamot, honey, and Averna, bright with ginger beer, or Beattie's Coastal Collins ($10.50) which stood out with St. George's fabulous Terroir gin, lemon, soda, bay laurel and huckleberries – a refreshing, herbaceous sipper. Ask Lazar to make you a Hanky Panky, a classic London Savoy cocktail. Lazar tweaks the measurements of gin, sweet vermouth, Fernet Branca for a more complex, sexy whole.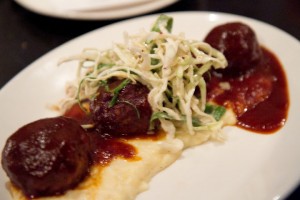 As the bar ups its game, it does not overpower the food. I've long found their pimento cheese in a jar ($7.50) the best in town – bordering on addictive. Recent enjoyments are hefty meatballs ($12.50) in whiskey barbecue sauce over cheddar cheese grits and white cabbage, and fat cheddar beer sausages ($13.50), oozing with juices. The standout dish lately is a Berkshire pork cutlet ($16), prepared like German schnitzel (pounded flat, breaded), in a smoky maple syrup and hot pepper relish alongside Red Russian kale evoking collard greens.
Here's to chef Scott Youkilis' upcoming BBQ venture across the street, Hi-Lo, due to open this Summer.
THE FRONT PORCH, Outer Mission (65A 29th Street between Tiffany & San Jose Ave., 415-695-7800)
The Front Porch's garage sale, drafty charm still works. Over the years, I've found it a place consistent for quality, quirky Southern eats from cozy, worn red booths under pressed tin ceilings.
Crab fritters ($9) win me over initially, packed with fresh, flaky crab meat, dipped in remoulade. After Brenda's incomparable shrimp n' grits, Front Porch serves among the best shrimp 'n grits ($18.50) in town (also note 1300 on Fillmore's deliciously refined version). Bacon and less traditional wild mushrooms add heft to white wine-doused arbuckle grits. They do right by fried chicken ($17 for 3 pieces, $34 for 9 pieces). Though it's not the ultimate version, tender Rocky Jr. organic chicken satisfies alongside garlic mashed potatoes and collard greens.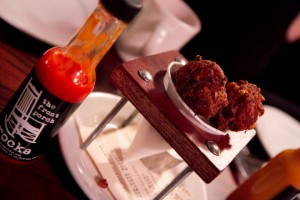 Sweet potato fries ($6.50) with Creole aioli are not soggy, more like sweet potatoes with crispy edges than merely fries. You could do worse than finishing with an Abita root beer float (add in bourbon, if you like). Head across to the street to their new sister location, the comfy, divey Rock Bar for a nightcap.
TUPELO, North Beach (1337 Grant Ave. between Green & Vallejo, 415-981-9177)
Enter Tupelo, an uber-casual bar on North Beach's enchanting Grant Street to find a surprising source of good Southern food in a space that typically housed forgettable bars. Open 5pm-1am weekdays and at 10am weekends, it's a mellow source for brunch or all-day Southern eats. The bar houses standard, big name brands, but the food is made with unexpected care.
Croquettes ($10) take a playful, unusual turn filled with ham hocks, accompanied by horseradish and lime sour cream. A side of properly roasted brussels sprouts ($7) is tossed with usual agreeable suspects of bacon, apples and onions. Warm burnt orange yam soup is topped with nutmeg mascarpone ($5), a whisper of bitter orange adding depth. More Southern food-with-a-twist comes in a fried okra salad ($12) mixed with goat cheese, arugula, pistachios. Crunchy citrus buttermilk fried chicken is brightened by a hint of lime. There's soul food supper plates with crispy pork belly, blackened catfish, or Creole shrimp and a side ($15). Build-your-own grits ($7 + $3-8 depending on topping) are above average (not mealy and pasty white) but not noteworthy.