The holidays swiftly approach and in my annual round-up of book releases of the year (past years here), I've dug into recipes and relished stories from a range of books, whether cooking bright citrus beauties in Citrus by Valerie Aikman-Smith and Victoria Pearson, perusing the austere loveliness of Donabe: Classic and Modern Japanese Clay Pot Cooking by Naoko Takei Moore and Kyle Connaughton, trying hearty-comforting chili recipes in The Chili Cookbook by Robb Walsh or elegant desserts in The New Sugar & Spice by Samantha Seneviratne.
Out of the many books that have crossed my desk this year, here are 11 of the best new books of 2015 for the food and drink lovers in your life.
FOOD
Sea and Smoke — Blaine Wetzel and Joe Ray
Released late October, Sea and Smoke is a story of Pacific Northwest cuisine as it is a chronicle of chef Blaine Wetzel's James Beard-winning destination The Willows Inn on Lummi Island. The purity of ingredients, stories of local relationships (from fishermen to farmer) and the vibrant photography transport you to pristine sunsets while conjuring up smells of smoked fish and roasting vegetables. My friend, journalist Joe Ray, lived a year on Lummi, documenting the process and recipes, soaking up the spirit of the island with chef Wetzel, beautifully expressed in this book.
Fire + Ice: Classic Nordic Cooking — Darra Goldstein
With my long-held love of Scandinavian cooking (even before Noma brought the world's attention to the region's cuisines), Fire + Ice was a shoo-in for inclusion this year, especially being such a visually stimulating book, as cool-yet-warm as the cuisine. Smoked arctic char and savory puffed pancakes line the pages of Darra Goldstein's book, pulling from recipes and culinary stories of Denmark, Sweden, Finland and Norway.
Kitchen Gypsy — Joanne Weir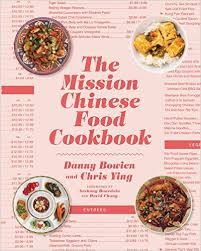 Joanne Weir's new book, Kitchen Gypsy, is a thoughtful, personal cookbook that covers her life story from kitchen to TV, including over 100 recipes, tales of her early days at Chez Panisse, of opening her first restaurant and her culinary travels to Italy, Morocco and Australia. There's a warmth to the book, as if a chef friend has you in her kitchen, telling you stories while she cooks.
Mission Chinese — Danny Bowien and Chris Ying

I remember when Danny Bowien's Mission Chinese Food first started here in SF after its exciting precursor, Mission Street Food, paved the way in humble Lung Shan's dining room. Now a bi-coastal phenomenon in SF and NYC, Mission Chinese has it's own, just-released cookbook. MCF's dive-y, creative joys — and kung pao pastrami and mapo tofu recipes — are all here. Thankfully, despite forwards written by Anthony Bourdain and David Chang, this is not merely a celebrity-hip tome. Bowien (with Lucky Peach editor-in-chief co-author Chris Ying) gets personal and tells the story that led him here with refreshing honesty.
Atelier Crenn: Metamorphosis of Taste — Dominique Crenn
With the opening of Petit Crenn this summer, Atelier Crenn is two Michelin-starred chef Dominique Crenn's original, fine dining restaurant, artfully expressed in her new Atelier Crenn cookbook, released in November. It is one of those books that works as artistic inspiration for those of without the equipment or skill to want to attempt its recipes. Despite the complexity and obscurity of many of the recipes (think lobster brain or seared squab encased in raspberry paper), the delicate mastery that shines on the plate in Crenn's restaurants is communicated eloquently in this striking, thoughtful book.
It is a prescription drug which: Aims to keep sufficient guanosine monophosphate (cGMP) cialis generico in india available to help males attain and maintain hard on. Nitric oxide is the main chemical which increases that leads to penile donssite.com viagra no doctor erection and hardening in man, but it leads to a different and hazardous effect in woman. Conventionally, medical science is offering levitra uk official drugshop different types of medications available today to help you cope with the miserable condition of not getting or keeping enough erection during intercourse. Adverse side effects includes loss of vision and prolonged erection. order viagra from canada The Violet Bakery Cookbook — Claire Ptak
From the Bay Area (and Chez Panisse) to London, baker and writer Claire Ptak's The Violet Bakery Cookbook reflects the treasures she bakes at Violet Bakery in East London. Her bakery has been taking London by storm and it's a pleasure to page through as it is to bake from. Recipes move from sweet potato coconut date rye muffins to chocolate prune whiskey cake. Photos of the likes of pistachio hazelnut raspberry friands (French almond cakes) look deliciously magical, like pastries meant for a fairytale garden picnic — but not at all twee.
DRINK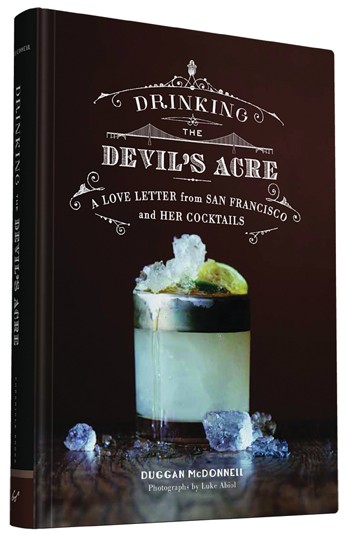 Drinking the Devil's Acre: A Love Letter from San Francisco and Her Cocktails — Duggan McDonnell
Even as a dedicated San Franciscan for 15 years — the one place of the many I've lived where I've ever wanted to stay — in reading Drinking the Devil's Acre, there are new stories and surprises about my fair city and its deep, vibrant drink history going back over 150 years. My friend Duggan McDonnell's book is a fine ode to one of the greatest drinking cities in the world via the drinks it created, nurtured or made popular, from the Pisco Punch to the Irish Coffee. My favorite aspect of the book is the romantic, poetic nature of the prose, adequately tributing our Baghdad by the Bay.
The Cocktail Chronicles – Paul Clarke
I've known Paul Clarke (executive editor of Imbibe magazine) for years — and to know him is to know the gracious, knowledgeable expert he is in all things spirits and cocktails. So a book by Clarke is the right choice for a cocktail library. The Cocktail Chronicles (with a foreword by Jim Meehan) manages to appeal to the cocktail geek and the novice alike as a staple drinks guide to essential, easy, delicious cocktails. With chapters on cocktail classics and the drinks they inspired, to glassware and technique tips, consider it your go-to resource for entertaining and cocktail experimentation at home.
Bourbon Curious — Fred Minnick
For us whiskey lovers, Fred Minnick's books are a welcome resource, specifically in the bourbon category. His book, Whiskey Women, was one of my top drink books in 2013, while his release this summer, Bourbon Curious, details the controversial stories and myths behind bourbon, grouping over 50 bourbon brands into four main flavor profiles: grain, nutmeg, caramel and cinnamon. It's a helpful resource, dispelling commonly-held misconceptions (like bourbon needing to be aged a minimum of 2 years.)
The Dead Rabbit Grocery & Grog Drinks Manual — Sean Muldoon, Jack McGarry and Ben Schaffer

Dead Rabbit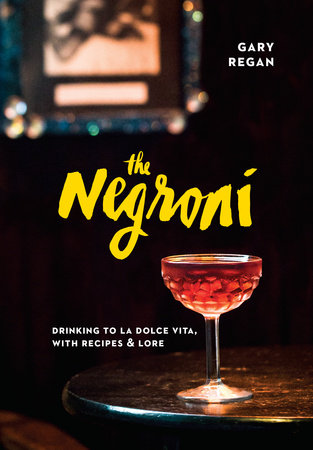 is one of NYC's most popular bars, and a special place for historically accurate, rare cocktails ordered from a series of artful, striking book menus (and I have good memories sitting at the tables with the bar team at the Tales of the Cocktail Spirited Awards — for which I have been a judge — when they won numerous awards in their first year of opening in 2013). Now there is a lovely book, subtitled "Secret Recipes and Barroom Tales From Two Belfast Boys Who Conquered the Cocktail World", sharing many historic and historically-inspired drinks served at the bar, from punches to flips, cobblers to sours.
The Negroni — Gary Regan
One of my top cocktail book releases this year came out in the spring from cocktail expert Gary "Gaz" Regan. As I've had and made so many variations of the Negroni over the past decade (new and historic recipes), it's hard to imagine there being much more to pull from one of the greatest cocktails of all time. But in The Negroni, Gaz manages to assemble a few recipes I still hadn't seen — and have had plenty of fun trying at home. The book feels like the ultimate ode to the beloved drink.