This article was first published in two parts (one and two) at Table8 where I am national editor.
Chicago ever remains one of the country's great food towns. My recent return to visit family, friends and attend the James Beard Awards and surrounding activities as a judge, of course, yielded more worthwhile spots in a range of prices and categories. These 9 restaurants stood out for various strengths: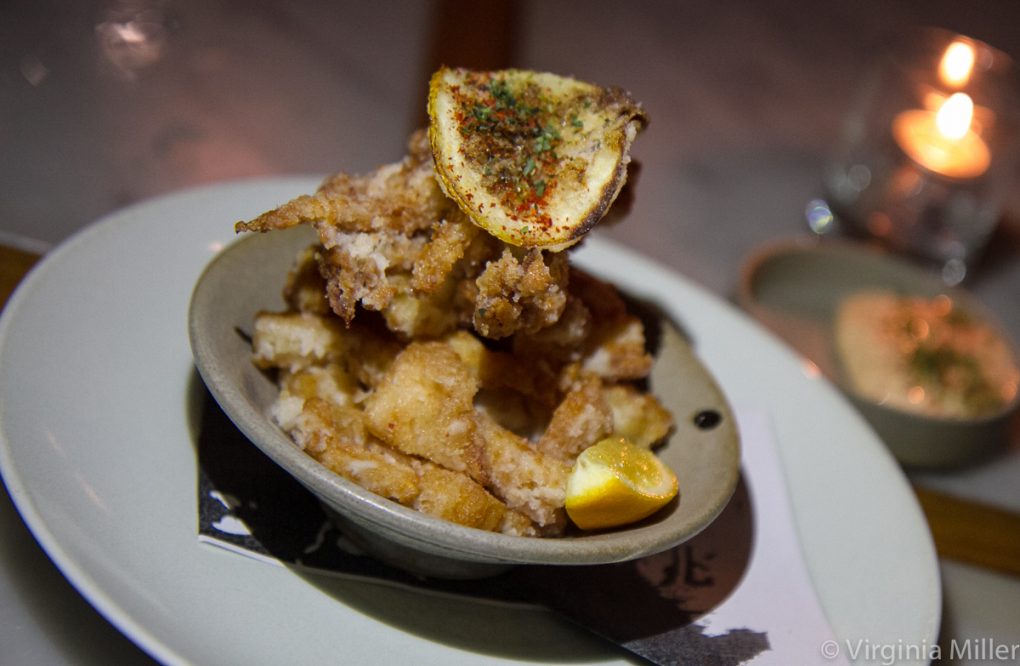 Mid-Range/Upscale
MOMOTARO, West Loop/Fulton Market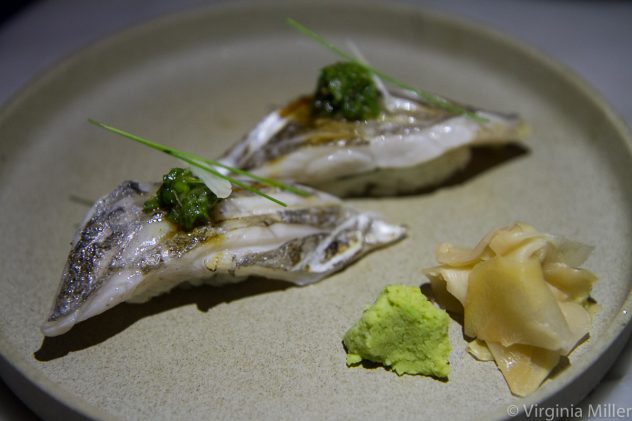 Given the high prices, massive, multi-level space and ongoing hype, I wondered if Japanese hotspot, Momotoro (open late 2014), would be worth it. I must say, it was. Yes, prices add up quickly. Though Chicago falls far behind SF, LA and NY when it comes to excellent, authentic sushi, here sushi is strong, with a few off-menu nigiri sushi moments that distantly recall Japan in pristine execution. But Momotaro mostly excels in creative twists on classic donburi, yakitori and the like from the menu's 10 Japanese food categories. Cocktails are solid though not particularly memorable — better to choose from the robust sake and wine offerings. The bustling, subterranean basement izakaya offers a more casual (separate) menu and drinking area.
Standouts: While I found the ever-popular chili mentaiko spaghetti ($14) overrated (I've had better versions in LA), house specialties like the Momotaro tartare ($13), a purely vegetarian, delicate wonder of Japanese sweet tomato, Maui onion and shiso served to caviar perfection, is a "wow" moment unique to this restaurant. Surprisingly, ika karaage ($14), or fried squid dipped in chili mentaiko mayo, was one of the highlights of the evening, fried as perfectly as tempura is in Japan is to nearly dissolving degrees. Nigiri sushi stood out when going with the day's off-menu specials or the more uncommon sources, like uni (sea urchin) from Baja, Mexico, or knifejaw fish (ishidai).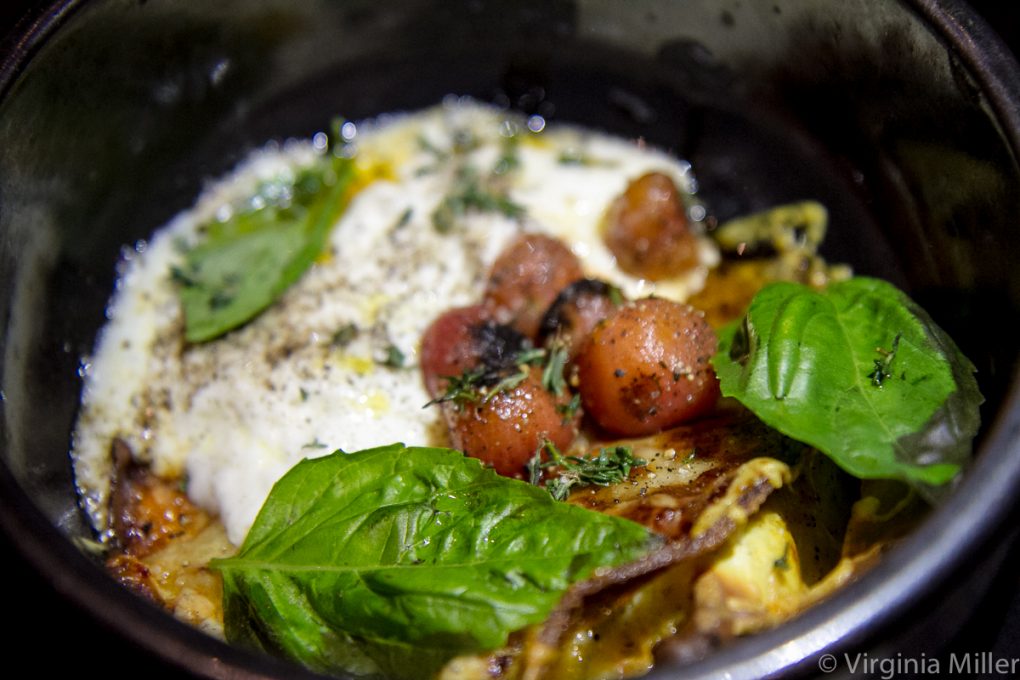 ROISTER, West Loop/Fulton Market

Roister is none other than Grant Achatz' newest restaurant, just open this April. I was delighted to dine there 3 weeks into soft opening with Achatz himself cooking in the large, open kitchen facing an intimate dining room. There is a basement bar and a casualness that makes Roister the most affordable of Achatz' restaurants, though it still adds up quickly to over $200 for two with drinks.
Standouts: There are large, 2-6 people share plates ranging from $64-125, but I found the already buzzed-about braised, poached and fried whole chicken ($64) to be a bit of letdown except for the accompanying sunchoke sauce. I've had too many superior chicken dishes in this vein (especially in Italy, the South and the Bay Area) to find this one worth the price. Smaller plates held more joys, whether scallop crudo ($17) enlivened with mustard, passionfruit and charred daikon, or simple-sounding but perfectly executed, soy-dusted Yukon potato fries ($9), smoky under a mound of bonito flakes with rice vinegar and tofu mayo for contrast. On the entree side, hearth-baked lasagne ($25) was another surprise, more like a deconstructed lasagna in a bowl with pasta layers next to caramelized onions and skinless tomatoes, luxurious in burrata cheese.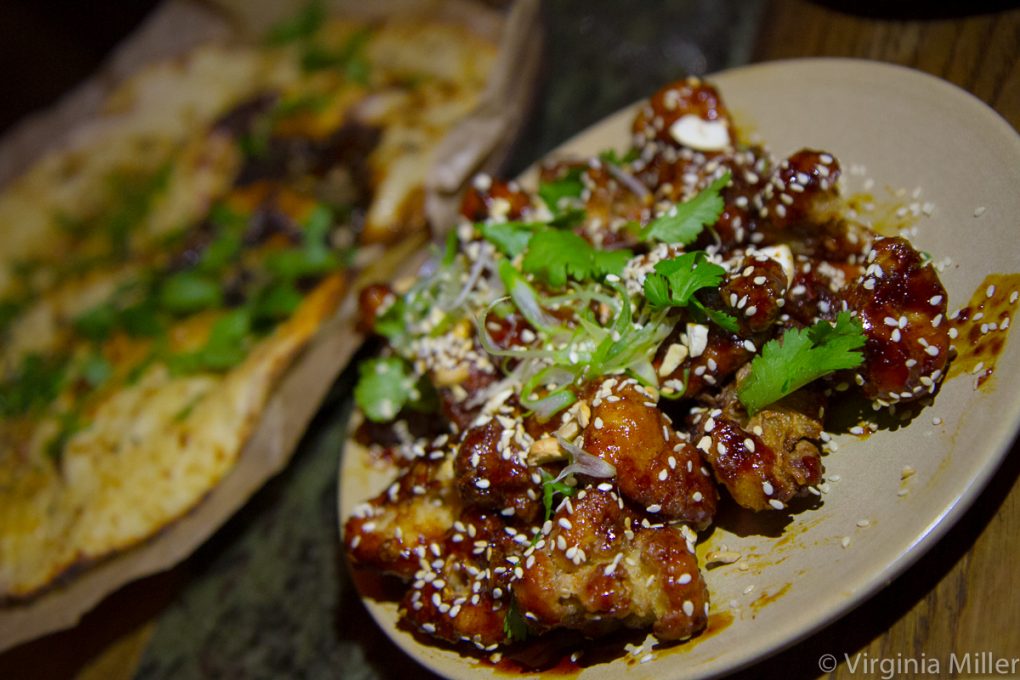 Mid-Range/Casual
PUB ROYALE, West Town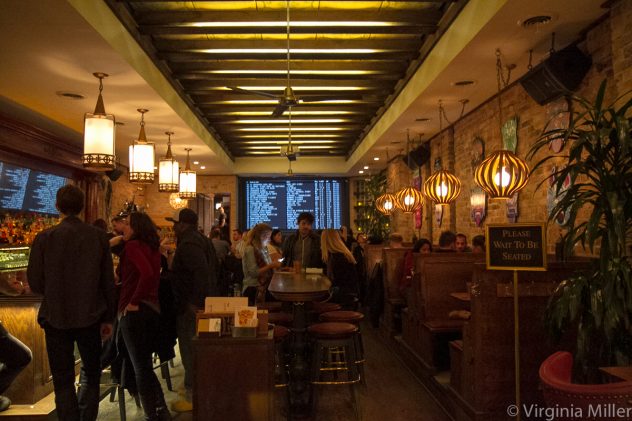 I initially wrote about Pub Royale here at Table8. Open mid-2015 from the Heisler Hospitality restaurant group, Pub Royale is the kind of spot I wish was in my own neighborhood. Serving Indian-British inspired, gourmet pub food that recalls London, they surprisingly excel on the vegetarian side, while the hip-but-chill space is centered by an electronic menu on the back wall showcasing each day's draft beers.
Standouts: Chef Jason Vaughan's salt cod samosas, eggplant curry and a naan doughnut for dessert all delight. But the gobi Manchurian, a shareable plate of crispy cauliflower, sweet and spicy in a Manchurian sauce laced with sesame and cashews, is rightly the most popular dish (distantly reminding me of the superb KFC – Korean fried cauliflower – at fantastic Yardbird in Hong Kong).
But I love the light-and-fluffy yet decadent buttered paneer even more: a beauty of a vegetarian curry accented by salted chili, scooped up with whole wheat paratha flatbread. Beverage director Michael McAvena has assembled a mean selection of international beers with 24 on draft. Some of the draft highlights aren't beers at all but the likes of a rotating mead (like the unique, dry Iqhilika-Cape Fig Mead from South Africa) or one of my favorite Spanish sidras (cider), Trabanco.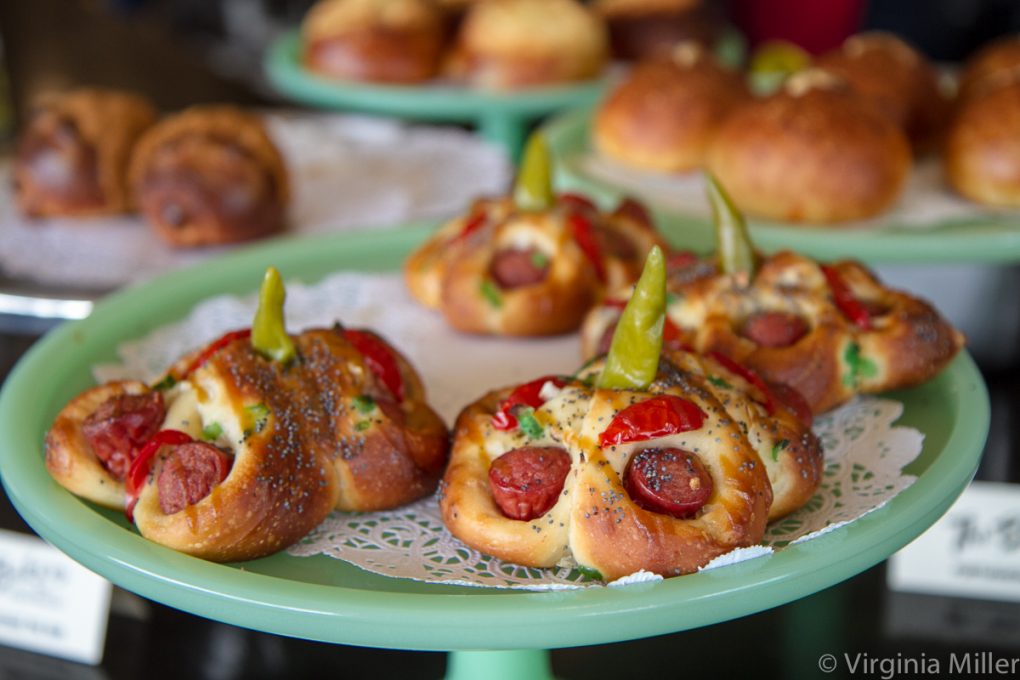 FAT RICE, Logan Square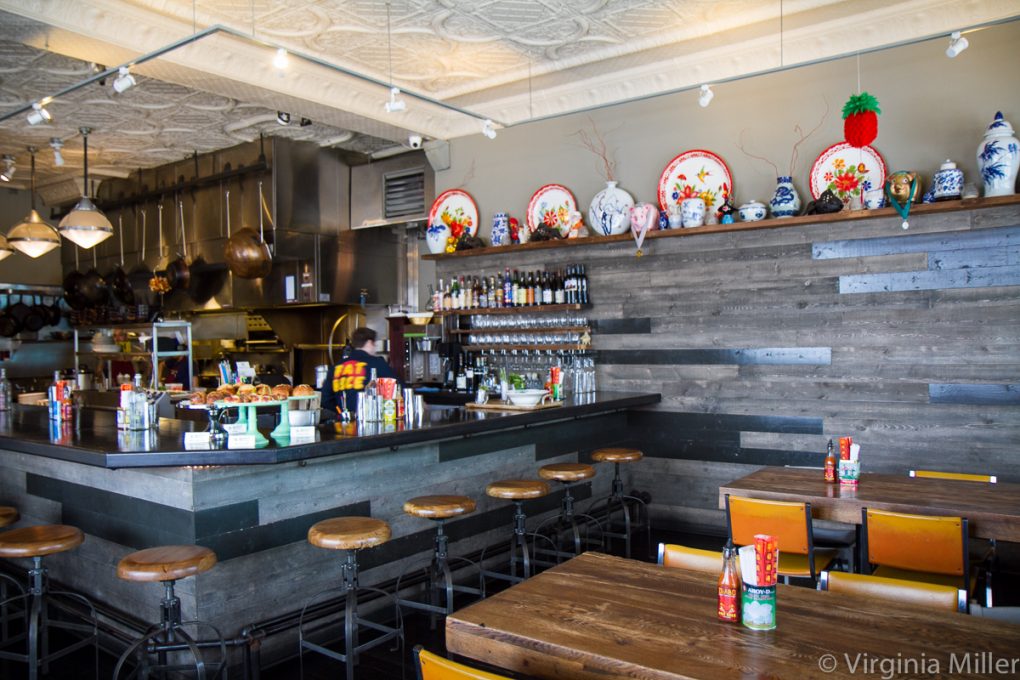 Open since the end of 2012, Fat Rice garnered all manner of accolades, including being named Bon Appetit's # 4 Best New Restaurant in America in 2013. As part of the modern Asian, Asian fusion, whatever you want to call it craze (with forerunners and boundary-pushers being the likes of Mission Chinese opening in SF back in 2010, then in NYC at the end of 2014), Fat Rice is a playful, colorful respite for modern Macanese food (from China's Macau peninsula just across the river from Hong Kong and a Portuguese territory until 1999, which influences the unique cuisine), which owners Abraham Conlon and Adrienne Lo dub "Euro-Asian comfort food." The highlight was trying baked goods from the The Bakery at Fat Rice, which just opened early July, including a fantastic pastry (pictured) inspired by the Chicago hot dog down to the green relish.
Standouts: Arroz gordo (their famed "fat rice" dish) and piri piri chicken are signature dishes, the Portuguese influence shows up in housemade linguica sausage and bacalhau de vovó (house cured salt spread), while I found minchi hash ($12 – available at brunch and lunch), a stir fry of minced pork and beef served with an egg, greens and coconut rice, to be sheer comfort. They do Portuguese egg tarts right (akin to Chinese egg tarts), warm out of the oven, but the most unusual dessert is the Macau rice crisp ($6), little rice cakes sweetened with sherry caramel, intriguingly marked by savory, umami notes of nori (dried seaweed shavings), sesame and pork floss (hair-thin shreds).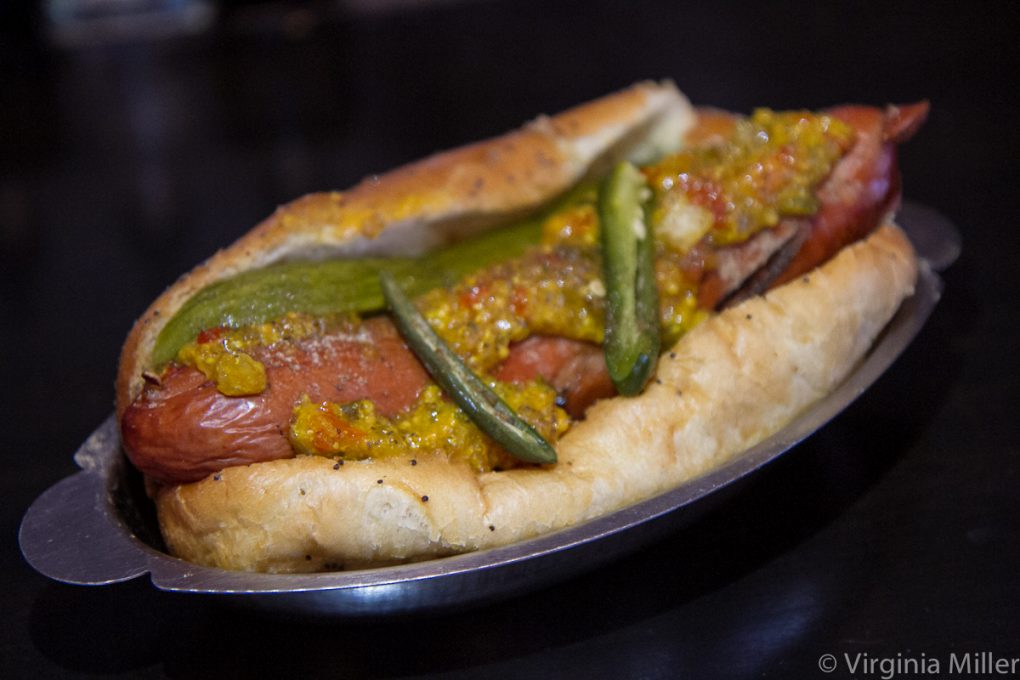 THE DUCK INN, Bridgeport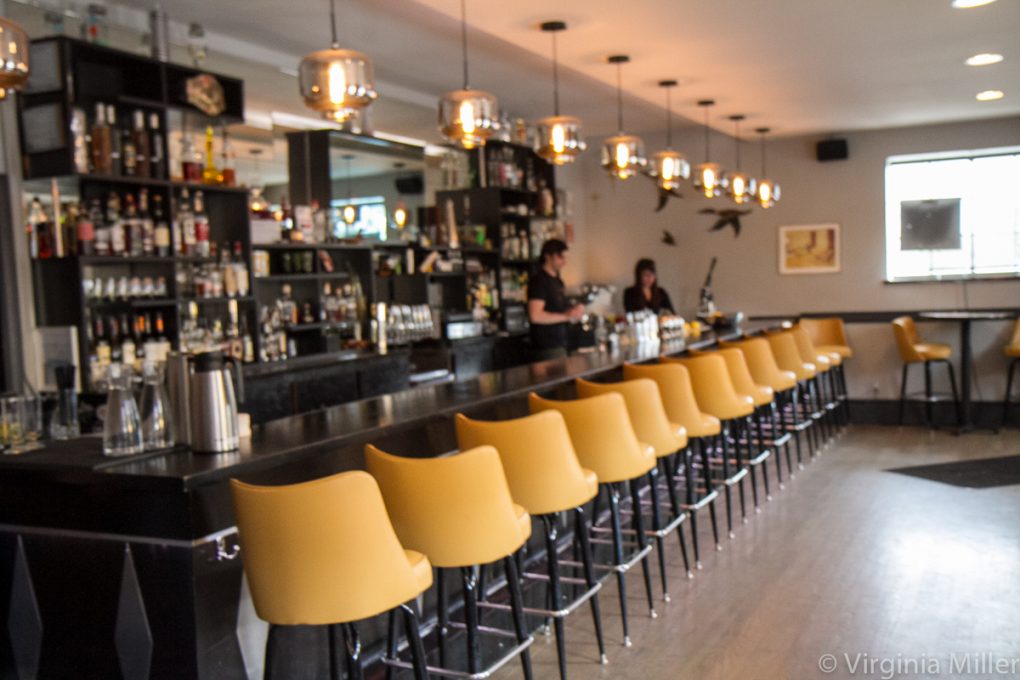 The Duck Inn is all retro-cool in South Chicago's Bridgeport 'hood with downright fantastic Chicago dogs, vintage lamps and chairs, laid back service, expertly done hearty food and top-notch cocktails from bar manager Brandon Phillips (the Hackney Handshake is irresistible with Beefeater Gin, David's Tea Movie Night syrup, Lustau Manzanilla Sherry, egg white, lemon and soda, garnished with gin botanicals-doused popcorn).
Standouts: The Duck Fat Dog ($10) is their tribute to a classic, Chicago-style dog. It's a juicy glory of a Tallgrass beef (in a pork casing) hot dog cooked in duck fat, garnished with an array of relishes, including classic Chicago green relish, all on a brioche poppyseed bun from Pleasant House Bakery down the street. Fried cheese curds ($8) are another guilty pleasure, almost melting, enlivened when dipped in in hoppy (hop-laden) mayo and Bloody Mary ketchup. But the menu is not all heavy. There are also dishes like squash Panzanella ($12), or bread salad, tossed with fennel, sage and pumpkin seeds in a buttermilk dressing.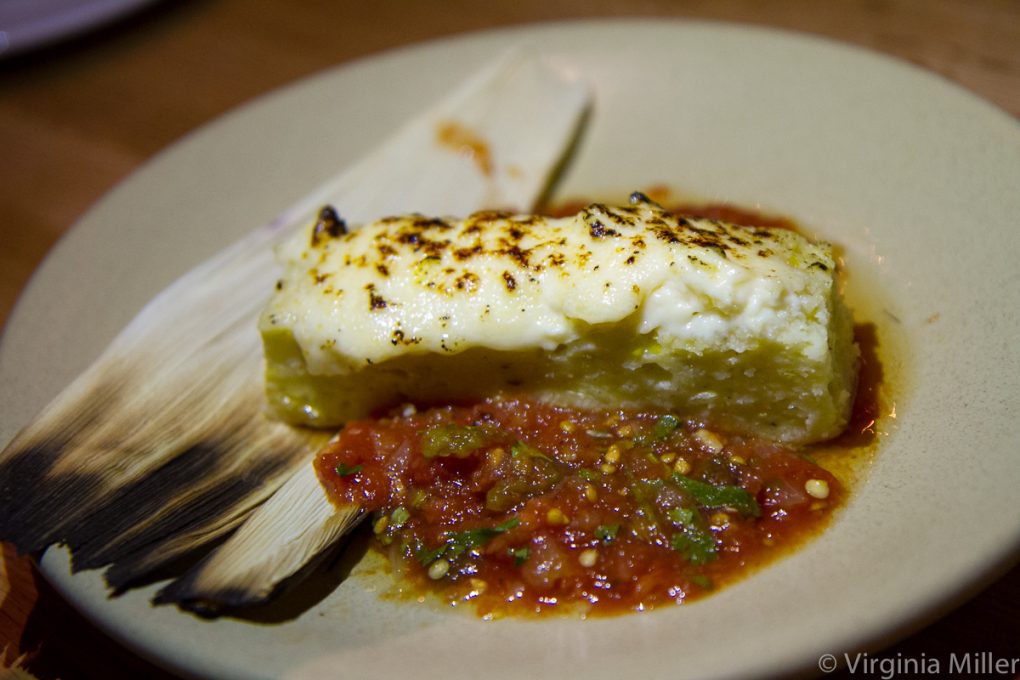 DOS URBAN CANTINA, Logan Square
Living in California (including SoCal for a total of 12 years), Mexican food is tough to deal with outside CA and Mexico, even though Chicago has a thriving Mexican food scene. California's massive Mexican population everywhere in the state, impeccable, year round ingredients and decades-long density of incredible Mexican food means I've experienced plenty of Mexican food letdowns in Chicago at some of the most raved about spots, faring best at hole-in-the-walls (cemitas being an under-served category done right in Chicago), but finding little that surpasses even the average in California.
Dos Urban Cantina stands out, though somewhat uneven, with the Chicago Tribune calling it, "The most important Mexican restaurant to open in Chicago since Topolobampo." Chef/owners Brian Enyart (who worked at Frontera Grill and Topolobampo for 14 years) and Jennifer Jones' modern Mexican cuisine, good mezcal and tequila cocktails and reasonable prices.
Standouts: Divided into vegetables, masa, seafood and meat sections, the menu pulls from other countries as it sticks to Mexican roots. Chips & dips ($8) is a trio of guacamole, roasted tomato salsa and pumpkin seed hummus, the latter being downright dreamy. Goat albondigas/meatballs ($13) arrive with tender masa (corn) gnudi (gnocchi-esque dumplings) in mole negro nodding to Oaxaca, while a sweet corn tamal ($7) receives added layers from charred Parmesan, brightened with tomato salsa. Everything was good but disappointments were dishes that veered a little bland, as was the case with buttered chayote ($8) in peanut mole or back lentils and couscous ($12) with poached egg and jalapeno salsa.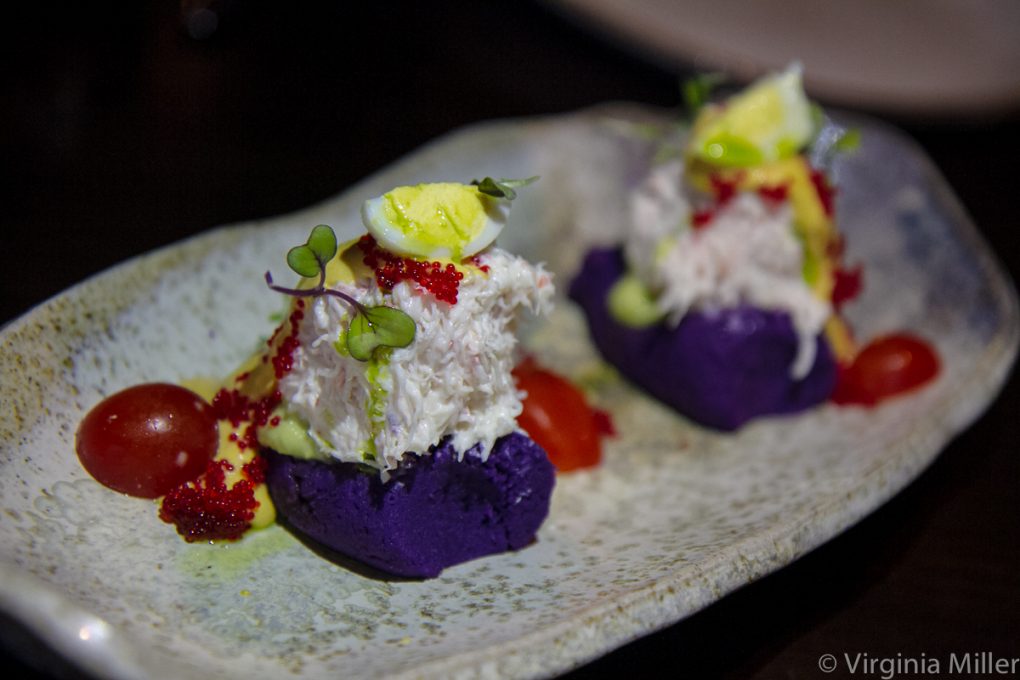 TANTA, Near North Side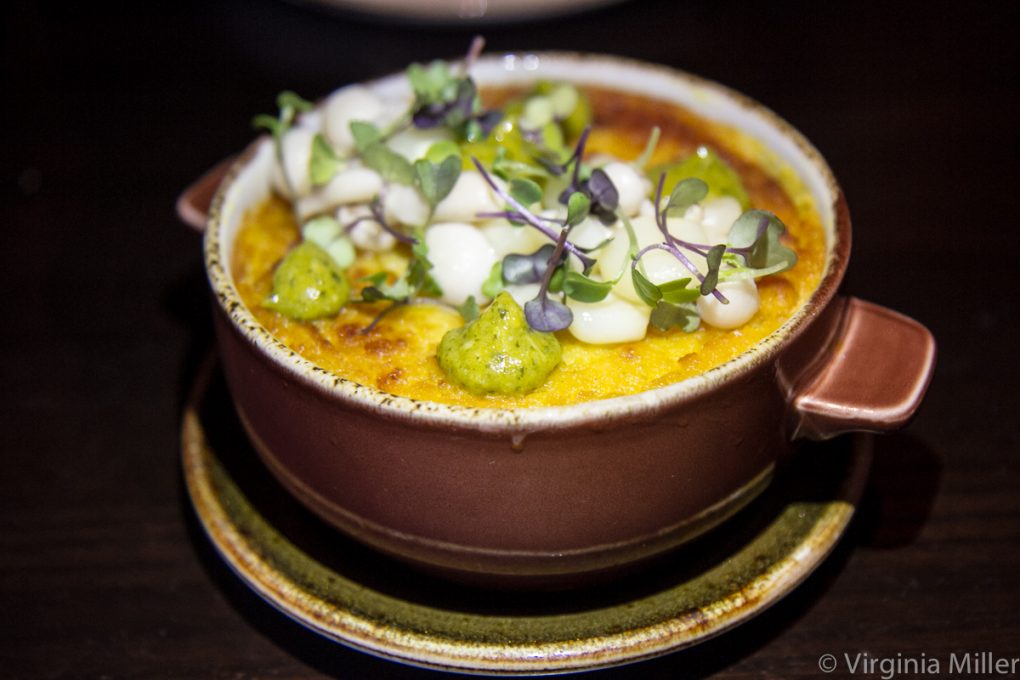 Tanta is a bustling restaurant from Peru's most famous chef, Gaston Acurio (whose restaurants are among my favorite in Peru), and Tanta chef Jesus Delgado. The food is straight up Peru, paired with pisco cocktails in the bustling space, which is a bit corporate looking, though cheered with splashes of color and sweet, earnest staff. More on Tanta and Peruvian cuisine here and here.
Standouts: Pastel de choclo ($14), a Peruvian corn cake marked by mushrooms and sauteed Peruvian corn (choclo) arrives steaming and comforting, a beauty of a dish that I've not seen at another Acurio restaurant. Peruvian classics shine, whether ubiquitous cebiches ($18 each; $28 for 3) or palteado tiradito ($18) — the sashimi of Peru — of silky, raw bay scallops, shrimp and avocado in jalapeno emulsion. The causitas ($22 for 4; $10-12 each) transport me back to Peru, particularly the clasica ($12) with crab, red tobiko, avocado, tomato and egg on whipped, purple Peruvian potatoes.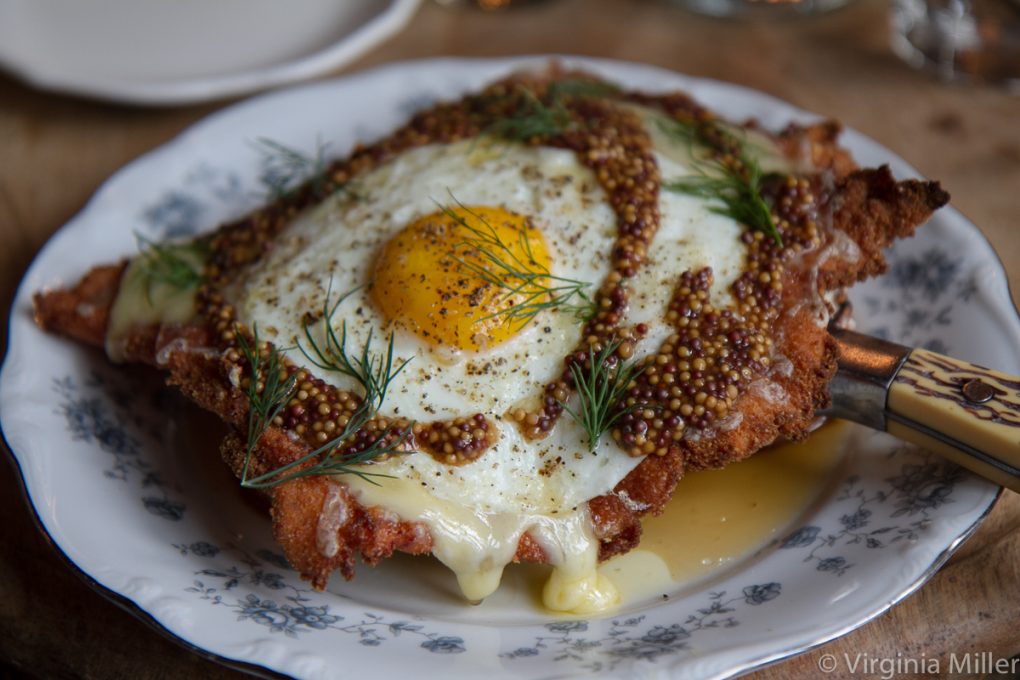 BOHEMIAN HOUSE, Near North Side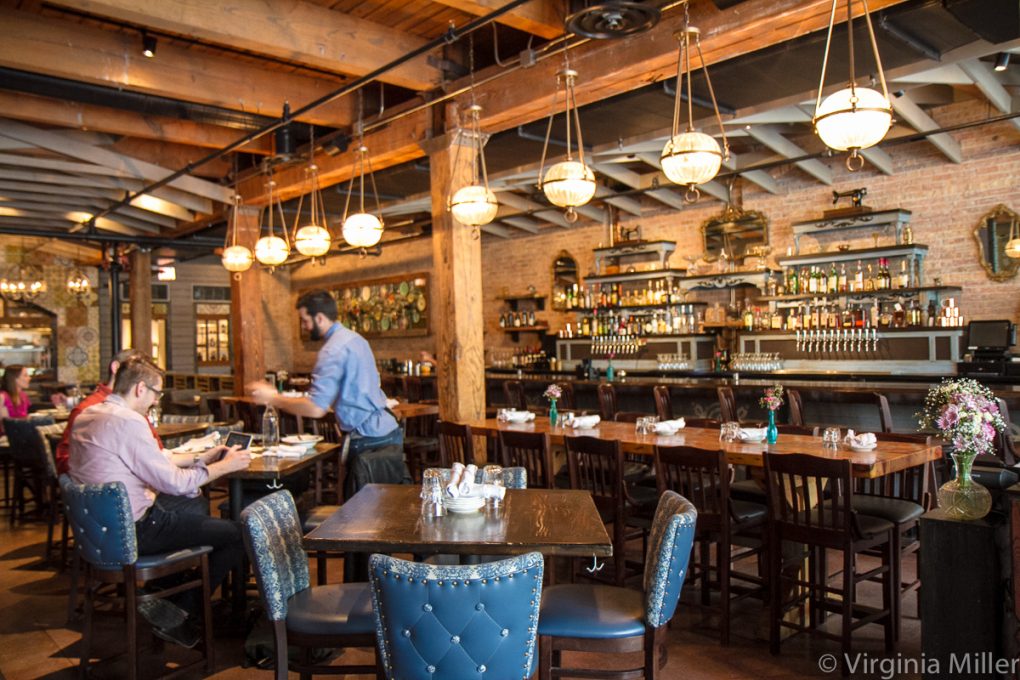 A spacious, brick-walled dining room and bar, with couches and chairs grouped in front of big picture windows, sets an elegant yet relaxed tone at Bohemian House. Friendly staff welcome during mellow lunch hours or as you slip in for bites and drinks while lounging on couches. Executive chef Jimmy Papadopoulos and sous chef Lee Littlejohn turn out food blessedly influenced by Eastern Europe in traditional-meets-modern form.
Standouts: Recalling my travels in the Hungarian countryside, Hungarian langos ($11), or traditional fried potato bread, marked with garlic sour cream, aged gouda and dill, or beef cheek pierogis ($15) are welcome versions of Polish and Hungarian classics. Lighter options might be a roasted beet salad ($12) with apple, crispy wild rice and farmers cheese in toasted caraway vinaigrette, or snap pea salad ($11) laden with carrots, farmers cheese and crispy buckwheat in a lemon dill vinaigrette. Then there is Austrian great, a pork schnitzel ($26) partnered with butterball potatoes, cucumber mizeria (Polish cucumber salad), house mustard and charred lemon. At lunch, the tender-crispy schnitzel is served as an open-faced sandwich ($19) on rye bread with horseradish cream, sauerkraut, mustard, Emmentaler cheese and decadent fried egg topping.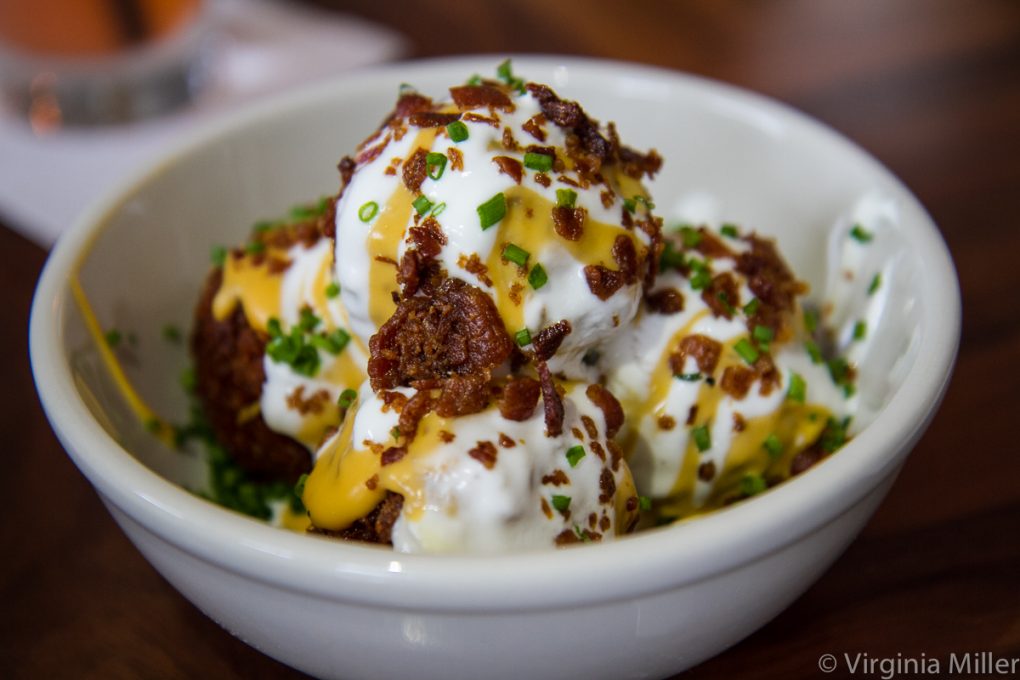 WYLER ROAD, Logan Square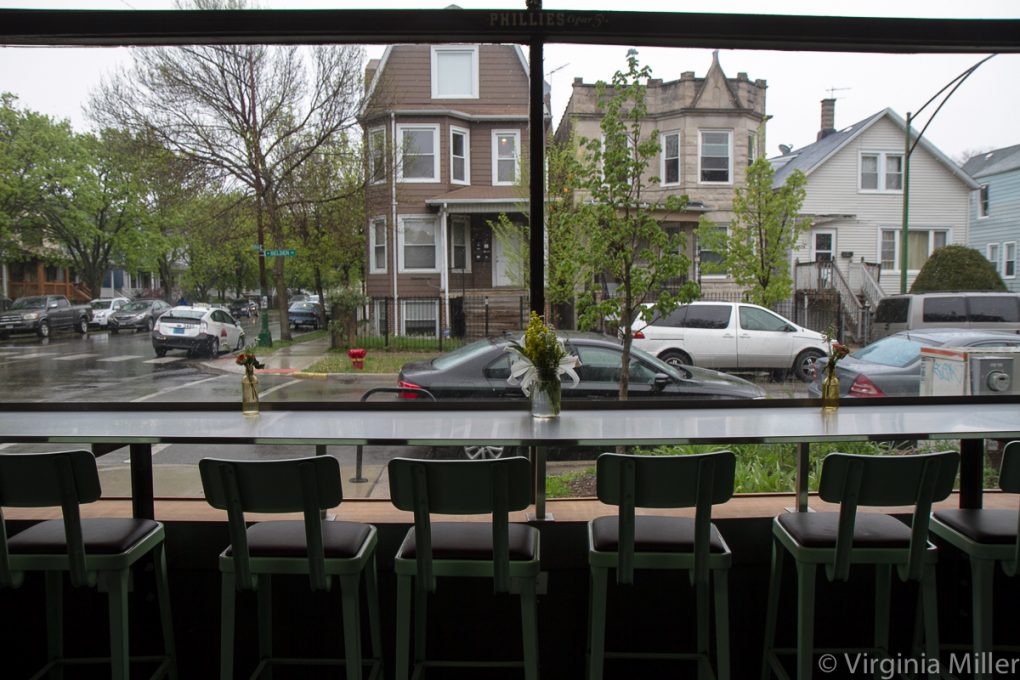 Laid back Wyler Road is that ideal neighborhood spot in hipster Logan Square where service is chill and food and drink is filling, affordable and quality. It's pretty much about sandwiches, from cold, hot to fried and a grilled cheese section.
Standouts: In some ways, Vanguard potato balls ($8) were the standout of my recent visit, laden with cheez whiz, bacon bits, crema and chives, tasting like a perfect baked potato in ball form. Sounding better than it tasted, the chicken salad sandwich ($10) is chicken breast and fried chicken skin for contrast with interesting accents of chimichurri and sour grape jam on whole wheat. Surprisingly, results were lackluster and bland. Not so the grilled cheese on wheat ($9). Beer cheese, provolone, caramelized onion and tomato meld into a deeply comforting whole. It is even better with the pairing of $6 roasted tomato bisque, marked by fresh basil and cream. Cocktails ($8-10 draft) are solid but not noteworthy. Better to go with house soda floats ($7) or boozy floats ($10) like the Fernet Cow: Letherbee Fernet, mint, house fernet ice cream and Coke.
Save
Save