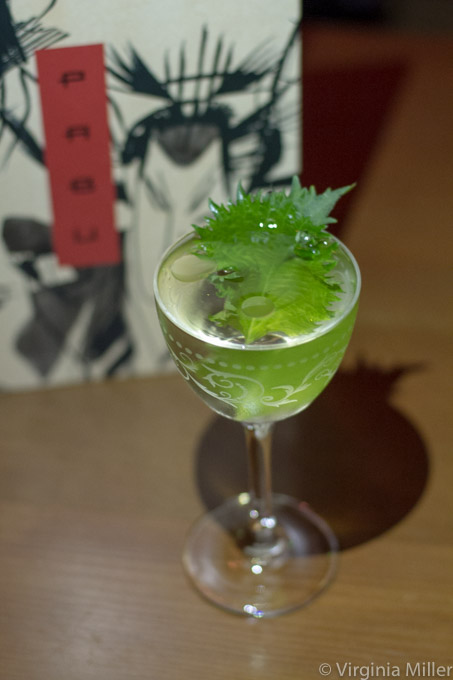 Covering the 11 hottest cocktails of the month around the US at Liquor.com, you'll find my bar and drink recommends this month at these bars (click on each for the featured cocktail):
Springtime means bartenders are playing with shiso, jalapeno, mango and crème de coconut but also with year-round elements like funky-elegant rancio sec wine or silky lemon oils. Whether in Kansas City or Napa, a quality restaurant or an arcade game hall, there's a drink to usher in the warmer weather. Here are 11 standout cocktails across North America worth seeking out on menus now.
Thai Tea (ROKC, New York, NY)
As one of 2016's most delightful new neighborhood bars, ROKC is way up in Harlem (around Broadway and 140th Street) serving its namesake "ramen, oysters, kitchen and cocktails" in a humble, half-underground, welcoming space. With Japanese precision, Angel's Share alum Shigefumi Kabashima runs the bar with drinks that are both statement art piece and deliciousness. The cachaça-based Thai Tea is silky with condensed milk and Thai tea, with a touch of absinthe adding anise whispers. It tastes like a boozy-beautiful Thai tea but one presented in a goblet with crushed ice and a sidecar of remaining liquid delicately poured into an egg shell cradled in a bird's nest. 

Shiso Delightful (Pabu, San Francisco, CA)
With new chef Shaun King on board (ushering in an exciting new steak menu with him from his days at Pabu Boston) at Pabu SF, the food, from seasonal, modern Japanese fare to sushi, continues to delight. So does the cocktail menu, thanks to lead bartender Nick Jones and his bar team who all contribute cocktails to the menu, like an improved highball given savory layers from Mirin and thyme. Served up in a Nick & Nora glass, the Shiso Delightful cocktail (created by bartender Kaitlin Ryan) features St. George Spirits' robust shochu, mixed with shiso-infused carpano bianco, oloroso sherry and bitters, dotted with lemon oil, imparting a lush texture to the elegant sipper that sings with nigiri and an array of King's killer robatayaki.
Biggest Fan (Sepia, Chicago, IL)
Celebrating 10 years this year, Sepia is one of those rarities that is both Chicago staple/modern day classic and a hotspot that remains packed with regulars and visitors even a decade later. They flock to chef Andrew Zimmerman's food and beverage director Arthur Hon's wine list in a brick-walled, memorable space that was an 1890's print shop, now lined with vintage cameras and sepia-toned photography. Head bartender Griffin Elliott has been keeping the cocktails a draw since 2013, currently showcasing wide-ranging spirits in Biggest Fan. The cocktail is a mix of mezcal, sloe gin, Green Chartreuse, lime juice and rhubarb bitters, served up and garnished with a grapefruit peel wrapped around a Luxardo cherry. The layered drink exhibits mezcal's smokiness and Chartreuse's herbaceousness, balanced by tart sloe gin and lime.
The Leaning Sour of Pisa (Pizzeria Gusto, Oklahoma City, OK)
An unexpected (and rare) source in Oklahoma for proper, wood-fired Neapolitan pizzas, the massive Pizzeria Gusto is an easy place to bring a group of friends for antipasti, pizza and — thankfully — quality cocktails. The cleverly-dubbed Leaning Sour of Pisa from bartender Kristina Tanksley is a blessedly harmonious mix of Pisa liqueur (a nutty spirit of hazelnut, almond and pistachio) lemon, egg white, simple syrup and red wine. Despite the sweet-sounding elements, the frothy pink drink is mixed with a balanced hand, resulting in just the right amount of tart, sweet, nuttiness tempered by red wine tannins. 

Hotel Georgia (Hawksworth, Vancouver, B.C.)
The much-lauded Hawksworth is easily Vancouver's destination, fine dining restaurant — without attitude — offering a stellar wine list and chef David Hawksworth and chef de cuisine Chris Stewart's inspired dishes (think stunners like Novia Scotia lobster accented by jicama, poblano peppers, tamarind, corn). But the restaurant's luxe bar/lounge is also worth lingering in over a cocktail from head bartender Cooper Tardivel and crew. You'd do right to dig into a piece of Vancouver history, a recipe uncovered circa 1951, named after the elegant Hotel Georgia, where Hawksworth is housed. The drink features Beefeater gin given almond and citrus nuance from orgeat syrup and lemon juice, softened with egg white, floral with orange blossom water and dusted with fresh-grated nutmeg. 
Jill Rose (Coin-Op Game Room, San Francisco, CA)
The first thing you notice about the massive, 10,000 square foot Coin-Op Game Room (one of our best new SF bars now) is the range of classic arcade games (like Donkey Kong, Street Fighter, Pac-Man Royale) in a two-story space. But you'll want to stay for the house cheeseburger and the meaty carnivore pizza, paired with a refreshing cocktail. Bar manager Jason Huffman walks the fine line of easy-to-drink with clever nods, as with the Jill Rose, a play off the Jack Rose, a beloved 1920s-30s classic (mentioned in Hemingway's The Sun Also Rises) featuring applejack as the base spirit. But instead of applejack, Huffman's Jill Rose features Calvados (French apple brandy) brightened by Benedictine, lime and grenadine.

Jill Rose Recipe
1.5 oz. La Pommiere Calvados
.5 oz. Benedictine 
.5 oz. House Grenadine (or Grenadine)
1 oz. Fresh Lime Juice
Shake and serve over crushed ice with dehydrated lime wheels as garnish.
Amongst the Grottoes (The Up & Up, NY, NY)
Set against floral, green, vintage William Morris wallpaper while cozy with friends in an alcove, drinks at Greenwich Village's The Up & Up are always a pleasure, thanks to owner Matt Piacentini and head bartender Chaim Dauermann's balanced, unique cocktails. Amongst The Grottoes plays alternately spicy and herbaceous contrasted by subtle savory and tart notes, featuring The Botanist Gin from Scotland and UK favorite Pimm's no.1. There is a spicy kick from jalapeño in a house syrup with honey and watermelon, balanced by lime juice and given intrigue from funky, oxidized whispers of Rancio Sec unfortified wine. Garnished with Italian parsley that has been bathed in salt water, the herb adds a hint of vegetal bitterness if you decide to go in for a bite. 
Palaoa ula la (Harvest Table, St. Helena/Napa Valley, CA)
When in Napa, you may not first think cocktails — even less so Tiki-style cocktails. The small but vibrant cocktail scene in Wine Country continues to grow over the years and at Charlie Palmer's Harvest Table (part of the transporting Harvest Inn in St. Helena), Joel Pfeifle crafts cocktails worth breaking from wine for. Case in point: Palaoa ula la means "Corn Oasis" in Hawaiian and the drink is an oasis of bourbon's vanilla and oak notes mingling with Crème de Coconut, housemade falernum and lime, all given herbaceous bite and backbone from Lo-Fi Gentian Amaro and Drambuie. The result is soft, pink, tropical yet bold.
Bitter Mango Fizz (El Che Bar, Chicago, IL)
In Chicago's West Loop, El Che Bar serves modern Argentinian fare and South American-influenced cocktails served in a sleek space of muted greys, blacks and browns. Brightening up the landscape is a Bitter Mango Fizz from beverage director Chris Young. Think mango's sweet liveliness but with the spirit of a Negroni. The drink features mango puree and lime juice mixed with the juniper whispers of Beefeater London Dry Gin, the bitter-sweetness of Campari, all given subtle effervescence from soda water and ginger beer — with a few drops of salt tincture to tie it all together and make the flavors pop.
Milk Punch (Bluestem, Kansas City, MO)
A Kansas City pioneer since 2004, Bluestem has garnered multiple James Beard semi-finalist noms for chefs Colby and Megan Garrelts' modern American food. But bar manager Andrew Olsen keeps pace in the bar with house cocktails and an ever-changing menu staple: a Milk Punch that pulls from the seasons and a range of ingredients, including different fruits and teas. Recently they featured a milk punch of Old Forester bourbon infused with black tea that goes through a slow drip infusion process over 18 hours. Currently, it's Black Currant Milk Punch washed with vodka, Combier and verjus for bright, acidic balance.
Birch, Please (Ten Ten An American Bistro, Baltimore, MD)
Baltimore's Harbor East is home to two neighboring restaurants off the historic Bagby Building courtyard, where the bars sometimes collaborate: TEN TEN An American Bistro and Fleet Street Kitchen. The former is where head bartender Rob Vogel plays with seasonal ingredients in a brick-walled space under lofty skylights. One of the menu regulars is a drink that plays as nicely in spring as it does in the fall: Birch, Please (the cheeky name being part of the fun) is a crowd-pleasing mix of rye whiskey, house birch syrup, sherry, sloe gin, lemon and egg white.