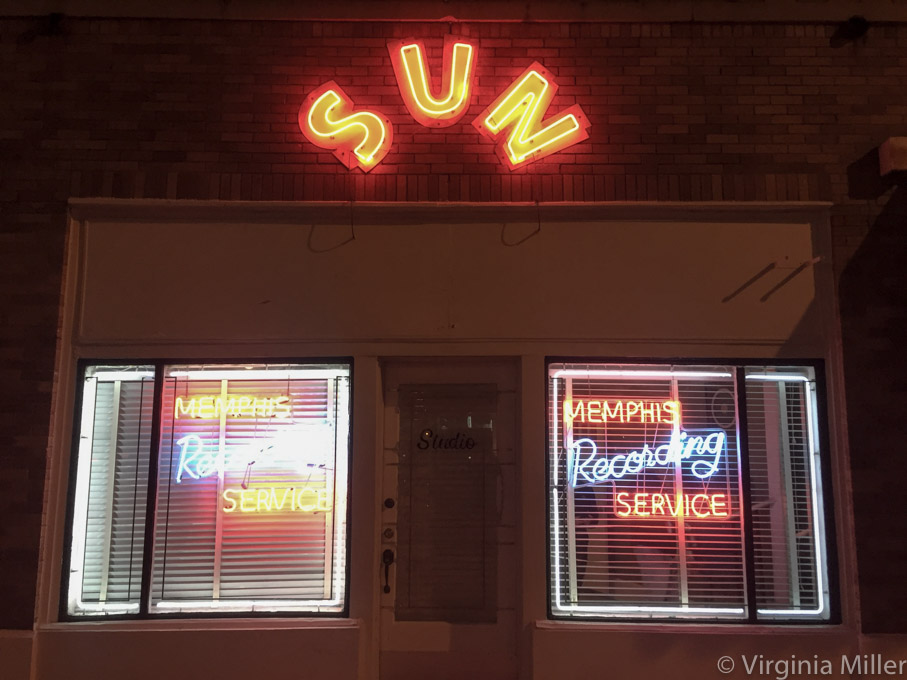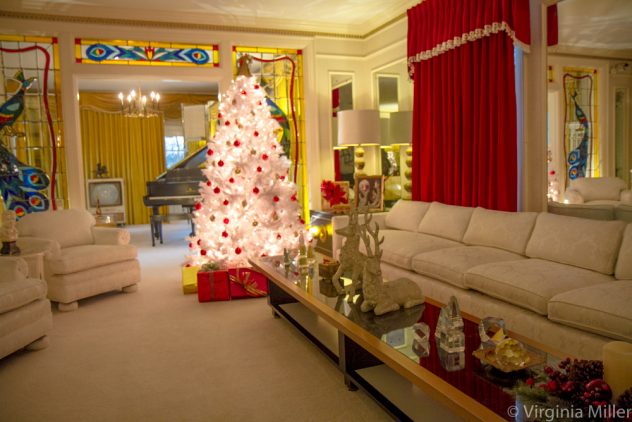 No question: Memphis a true music lover's mecca. From the humble storefront of Sun Records, the recording studio that changed the world, to the neon Stax sign, housing a great museum in the former studio home of soul, it's a thrill visiting these nondescript buildings where rock and roll and soul were essentially born to go out into the world.
Then there is Graceland. Kitschy, touristy behemoth though it is, for Elvis and music fanatics, it's crucial. I couldn't help but wish I could move in — or build a Jungle Room all my own.
Live music is not near as ubiquitous here as it is in my beloved New Orleans. And Beale Street is touristy, as I'd been "warned," but not the nasty party street that Bourbon Street is Nola, though it has touches of that. Old school spots like King's Palace Cafe showcase local blues, jazz, rock and beyond — and did me right on New Year's Eve as the fabulous Ghost Town Blues Band combined all of those musical styles, with a little rap thrown in for good measure. We danced the night away in this laid back space.
Beyond music, the MLK memorial/National Civil Rights Museum at the Lorraine Motel is haunting — and essential Memphis, a tribute to a man whose words and non-violent example we continue to need more than ever.
Then there is Memphis food. From its gorgeous historic homes, to its many run-down lots, to touristy Beale Street, Memphis is still up-and-coming in many ways. When it comes to third wave coffee, the cocktail renaissance and hip restaurants covering a range of cuisines, options aren't yet plentiful, especially compared to many US cities. But Memphis never needs to be "told" when it comes to barbecue.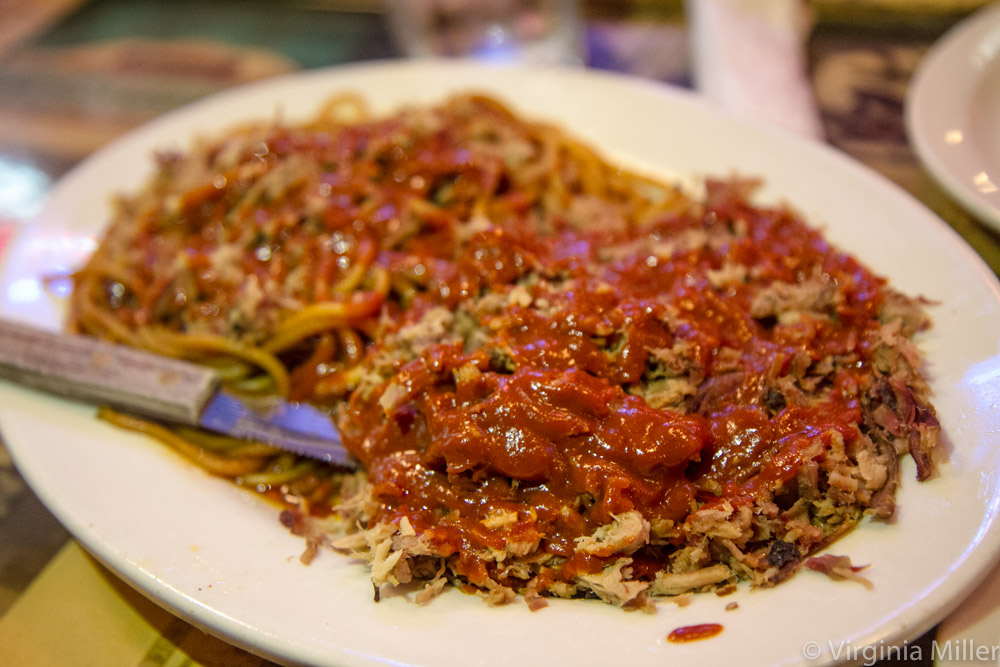 1. Barbecue, Of Course — My Top 3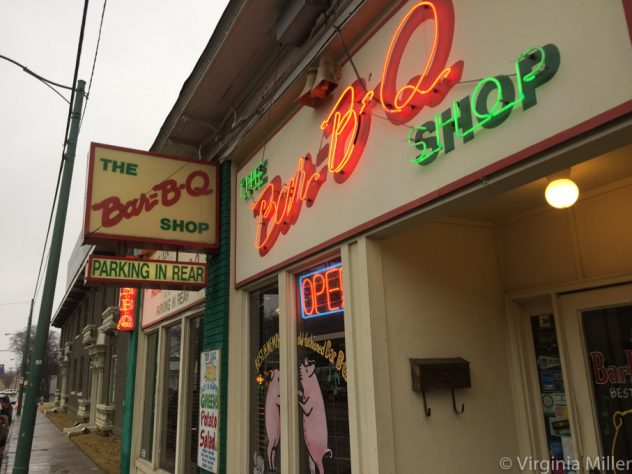 Over the past decade, I've taken two week road trips to explore BBQ and music throughout the South (Nashville through eastern Tennessee, North and South Carolina, Georgia) as well as another two weeks across Texas, particularly Hill Country.
This Christmas, The Renaissance Man and I road-tripped through Oklahoma, Arkansas & Mississippi, ending in Memphis. Memphis brings my BBQ research full circle with its own style: it's famed ribs and dishes I've been craving ever since and can't get elsewhere.
The warmest welcome and my overall favorite was The Bar-B-Q Shop. From a killer, savory-sweet BBQ sauce to meaty ribs (try half dry/half wet to get the best of both), it's all pure Memphis. But it's the barbecue spaghetti I keep dreaming about: spaghetti noodles laden with tender pulled pork, BBQ sauce and liquid smoke, scooped up with Texas toast. It's like a childhood dream come true.
In addition, the more bustling, sometimes touristy Central BBQ (the downtown location is next door to the aforementioned Lorraine Motel/MLK memorial) offered maybe my favorite ribs of this visit (again, try half dry/half wet to get the best of both, although dry was my preference for best tasting the complexities of the rub). Their popular BBQ nachos were good but not as amazing as I'd hoped, but sides and meats in general shine. Divey-delightful Payne's Bar-B-Que rounds out my top three trio with its beloved chopped pork sandwich.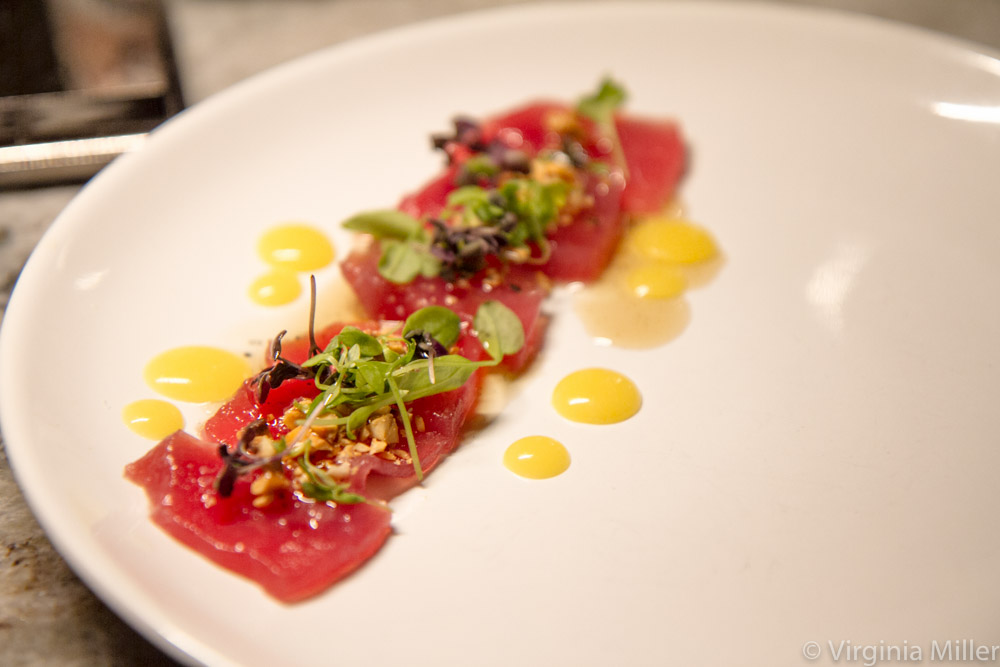 2. Andrew Michael's Acclaimed Restaurants Rule Memphis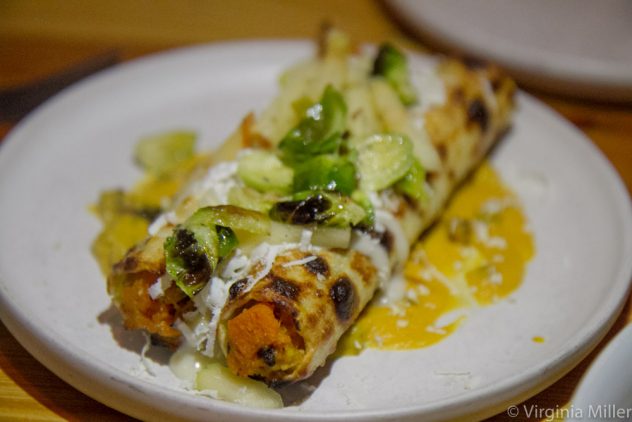 Given my holiday visit over New Year's, the key restaurant I missed from from James Beard–nominated chefs Andy Ticer and Michael Hudman was sadly their original, highly regarded Andrew Michael Italian Kitchen, given its limited holiday hours.
But their imaginative Italian cuisine with Southern flair (think biscuit gnocchi or neckbone gravy poutine) is the standard at each of their restaurants, whether the new Catherine & Mary's (opening fall 2016, so was about 3 months old at my visit) or pizza-centric Hog & Hominy, been open since 2012 and located next to their Porcellino's Craft Butcher, which supplies their meats and is also a restaurant.
The Hog & Hominy (H&H) space may be a bit sterile and loud when packed but a Naples pizza oven and creative Italy-Southern fare keeps it warm. Dish highlights are many, including collard greens ($6) touched with belly ends and hominy in a pepper vinegar; cannelloni pasta ($14) marked by butternut squash, lardo, chicken, apples and brussels sprouts; and Down with the Shine pizza ($16) laden with corn, fontina cheese, leeks, garlic, cream and olive oil. Save room for their rightly-celebrate peanut butter pie ($7), silky with banana pudding, peanut butter and housemade 'nilla wafer crust.
Bar manager Aaron Hanna's cocktails are one of the highlights at H&H and among the stronger drink menus in Memphis. Foolish Moments (which I featured as a top Liquor.com cocktail nationally) is a tribute to his musician friend Clay Hardee (performed as Clay Otis) who sadly passed away. The elegant aperitif-style drink combines Byrrh apéritif and Fernet Branca with fresh grapefruit, a house lemon apple cordial and grapefruit bitters. It tastes like a California (with the citrus) winter, exhibiting a crisp, cool clarity layered with intriguing-but-subtle herbal, bitter layers, with a tart-sweet lushness from the cordial. You'll find modern classics like a Trinidad Sour on the menu alongside house creations.
At the newer Catherine & Mary's, the Italy-meets-the-South spirit continues in housemade rigatoni doused in maw maw's gravy with meatballs or tortellini en brodo (in broth) with chicken and schmaltz, as well as silky crudo. Bar manager Colby Jones makes the bar worth a visit alone with drinks like the dry, smoky Smoke in My Eyes (Xicaru mezcal, Espolon blanco tequila, star anise-infuse Campari, La Croix pamplemousse and house grapefruit bitters) or King Gnar, which I featured as a top national cocktail here at Liquor.com.
3. Old School Elegance from Celebrated Memphis Chef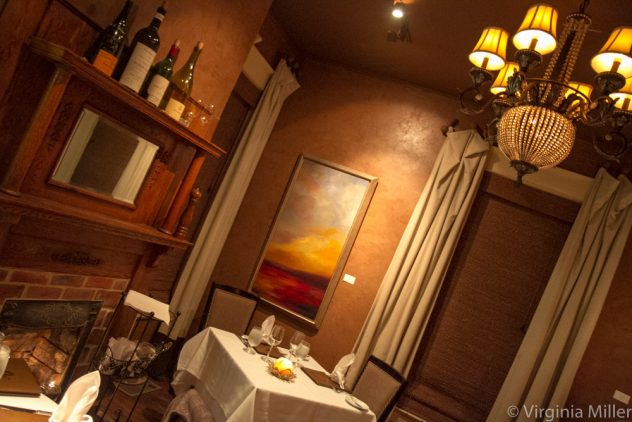 Chef Kelly English is one of Memphis' most celebrated chefs at award-winning, French-Creole Restaurant Iris — cozy in a renovated house with a couple tables in each room (merely a total of 13 so reserve ahead). This is the one that put him on the national culinary map.
Portions can tend to be big and style is old school Southern in many ways, heavy on sauces and richness. But the five-course tasting menu ($75 — available Monday through Thursday only) offers a chance to try what English is doing now at more reasonable portion sizes (unless you like it big).
His famed "Surf and Turf" of New York strip stuffed with fried oysters and blue cheese feels old school decadent, even at the smaller tasting menu portion. Lobster "knuckle sandwich" ($17) and a Gulf shrimp tasting menu dish stood out. We also had the sweetest server — the best service of our visit in Memphis.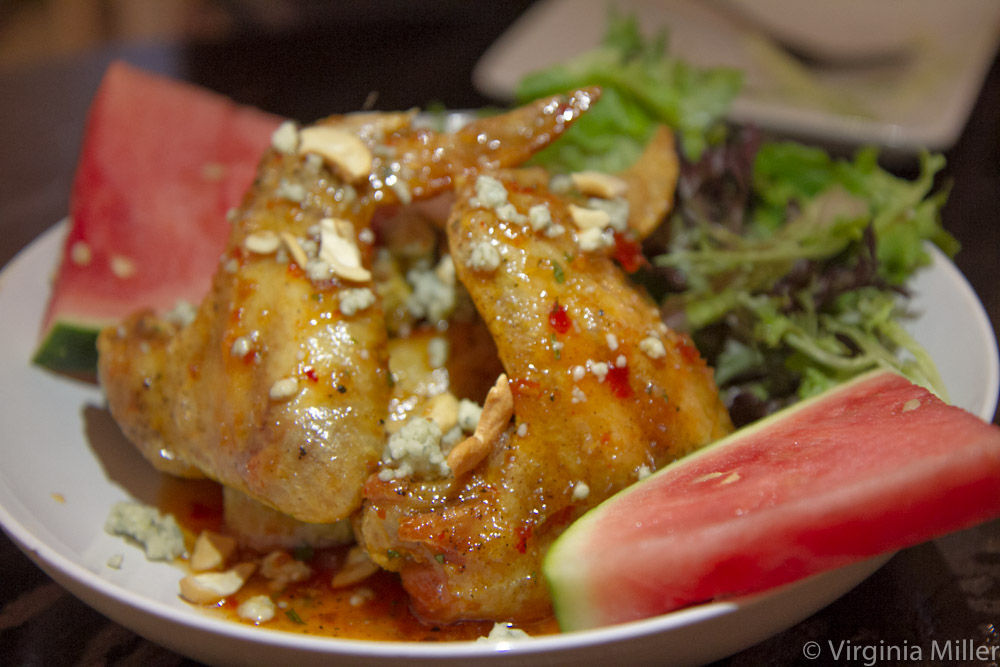 4. Brunch in Priscilla Presley's Former Beauty Parlor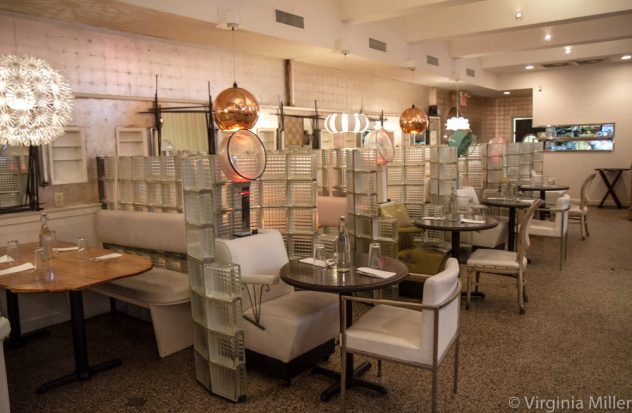 In the charming, hipster Cooper-Young area, Beauty Shop charms with its lived-in, 1950's beauty shop decor, right down to hooded Belvedere hair dryers. In fact, this used to be Priscilla Presley's beauty parlor of choice.
I visited during the day when popular brunch draws in crowds, though weekday lunch is mellower. Banh mi and burgers make way for a pretty tasty (though not in season in the dead of winter) watermelon and wings ($13), dusted with white Szechwan pepper and sugar in sweet chile lime sauce, accented with toasted cashews and Maytag blue cheese. A favorite at brunch is the beneduck ($17), a sugar spiced duck eggs Benedict.
5. Hit-And-Miss: Po Boys to Spicy Chicken
The aforementioned Kelly English of Restaurant Iris brings a touch of my beloved New Orleans to Memphis with his casual (packed, small) The Second Line, with a second location in the town of Oxford, Mississippi.
I wish I could say it tasted near as good as Nola's greats but it wasn't quite there. There was the surprisingly bland, poutine-esque house favorite of andouille, crawfish and pimento cheese fries ($12), just ok cocktails, and sometimes meager fillings in the po boys ($12-16). Far from the glories of Nola's best (like Parkway or Domilise's), the bread is at least appropriately crusty, while the likes of fried Mississippi catfish po boys fare better than Gulf shrimp or roast beef versions. Still, this kind of food isn't easy to come by and more of those po boys (I tried three of them) might be worth exploring.
Yes, Gus's Fried Chicken is all over the country and I really wasn't feeling the urgency to visit one of the decades-old locations in its home town, given its chain status. But it was brought up by many as a Memphis "must." The ever-mobbed, humble little storefront of Memphis' legendary fried chicken joint (you'll find the reverence here that you get for hot chicken in Nashville) certainly charms and is classic Memphis. But in the scheme of the countless "best" fried chicken I've had across the South and the US, this wouldn't place in my top 25. Maybe the chain aspect has lessened it over the years? Don't get me wrong: it's certainly good but I wouldn't go out of my way for it.
6. And Then There is Coffee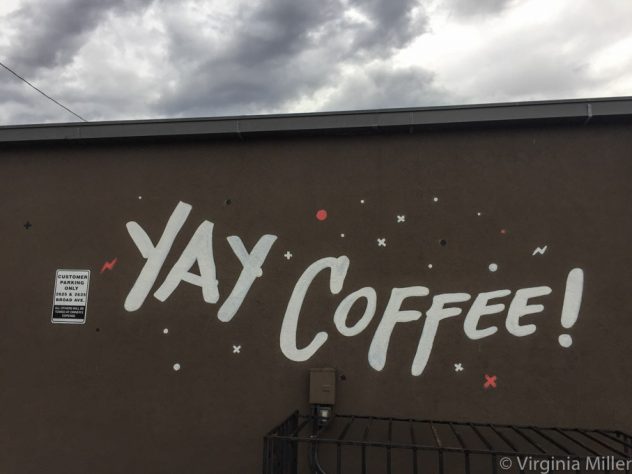 As mentioned, Memphis has not yet had a real coffee renaissance. One still has to travel a bit further afield for a properly-made cappuccino or macchiato, rather than finding one (or multiple choices) in most neighborhoods, as is now common around the US — and has been the West Coast standard for decades.
One of the best coffee shops in Memphis, however, is City and State, which features different roasters and is situated in a cool artisan goods shop. Seasonal drink specials veer a touch too sweet for me but score points for creativity and had me wishing for more balanced versions (like Key Lime Pie: cold brew with sweetened lime juice and cream, topped with graham cracker crumbs).
Local Memphis roasters (with or without shops) are growing, if still a small movement, like Reverb, J. Brooks and French Truck Coffee, which is actually from New Orleans but recently launched in Memphis.