March (finally) brought the ambitious, long-anticipated China Live to Chinatown (which I wrote about numerous times from Food Republic to Zagat). The month also delivered another major beer restaurant: Hitachino Beer & Wagyu (in its soft opening mode so will be in consideration for top openings of April as it officially "opens"), and cocktail-centric restaurant, The Douglas Room. Other notable March restaurant openings were Media Noche, Vancouver transplant Bao Down, Marufuku Ramen, Pink Onion and The Caviar Co.
Here are my top three newcomers of the month… and why they stand out.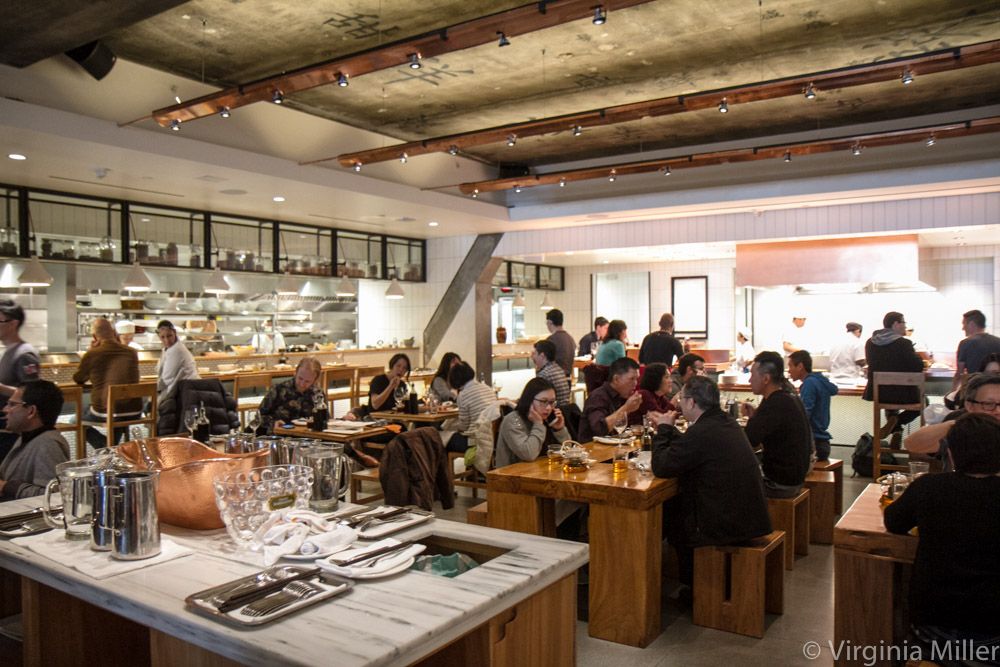 1. CHINA LIVE, Chinatown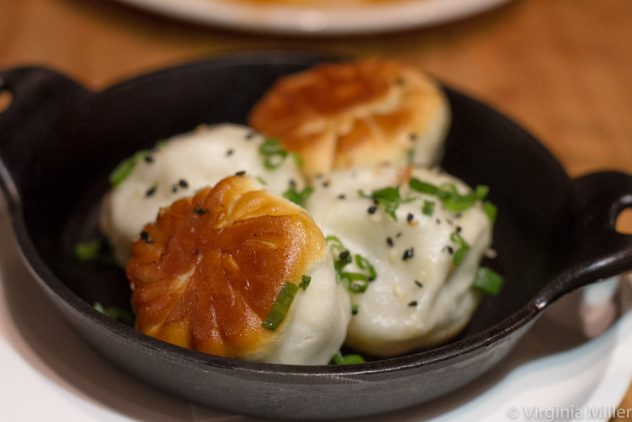 Opening on March 1st, China Live is possibly the most ambitious Chinese food concept in the country… ever.
And if its first phase is any indication, it was worth the wait, a game-changer in Asian food, which was early on dubbed the Eataly of Chinese food. The first floor restaurant, retail market, bar and tea-centered Oolong Café opened last month, with other floors (fine dining Eight Tables restaurant and more cocktail/spirits bars) slated to open in the coming weeks.
Founder/executive chef George Chen (who I interviewed a couple years ago in this Food Republic feature on Chinatown and the history of Chinese food in SF/US) has been working on this massive opening the past few years alongside his wife, Cindy Wong-Chen, with AvroKO on the design side and a whole team of people bringing the 30,000-square-foot space to life.
From the striking blue and white tiles of the Oolong Café (serving many teas sourced from farmers in Taiwan and China) to the refined Chinese cookware, ingredients, food products, cutlery and plateware sold in the Retail Market, China Live is already a food lovers' destination.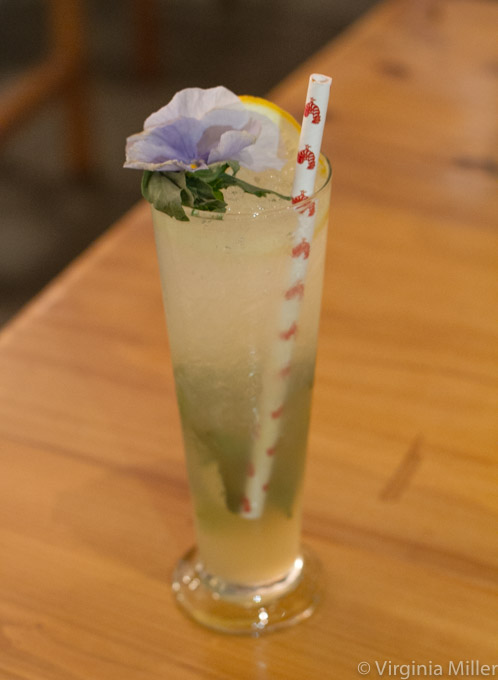 Eat This: Visiting the bustling Market Restaurant and Bar Central — the main focus downstairs — it already feels as if this has long been a crucial part of Chinatown, a rare source (alongside the totally different but also modern Mister Jiu's nearby) for modern Chinese food reinvented yet true to Chinese and Taiwanese roots. Seated at individual or communal tables, you are surrounded by cooking stations turning out dumplings/dim sum, salads, Chinese charcuterie and barbecue, noodles, seafood, soups, wok stir-fry and sweets.
Right off the bat, stone oven-roasted Peking duck — glazed in seasonally-changing sauce, currently kumquat (3 pieces: $14.00, 5 pieces: $19.00) — is a stunner couched in crispy, light sesame bread pocket. The duck is a definite highlight, as is the dim sum in general, including sweet-savory cha siu bao (baked pork buns — $9 for 3); juicy sheng jian bao (pan-fried dumplings — $9 for 4); spicy, succulent Sichuan "Working Hands" wontons/dumplings ($9 for 10), lush in sesame butter and peppercorn-chili broth.
Vegetables are a bright reflection of the season, whether a Chrysanthemum Ten Ingredient Salad ($12), a mountain of seaweed, cilantro, bean sprouts, jicama, carrot, or one of the seasonal market vegetable dishes like delicately crisp and perfect snow peas, lily bulbs and black mushrooms ($16) in a light, umami-laden abalone sauce that threatens to "steal the show." Splurge on 2 1/2 lb. live Maine lobster Cantonese-style or Sichuan fermented rice and chili-style ($60 each).
Pastry chef Luis Villavelazquez (formerly Absinthe, Citizen Cake) is crafting imaginative desserts (and will take them to the next level once the upscale Eight Tables opens upstairs), like sesame soft serve ice cream in Taiwanese-style mango snow/shaved ice ($9), accented with crispy and gelatinous treats for texture.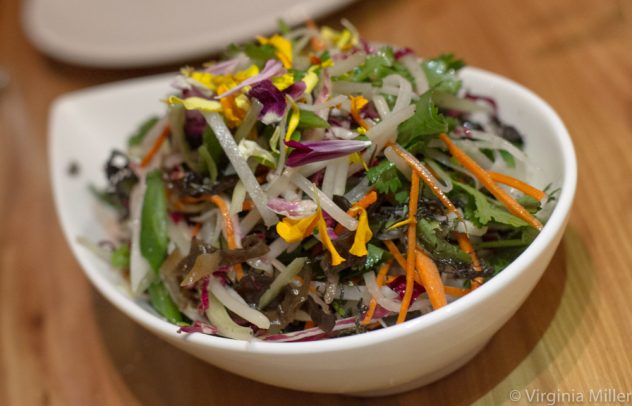 Drink This: Director of beverage Duggan McDonnell (who has been a pioneer in the SF drink world for over a decade) created menus of international wines, saké, beer, Malaysian-style cold brew coffee, custom Marin kombucha and cocktails that showcase Chinese ingredients and high-end spirits. That's all before the upstairs bars open, which he will also oversee.
Trying most of the first cocktail menu at Bar Central downstairs (drinks are available at the bar or in the Market Restaurant), initial favorites include Shanghai Kelly's Bad Bad Pisco Punch ($13) — showcasing Duggan's Encanto Pisco (I made pisco with Encanto in Peru in 2013) and Plantation Pineapple Rum — in San Francisco's ultimate classic cocktail, the Pisco Punch. Here, it's given a colorful spin with a touch of blue curacao, an Asian angle with gunpowder green tea, balanced by fresh lime and pineapple, orange bitters and a splash of ginger beer. In addition, the peppermint, yerba maté herbaceousness of Honey On the Southside ($13), a twist on a classic Southside cocktail, is a refresher of Apóstoles Yerba Mate Gin, lemon, matcha tea honey, muddled peppermint and basil, topped with seltzer.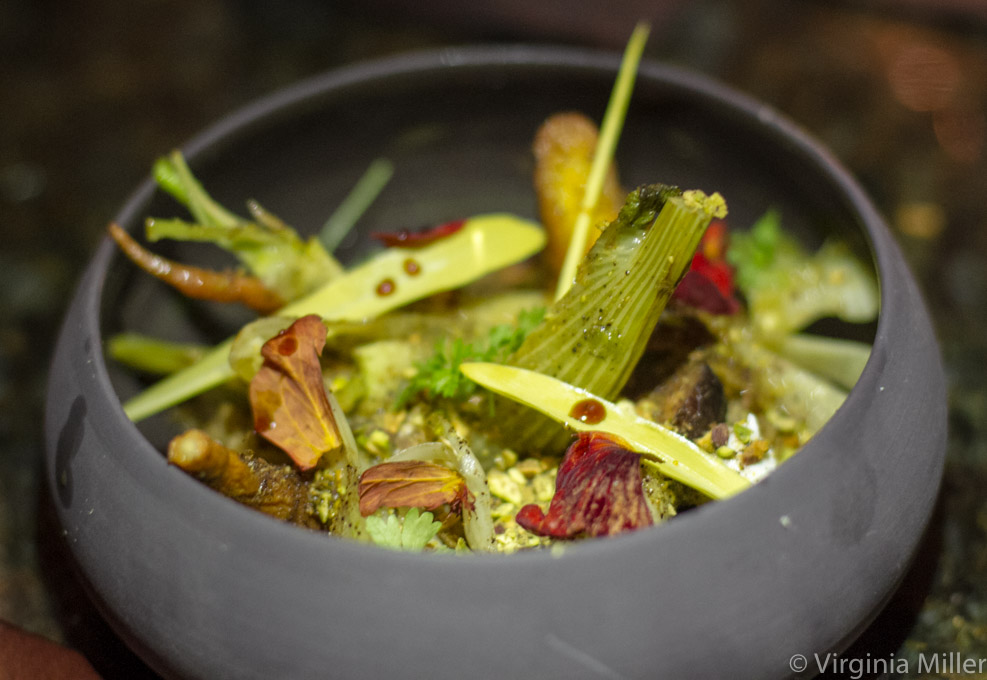 2. THE DOUGLAS ROOM, Union Square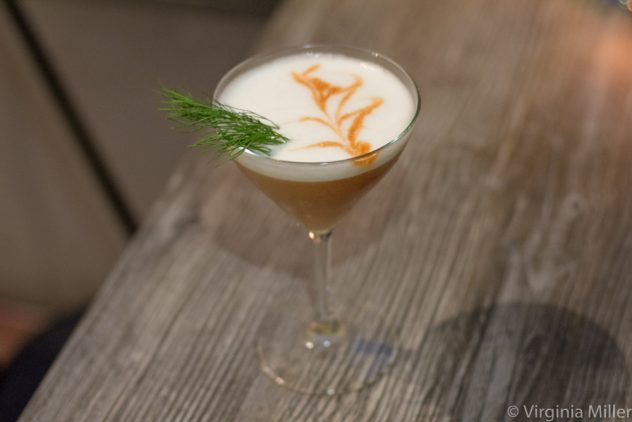 I will soon cover this cocktail bar and food newcomer in Liquor.com, featuring different cocktails from the menu.
Mo Hodges and Brian Felley (of nearby Benjamin Cooper) make The Douglas Room in the boutique Tilden Hotel a downtown destination with their warm service and inspired cocktails in a chill, intimate space lined with wood and sporting a cozy corner overseen by a portrait of Prince.
Drink This: Go refreshing and herbal with a Tilden Highball (London dry gin, Bonal, Golden State Cider, cardamom, basil, soda water) or silky and whisky-forward with a Tennessee Pillow (Jack Daniels whiskey, Lo-Fi Sweet Vermouth, lemon, egg white, dill).
Eat This: The laid back space is serving food until late — and it's good, too, thanks to chefs Glen Schwartz and Tim Malloy, who are turning out killer Philly cheesesteaks and hoagies, lamb tartare pies (yes, raw lamb in hot little pies — genius) and excellent vegetable dishes and salads, too.
3. MEDIA NOCHE, Mission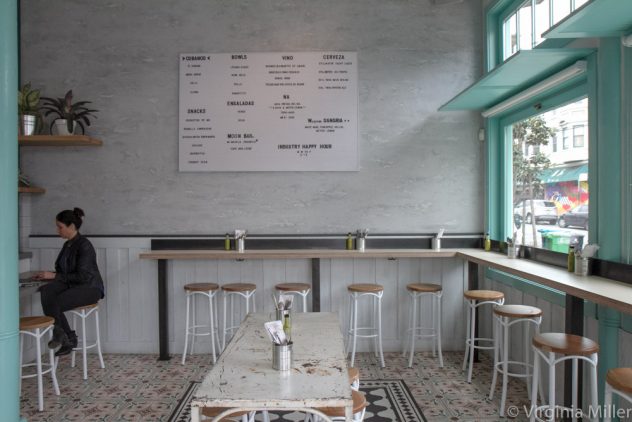 Follow the pink flamingos on the outside wall into Media Noche, a sunny corner spot in whites and cool, aqua blues with hand-painted tile flooring. This inviting, order-at-the-counter space offers a welcome rarity: Cuban food (the best in the US being in Miami, of course). Open early March, this casual spot from Madelyn Markoe and Jessie Barker (consulting with chef Telmo Faria of Portuguese newcomer Uma Casa), with chef de cuisine Juan Martinez (Tres, Matador) overseeing the kitchen, keeps it succinct and sweet.
The staff is sweet and friendly and there are a couple sidewalk tables vibrant with colorful print tablecloths. Sipping a bottle of Topo Chico mineral water, a glass or carafe of wine, sangria made by the great Wildhawk across the street or a can of Evil Twin Sour Bikini beer and bites, one can watch the Mission go by from big, sunny windows and relish this rare outpost for Cuban eats.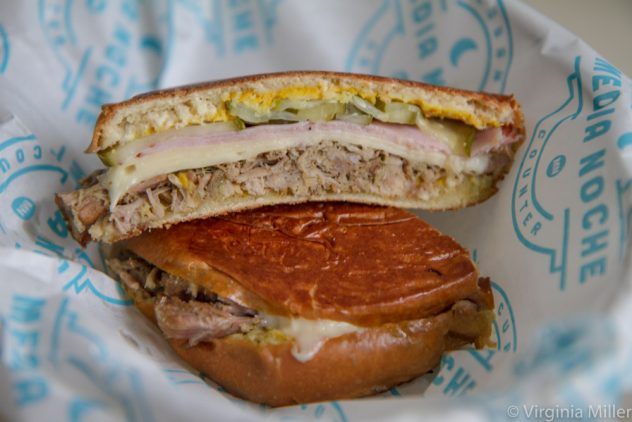 Eat This: The namesake media noche ($11.50) is the Miami version of an El Cubano sandwich ($12.50). Both styles are served here: both hot pressed and packed with roasted mojo pork shoulder, smoked ham, Swiss cheese, pickles and mustard. The former is the Miami version on brioche-style bread, the Cubano is the classic with thicker, crusty bread.
The Cubano has long been one of my favorite sandwiches (and over the years there have been a few great versions in this town). Here, both the media noche and Cubano are great renditions, only missing a little more acid/brightening contrast, which a couple more pickles could fix.There's a fried chicken sandwich, dubbed Celia ($12.50), I'll have to try next time and the fresh but rather bland Gloria ($12.50) of lightly fried eggplant, coconut slaw and (all too little) avocado. This (or any) sandwich comes to life with a wonderfully garlic-ky, spicy house Cuban green sauce in squeeze bottles around the restaurant.
Bowls ($11-$16.50), like classic Cuban ropa vieja (slow-braised brisket) and lechon asado (roasted mojo pork shoulder), are served with black beans, rice and coconut slaw and are both filling and comforting. There are a couple of salads, croquettes, empanadas and a ceviche ($10) that is cool and green with calamari, shrimp, cilantro, lime and plantain chips to scoop it up.
Created by former Delfina pastry chef Jessica Sullivan, Moon Bars (ice cream pops — $5) are a worthy dessert in changing flavors like dark chocolate-dipped guava cheesecake or cafe con leche ice creams.