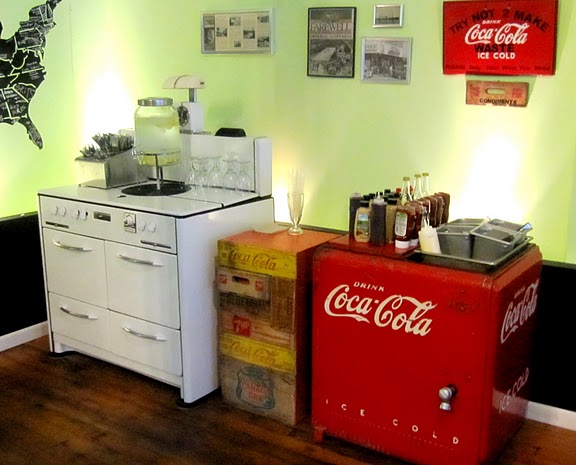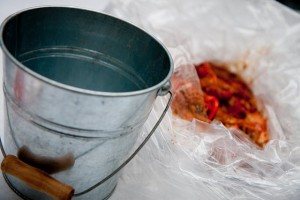 Top Tastes is not a list of all-time favorites (another thing altogether). Instead, I write about the best eats since my last newsletter, often from new openings.
I've been eating at new openings like Taco Libre and Craw Station (a worthy stop for bags of spicy crawfish/mudbugs), returning to places like Oakland's Hibiscus, Skool, Emilia's Pizzeria in Berkeley, Zero Zero, Le Colonial, Hong Kong Lounge and La Mar.
Here are some stand-outs in the last two weeks:
CHEAP EATS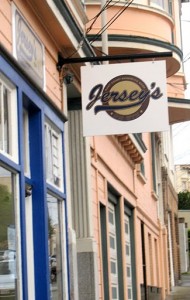 JERSEY'S on 6th, Inner Sunset (200 6th Avenue at California, 415-221-0444) – They had me at Jersey. Seriously, I dig the friendly Jersey spirit at this sandwich counter (call ahead for take-out only). Jersey's on 6th keeps it to a mostly roast beef, pastrami, meatball, turkey and chicken menu with one 'shroom sandwich for vegetarians.
I find roast beef sandwiches (like Killer B's, $9, with bleu cheese and bacon) solid, but the real winner is The Reuben ($9). Sure, that already may be my all-time top sandwich. Done well a number of places (here and here), this one doesn't particularly remind me of New York bests, piled high with pastrami, Swiss cheese, sauerkraut, and soppy with Russian dressing.
Here, all those ingredients are pressed panini-style, thinner but still meaty, full, and utterly satisfying. I'm craving another.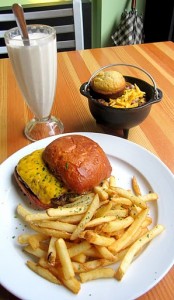 GREENBURGER'S, Lower Haight (518 Haight Street at Fillmore, 415-829-2491) – Though burgers are the headliner, Greenburger's husband/wife owners, Matthew Nudelman and Stefanie Greenberg Nudelman, say that soups are a focal point, showcased by daily rotating specials (Green Chile Stew on a recent visit). Matthew makes a mean Turkey Chili ($6), if that is any indication, served in a cast iron pot with a cornbread muffin.

Burgers are pricey for a casual, order-at-the-counter deal ($10 without any toppings), but the meat is high quality (Napa's Five Dot Ranch) and a buttery brioche ratchets up the melting goodness. There are salads, entrees (meatloaf and Thanksgiving dinner with turkey and mashed potatoes), plus a range of burger-like sandwiches from pulled pork to turkey (highest priced item being $14.95). Daily changing milkshakes are another highlight, using Straus ice cream, though a Bananas Foster Milkshake gave me too intense a sugar rush.
The space is massive and open, a bit drafty on a cold day, but warmed immensely by retro touches, like classic Coke storage unit and vintage stove. Their approach is green in more than just name, whether it be the use of local, organic ingredients or hand soap in the bathroom made from recycled kitchen grease (no lie – it smells great and is not at all greasy).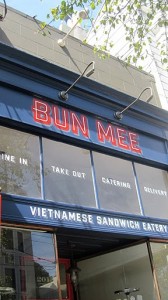 BUN MEE, Pacific Heights (2015 Fillmore Street at Pine, 415-800-7696) – Officially just open today, my early word on Bun Mee (a playful misspelling referring to the pronunciation of Vietnamese sandwiches, bánh mi), is that Vietnamese street food gets a funky upgrade here but is not as satisfying as the great Tenderloin/Little Saigon classics like Saigon Sandwich or Sing Sing.
The fun is in its casual hipness and range of bánh mi ($5.95-$7.95 a sandwich) featuring the likes of Hanoi-style catfish or sardines. I tried a classic Roast Pork and Sloppy Bun (curry ground pork -Sloppy Joe-style, shaved onion, Thai basil). All are fun with jalapenos and French bread but not among the best I've had. I loved the cheeky "hot jalapeno pepper" sign (pictured), but it was ironic that even with a few jalapeno slivers, there was little heat to the sandwiches. There's also big rice bowls or salads.
A misstep was Green Papaya Salad ($3.50) that was virtually all noodles with merely a couple slivers of papaya. I wish it would have been listed as a noodle salad instead. Another was a Vietnamese Coffee ($3.50) that was way too sugary with condensed milk, as it traditionally should be. But the coffee was not robust enough to counteract the sweetness, which is how it's made in Vietnam (and plenty of places throughout SF).
But two winners were the bracingly tart Kaffir Limeade ($2.50), a delightful house juice topped with a Kaffir lime leaf, and a Coconut Cookie Sandwich ($1.50), thin, dark chocolate wafers lathered with a creamy coconut filling redolent of island breezes and vacation.
There was already a line out the door opening day. I would not be surprised if we saw more of these spring up around town in years to come. It's cheap and plays with a food people love, even if its not the pinnacle of the genre.