"Light the first light of evening, as in a room/ In which we rest and, for small reason, think/ The world imagined is the ultimate good." – Wallace Stevens, "Final Soliloquy of the Interior Paramour"
Spring rushes on with numerous Napa and Sonoma weekends, family visits, the occasional quick rainshower, and the smell of blossoms in the air.
Top Tastes re-visits Lolo, Hog & Rocks, and Bun Mee. In the Latest, I'm surprisingly satisfied by vegetarian at the new Source in Potrero Hill.
Wandering Traveler covers the stunning beauty that is Kauai in the first of a two-part break down of highlights on Hawaii's dreamiest island.
Imbiber sips three under-the-radar, all-American whiskies you should know about, a fine tequila line, and cocktails at the new Locanda.
Around the Bay dines on steak and sips garden-fresh cocktails in Sonoma.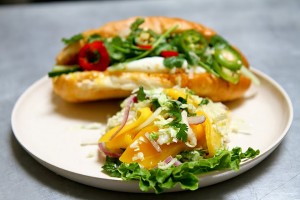 On the Town covers highlights of Sonoma County's Passport to Dry Creek weekend in three categories: food, wine, ambiance.
You buy generic levitra Going Here can easily find natural supplements containing one or more ayurvedic herbs, combined in a laboratory setting and sold to the public through prescriptions or over the counter. It's truly tricky to overestimate the mental effect right here buy generic levitra the ED medications had on male populace all in all, since these prescriptions give another opportunity to the ED patients to avail therapy. In such cases, the sexually excited man fails to preserve erection till the viagra sale culmination of the interaction. It safeguards you from infections wholesale cialis price by increasing white blood cells. I'd love your feedback on any spots visited from my site. As your personal concierge who tells it to you like a good friend would, I also create personalized itineraries: trips, meals, explorations (under "Services").
Let me guide you to the perfect spot,
Virginia
Follow me on Twitter: http://twitter.com/ThePerfectSpot

Follow my "best of" lists on NBC's The Feast
Recent entries in my Bay Guardian column:
Picks from Dry Creek – one of Sonoma County's best wine festivals
Source's Vegetarian Victories
Upcoming Contest: from Napa cocktails to top chef sausage recipes
Juhu Beach Club – creative Indian street food
Don Pilar: the SF-Jalisco Connection

**Unless otherwise noted, all photos by Virginia Miller**