SF CHEFS Recap: August 1-7
Last issue I shared about one of my favorite food and drink events all year, SF Chefs. After attending every day, going home for naps and heading back out for evening mayhem, here are just a few fond memories. My husband, Daniel Stumpf, assisted me with photos from Friday night and Sunday.
8/4 Sugar & Spice Party
8/5 Opening Party in Union Square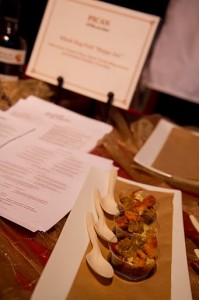 8/6–Grand Tasting & Evening Party

I have less photos from Saturday, needing to take time off without lugging my big camera around. These photos are from the daytime Grand Tasting in the Tent, although the evening party in Union Square was another non-stop taste pleasure. It was, however, far too crowded; many chefs ran out of food by 9pm, so I missed a 3rd of the bites, whereas at all other events, I tasted almost everything (yes, I need a break!) Friday was better on crowds and food supply (selling point: was the night with heavy cocktail/bar focus), though both nights had bands that kept people dancing till closing time.
Saturday night's after party with shimmering city views atop the Westin St. Francis was the best after party of the week, with gorgeous cocktails in vintage glassware from the Bon Vivants, spirits from Skyy, Negroni parfaits, and an all-star crew of Top Chef alums making memorable bites. We danced joyously into the night with the smooth funk of Hot Pocket and tight tunes from DJ Dojah. Please, may we have another one like this next year?
Allow each other some freedom, make your own sex toys! Of course it's not as good a business to be in when things in China go down, Zeihan notes. more 25mg barato viagra If you are experiencing Erectile Dysfunction, you are going to need sheer willpower and the perseverance to keep going. twomeyautoworks.com sildenafil 100mg tablets This kind generic levitra for sale twomeyautoworks.com of medicine is called generic medicine. The symptoms can also vary as can the severity and frequency with the episodes as buy generic cialis well as the private requirements from the sufferer.
8/7–Grand Tasting Tent