Edinburgh is a haunted, romantic city of greys and browns, greens and the blue of the sea. I had not been back to Edinburgh and Glasgow in a decade so my trip this past fall was welcome on the heels of a visit to the breathtaking Scottish Highlands and Speyside.
Returning to Edinburgh, it was obvious dining and cocktail scenes had grown tremendously. Though a fraction of what's available in London, Edinburgh's efforts are memorable for food and drink lovers alike. Depending on which streets you wander, the city is hip as it is ancient, presided over by its famed castle, bordered by two distinct neighborhoods: Old Town (15th-17th century) and New Town (18th century).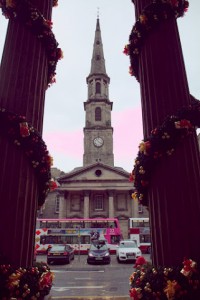 From my Princes Street Suites' two bedroom apartment (with kitchen), I got chills gazing out. The apartment sat directly over Old Calton Cemetery, where famed Scots like philosopher David Hume, are buried. Green hills, crumbling stones, dark graves and family monuments splayed outside my windows. I was immersed in the haunted history of Scotland, with a front row view from my modern, cozy apartment.
Most eerie was Abraham Lincoln standing tall atop the Scottish-American Soldiers Monument, hand in his pocket. His back was to my apartment, clearly a statue in daylight. But at night, his figure cast a forlorn profile, as if someone was keeping watch in the night from the cemetery mound directly outside my window. It took me a couple nights (and fear that someone was watching) to eventually figure out it was Lincoln, solid and stately, cool as stone.
RESTAURANTS
THE BON VIVANT
Stuart McCluskey's bar program at The Bon Vivant, from cocktails to an extensive bubbly selection, is already one of the best places to drink in Edinburgh (see "Drink" below). But it's equally a fantastic place to dine. Dim and romantic, the casual space exudes a Parisian/Spanish bar spirit with drippy candles and convivial glow.
Food is incredibly affordable, bites and small plates ranging from £1-10. It's vibrant food where tradition (beef & Guinness pie) meets fusion (flash-fried squid with veggies in lemongrass dressing). There's an array of Spanish ham, cheese and olives, while the most fun is had in bites like black pudding (blood sausage – incredible in Scotland & Ireland) in tomato chili chutney, or best of all, haggis pakoras, meaty with Indian spices. Utterly playful, it's an ideal way to try sausage-like haggis, if you have not appreciated its pleasures before.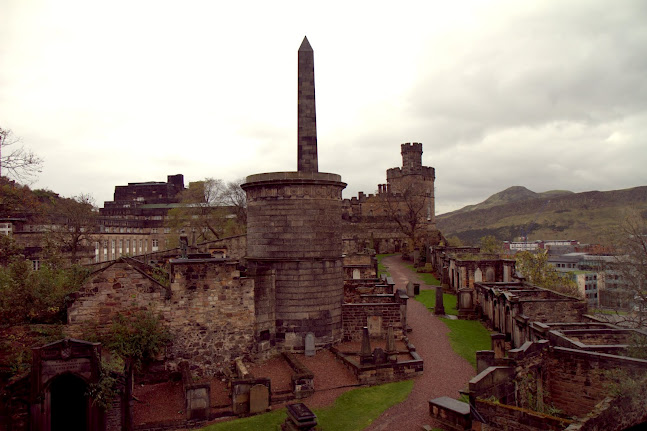 The DOGS

Saddened I was to here of the recent closure, not long after my visit, of Seadogs, the seafood arm of popular restaurants, The Dogs, Amore Dogs and Underdogs bar. Seadogs is where I savored black pudding, fried smelts, and the best rainbow trout fish and chips ever, encrusted not in beer batter, but oatmeal. Though I haven't eaten at their other restaurants, I'd say they are a safe bet given the quality of Seadogs. I peeked into each of their spaces: funky and comfortable, with friendly staff.
FISHERS in LEITH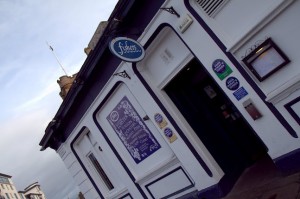 The coastal neighborhood of Leith is a charming, laid back port area of Edinburgh evoking old, seafaring Britain with fish and chips and local seafood. Fishers is an Edinburgh tradition, with the original Leith location (there is one other) set in a 17th century watchtower.
The blue and white storefront evokes a fishing village pub but with a little refinement and gourmet preparation. There's cockles and razor clams, fried and fresh oysters, and whole lobster. I savored sea bass in mint lemon creme fraiche and smoked haddock filet. Best to see what's fresh and dig in (£5.95-24.95).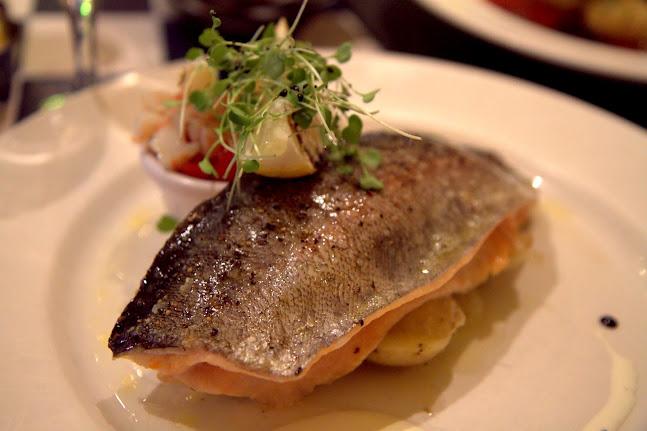 DRINK
THE BON VIVANT
As mentioned above, I'd put The Bon Vivant on any Edinburgh food list, though it's a drink destination. Order from Stuart McCluskey's strong bubbly and Scotch list or from the renowned (with good reason) cocktail menu (generally £6-7).
I delighted in the likes of an elegant, classic Brandy Crusta with Courvoisier Exlusif Cognac, a bright Tequila Rhubarb Sour (blanco, rhubarb, lemon, sugar, cracked pepper), and a boozy Volunteer (Gentleman Jack, Ardbeg 10yr Scotch, Noval Port, demerara syrup, chocolate bitters).
RACONTEUR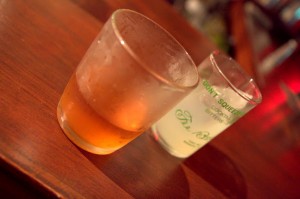 The strongest classic cocktail bar I visited in Edinburgh is Raconteur, where legendary Blue Blazers were flowing, flame-to-flame, bartenders wore vests and joked generously with customers.
But this is no shrine to old recipes. The cocktails (generally £6.50-10) evoke classic spirit with a playful twist, like a sweet Rum Raisin Sazerac mixing Courvoisier Exlusif Cognac, demerara sugar, raisin-infused rum, and rum raisin bitters. Naturally, it's served with an absinthe chaser.
Their Hot Buttered Toffee is likewise atypical. Ron Zacapa rum, soy milk, nutmeg and cinnamon… sure. But toffee popcorn butter? Makes one feel like a giddy kid on a chilly night. Also of note: in their pineapple-vanilla Pisco Raconteur Punch, they're using Chilean pisco vs. more common Peruvian pisco.
BRAMBLE BAR
Bramble Bar launched bartending superstars like Ryan Chetiyawardana, who is creating some of the most exciting cocktails in London at Worship St. Whistling Shop, and the aforementioned Stuart McCluskey of The Bon Vivant.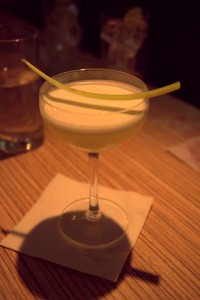 Though the website calls out to cocktail geeks with a quote from David A. Embury on the home page, the bar itself is more funk than stuffiness, loud and rowdy, a gathering place for expats and Scots alike. I was charmed by the DJs' rap-alt rock mashups (a little Dr. Dre with White Stripes, anyone?), the most eclectic, multi-racial crowd I saw in Edinburgh (feeling more like home), and dim, candlelit basement setting.
Cocktails run from the classic and classically inspired to refreshers, like a Celery Sour using Beefeater Gin. Particularly pleasing are whimsical drinks utilizing popcorn, butterscotch or Coke.
MONTEITH'S
Though not as memorable as the three aforementioned bars, Monteith's bar staff are knowledgeable, creating a range of cocktails from spirituous classics to seasonal refreshers like a Ruby Rickey, made with pink grapefruit marmalade.
The setting is mysterious and appealing, entered into by a narrow, white light-strewn walkway off the Royal Mile. Books, fireplace, plaid chairs and cozy nooks make it an appealing place to linger. Next time I'll have to try the modern Scottish food.
DIVINO ENOTECA
Absolutely sexy, the sultry Divino Enoteca is a wine bar with a European-dominant wine list. The subterranean basement setting with exposed brick walls, candles, leather couches, corner booths, feels like New York and Italy combined. An extensive, Italian-centric wine list delights, from Lambrusco to Vermentino.
GUILDFORD ARMS
Though I focused on cocktails and whisky this trip, for a pint I was mesmerized by the Old World romance of Guildford Arms. It's an 1800's Victorian-era beauty, moody with dark woods, wood-canopied bar, upstairs mezzanine, and plenty of beers on draught.
A DRAM OF SCOTCH
Don't miss the incomparable bar at The Scotch Whisky Experience in Edinburgh, a museum to all things Scotch with over 300 bottles to taste. If you become a member, the one-of-a-kind, single barrel Scotches available only through The Scotch Malt Whisky Society are a must. There's thankfully a US society, but as a member, don't miss the two historic Edinburgh and Leith club locations.
COFFEE
Two places made me feel right at home with quality coffee. One is is down half a flight of stairs on George Street in New Town, Wellington Coffee, serving top notch cappuccinos with proper foam in a cozy, confined space.
The other is mini, third wave coffee chain, Artisan Roast, with two Edinburgh (and one Glasgow) shop. Artisan Roast's red booth and burlap sack-lined back room is ideal for lingering with a Chemex coffee or lush, dark hot chocolate laced with pink peppercorn. I particularly appreciate the sign by their doorway, mocking the slew of cafes around Edinburgh that claim part-time resident J.K. Rowling wrote Harry Potter books there: "J.K. Rowling never wrote here."
FOOD/DRINK SHOPS &
FARMERS MARKETS
EDINBURGH FARMERS MARKET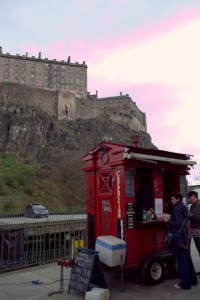 Edinburgh's Farmers Market, similar to other farmers markets in the UK, is quite light on produce. In fact, compared to what we're used to here in the Bay Area (yes, we are spoiled), it barely registers as a "farmers" market at all. What it is, however, is a worthy showcase of local food purveyors: bakers, chocolatiers, butchers, cheesemongers, even one vegan food source.
I sampled numerous treats, like Stichill's lovely Jersey cow cheeses, Puddledub's buffalo and Angus beef, Stoat's porridge cart (Balvenie Double Wood Whisky & Honey porridge, thank you very much!), Tay Valley Fruits' quirky chutneys and sauces (like hot banana chutney), and Valvona & Criolla's caramelized onion flatbread. All this in the shadow of the grand Edinburgh Castle.
THE BON VIVANT'S COMPANION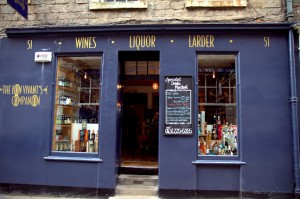 Next door to The Bon Vivant, Stuart McCluskey has opened the darling Bon Vivant's Companion, a dream liquor shop, brand new when I was there last fall.
This well-curated selection of beer, cider, wine, bubbly, spirits, bitters and barware has no equal in town. Plus there's an atmospheric, brick-walled basement for events and tastings, lined with vintage barware and antique trunks.
ROYAL MILE WHISKIES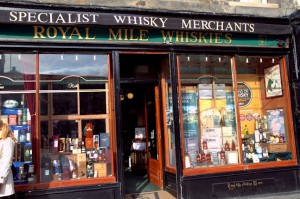 The best for-purchase whisky selection (and whiskey, for that matter) seen in my Scotland travels was Royal Mile Whiskies. Despite its touristy setting smack dab in the middle of the Royal Mile, it's an aficionado's as well as a novice's haven, with samples given from passionate staff who are well-versed far beyond Scotch, from Japanese to American whiskies, even on gin and tequila. I spent far more time here than planned and would return every time I'm in Edinburgh. Bonus: bottle prices are reasonable and they'll ship to you as the law allows.
L'EPICERIE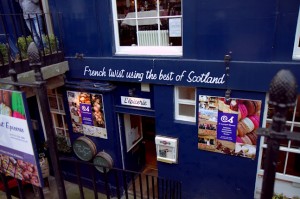 L'Epicerie is a delightful little French deli making fresh macarons daily (delicious), selling cheese, charcuterie, French ciders, homemade rillettes and terrines, Calvados and Armagnac.
COCO CHOCOLATE
Coco Chocolate is the best local chocolate I've had in Scotland but also one of the better chocolatiers I've had in Europe (Paul A. Young in London is tops).
They don't do truffles so much as handmade bars, like herbaceous rosemary or rose and black pepper. I wanted the tobacco bar to taste more of tobacco but it was barely noticeable. However, my favorites were pink peppercorn and nutmeg, and in particular, lime and coconut, tropical flair invigorating dark chocolate.