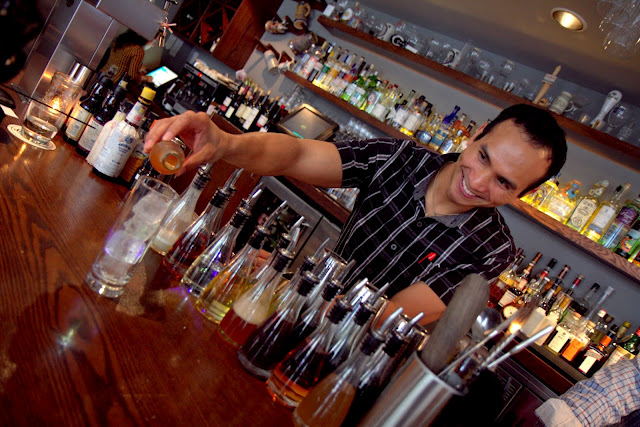 Spring imparts new life and lush green after Winter rains. It also ushers in a glut of Spring cocktail menus emphasizing the best produce of the season and new trends.
Bottled Cocktail Line-up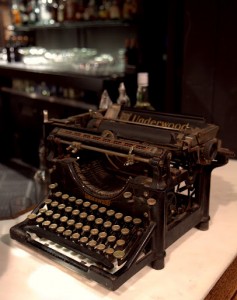 Bottled cocktails are sprouting up everywhere, including just-opened (on April 12), 1950's era speakeasy, Local Edition, from the Bourbon & Branch crew. There is no carbonation here, rather bottlings utilizing house syrups to drive flavor profiles. Instead of individual-sized bottles, bar manager Ian Scalzo is opting for 750-ml bottles they cork and seal in-house. Along with tableside decanter service, this spacious, sexy underground bar is a place you can order a bottle of rum infused with house made yerba maté syrup for the table (some come with a shot of sparkling wine/champagne or soda) as you enjoy live music from the Local Edition stage.
At Harry Denton's Starlight Room, bar manager Joel Teitelbaum created a carbonated line-up ($12 per bottle), with even more in the works. Clear spirits dominate the bottled cocktail menu (just launched April 10), but don't be surprised if brown liqueur shows up, too. He's already working on a Bulleit Rye cocktail for bottling. Try a Carbonated Negroni lively with Campari, Plymouth gin, and sweet vermouth, or a Phizzed Phosphate Daiquiri of Bacardi white rum perked up with cane sugar, phosphate, citric acid, and distilled lime juice. You heard right – distilled juice – a tough prospect as citrus easily turns bitter and pungent during distillation. With lots of experimentation (and failed batches), he's cornered a subtle aroma of lime that blends seamlessly into his bottled Daiquiri, Mojito and Gin & Tonic.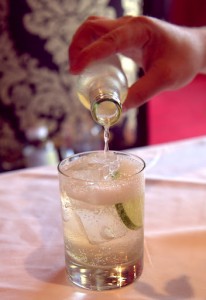 Teitelbaum is tweaking the Banks 5 Rum Mojito for a little more mint, while Brokers Gin-based Gin & Tonic is my favorite of the bunch. The homemade tonic is a natural light brown from cinchona bark (filtered out of most tonics, which can tamper with flavor). The G&T gives off a floral aroma laden with cardamom, while the distilled lime juice tastes here of kaffir lime. Cutting-edge bars like The Aviary in Chicago are experimenting with high concept, fine dining-level bottled cocktails, while Teitelbaum is going for approachable, crowd-pleasing classics… with a twist.
Pimm's Cup Revival

Pimm's Cups are on the rise. There are numerous versions of the classic cocktail made with the beloved English product line, Pimm's (mainstay Pimm's No. 1 is a gin-based, rosy red liqueur, with notes of citrus and spice).
Alongside Pimm's, you'll commonly find lemon and cucumber in a Pimm's Cup, maybe even gin, ginger ale, 7-Up, soda water, or mint. No matter the version, it's the perfect warm day compliment, a boozy cucumber lemonade for grown-ups. Typically generously garnished, the drink is visually pleasing as it is to taste.
In past years, I've gotten my Pimm's Cup fix at 15 Romolo. They still make a lovely version with your choice of liquor ("anything but Scotch", reads the menu), plus actual Pimm's, cucumber, mint, lemon, house ginger syrup, bitters and soda water. Get the "from scratch" treatment at Heaven's Dog next month (under new bar manager Trevor Easter) when they make a fresh batch of gin-based, house Pimm's liqueur from bar director Erik Adkins' recipe. With this base, they craft a gorgeous Pimm's Cup, lively with cucumber and lemon.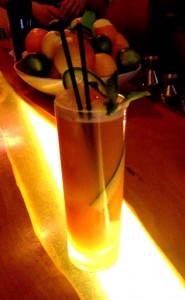 Bar manager Kevin Diedrich at Jasper's Corner Tap downtown just started bottling his own Pimm's Cup. A vivid orange, it goes down bright and bold with cucumber, ginger, lemon, Pimm's, soda, and the secret ingredient: a hint of fresh strawberry. Diedrich's little bottled beauties border on addictive. I wish I could stock them at home.
Pimm's brand slogan, "It's Pimm's O'Clock", is a cheery call to restore and revivify. Pimm's Cups are staples in London, even offered as a morning imbibement at farmers markets (like ever popular Borough Market). In New Orleans, the drink is a historic tradition (if not a great version) at 1700's bar Napoleon House – much needed in muggy Nola heat. I wouldn't mind seeing more Pimm's traditions in our own city – it seems we're on our way.
Wine Cocktails
Sampling through Spring menus I've noticed an old trend – wine cocktails – receiving fresh life, particularly if these three cocktails are any indication.
At Wo Hing, bar manager Brooke Arthur's new Spring cocktails include a Cynar Spritzer made from the Italian artichoke liqueur, Cynar, and Plymouth Gin, alongside Punt E Mes vermouth, Cava (Spanish sparkling wine), orange bitters, lemon peel and a pinch of salt. This dark, earthy red refresher is blissfully bitter, bright and invigorating, the salt enhancing flavors, the bubbles imparting texture.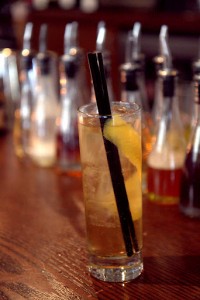 Kevin Diedrich at Jasper's Corner Tap created a St. Helena Fizz served tall in a Collins glass. This wine-based cocktail is blessedly light on alcohol, perfect for a mid-day imbibement, using Newton Chardonnay, St. Germain elderflower, Benedictine, Peychaud's bitters, Bitter Truth grapefruit bitters and soda. It's a mini-escape to Wine Country.
Maven's Kate Bolton created a unique wine aperitif in Global Warming ($11). You get dry riesling, but also sake, even a splash of Ransom's Old Tom Gin. Tart with lemon, a little scoop of absinthe sorbet permeates the drink as it melts.
Who says vino and spirits don't mix?