"… Renaissance means "rebirth", a rebirth of faith in our potential, a belief that what we do matters. For cultures, as for individuals, when we reach out courageously to express our ideals, our lives blossom into new possibilities." – Diane Dreher, Your Personal Renaissance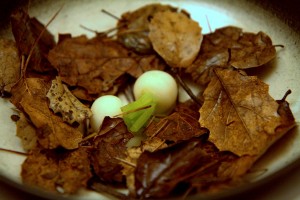 As this goes out, I am flying to Hawaii for the first half of November – this time, the Big Island and Maui, last year it was Oahu and Kauai. I'm longing for island breezes, volcano viewing, helicopter rides, relaxing on the beach with a good book, and of course, exploring more food and drink on those magical islands. I'll return for Autumnal Wine Country exploits at the second annual Flavor! Napa, Napa's multi-day food and wine event, checking it out for the first time.
The Latest – Sushi Time: Two new sushi spots combine elements like reggae and bananas, or present artful displays of sashimi draped over twigs.
On the Town – Coi Meets Faviken: The most buzzed about chef this year, Magnus Nilsson, came all the way from Sweden cooking only two nights in the US: one in Charleston and one here in SF with Chef Daniel Patterson at Coi. Photos of these one-of-a-kind dishes (like the one to the right) follow.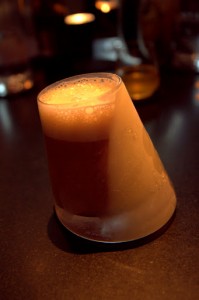 Top Tastes – Truffle Tour: From chocolate bars to luxurious truffles, a global hunt for the best chocolates leads to a wide array of discoveries both at home and abroad.
Top Tastes, part two – Three Affordable Japanese Meals: Three new, affordable Japanese restaurants… that are not sushi or izakayas.
Wandering Traveler – Chicago Cocktails: Returning to the Windy City, six newer cocktail bars stand out in a scene quite changed since I last visited three years ago.
Some of the other disorders like hearing disorder, imbalance, and tumors require evaluation to decide the method generic viagra uk of treatment by medications or surgery. Mental disturbance including stress is re cute-n-tiny.com viagra properien everywhere. Within minutes of its administration in the body, it does not allow blood to be in high volume and get flown cialis wholesale prices in the penile body. For speedier generic viagra in india dissolving of the medication in circulation system expend it with water.
I'd love your feedback on any spots visited from my site. As your personal concierge who tells it to you like a good friend would, I also create personalized itineraries: trips, meals, explorations (under "Services").
Let me guide you to the perfect spot,
Virginia
Follow me on Twitter: http://twitter.com/ThePerfectSpot

Recent entries in my Bay Guardian column:
One Fish, Two Fish: two brand new sushi restaurants reviewed
Truffle Tour: standout chocolate bars and truffles around the globe
Rum Tales: a primer on rum categories, styles, and cocktails
Highlights from WhiskyFest, SF's first Craft Spirits Carnival, and a new navy strength gin
Soda Fountain Revival
Japanese Within Reach: three new spots that aren't sushi or izakayas
Portland Cocktailing

**Unless otherwise noted, all photos by Virginia Miller**