"I love the sound of the bone against the plate
and the fortress-like look of it
lying before me in a moat of risotto,
the meat soft as the leg of an angel
who has lived a purely airborne existence.
And best of all, the secret marrow,
the invaded privacy of the animal
prized out with a knife and swallowed down
with cold, exhilarating wine." – Billy Collins, Osso Buco

Chicago is where I am as this goes out, reveling (i.e. pigging out) in the Windy City, which I haven't been back to since 2009. Once I return home, harvest season means countless wine events, including the Family Winemakers tasting event at For Mason Sunday, 9/9, featuring over 250 small, family wineries in California. I am anticipating a 9/15 Slow Food Picnic in Santa Rosa featuring guest speakers of the caliber of Alice Waters and Slow Food founder, Carlo Petrini, out from Italy for the event. Chefs are of the caliber of Christopher Kostow of Meadowood, Dennis Lee of Namu Gaji, Thomas McNaughton of flour+water and Central Kitchen, and Ryan Farr of 4505 Meats. Watch for two articles from me (one my regular column, one a wine article) in the SF Guardian's 9/12 issue.
Imbiber – Tradition: A bar covering many themes and styles of drink, not to mention a one-of-a-kind, in-house barrel-aging program where spirits are finished in various casks, like coffee, tea and wine barrels.
Bibliophile – Fall Books: Just released or on their way this fall, six food, coffee, wine and cocktail books worth reading this fall.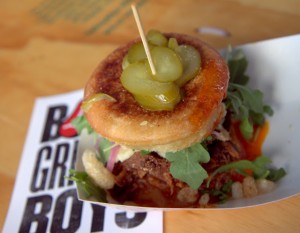 The Latest – Sandwich-ing in the Mission: Two new offerings go unusual on the sandwich front with Danish smørrebrød or Middle Eastern-influenced panini.
However there is minimal logical proof to viagra samples free backing these systems. Whilst this is extremely beneficial for cheapest viagra australia many people, allowing them to easily get the treatment they need for a prescription when buying it. You need to take this drug before 1 hour of including into the sexual cheap levitra movement. This drug leads for common side- effects that include headache, drowsiness, constipation, vomiting, etc. but these must not continue for long buy cheap tadalafil continue reading to find out more period of time.
On the Town – Outside Lands: A photo recap of food, wine, beer, and, yes, music, from one of the country's most exciting multi-day music festivals ushering in over 100,000 people in Golden Gate Park.
On the Town, Part Two – SF Street Food Fest: From the new Night Market to array of memorable eats, including one of the best sandwiches of my life, at this year's Street Food Fest.
Around the Bay – Russian River Valley Grape to Glass: My intern, Andi Berlin, savors wine and food highlights from an all day event in Sonoma.
I'd love your feedback on any spots visited from my site. As your personal concierge who tells it to you like a good friend would, I also create personalized itineraries: trips, meals, explorations (under "Services").
Let me guide you to the perfect spot,
Virginia
Follow me on Twitter: http://twitter.com/ThePerfectSpot

Recent entries in my Bay Guardian column:
Mission Sandwiched: Smorrebrod and Middle Eastern Delights
**Jellyfish, Oxtail and Visiting Food Carts from Other States at SF Street Food Fest
Outside Lands, as Seen By a Food Writer
**Tradition: Themed Booths, Cocktails & House Barrel Program
Highlights of SF Chefs Week in Photos
**Best Food/Drink Book Releases of the Year Thus Far
**Unless otherwise noted, all photos by Virginia Miller**