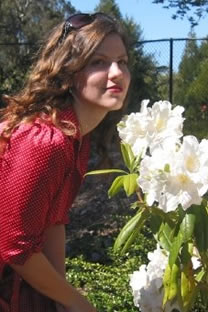 "Spring, an experience in immortality." – Henry D. Thoreau
For me, the pleasures of taste, of sound, of smell… are intensified by Spring's gentle breezes, its subtle fruits and its glowing sunsets.
My Top Tastes of the month:
– A brilliant cappuccino (of Blue Bottle ilk) from Four Barrel Coffee – right now, get their coffee in the alley (Caledonia, between 14th & 15th) behind the café which should open mid-May at Valencia & 15th
-Hush Puppies AND Crawfish Fried Cheese Grits at Angeline's Louisiana Kitchen in Berkeley
– Chocolate Brioche with Caramel Ice Cream and Lime Yoghurt at Candybar

– Caramel Apple Gelato from San Rafael's Fiorello's (I buy it at Belgano in Noe Valley – tell them to bring it back!)
– Bhel "Hood" Puri at
– A delicious Breakfast Bastilla (or B'stilla; they call it "The Pie from Heaven") at Polk Gulch's new Moroccan/North African cafe, Café Zitouna
This month in The Latest, drink with me at Belgian Ale Houses. Eat breakfast Around the Bay in Oakland. Wandering Traveler takes us to Pizzeria Mozza in Los Angeles.
I'd love your feedback on any spots you visited from my site. You can leave comments through the site on the Perfect Spot Blog or email me directly.
Let me guide you to the perfect spot!
Virginia